Things You'll Need
Nylon/lycra fabric (about 1 yard)

Scissors

Sewing needle

Thread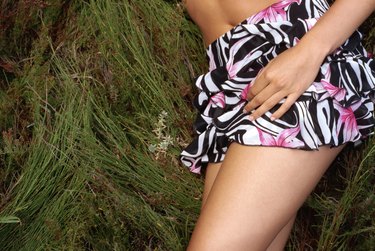 Make a wrap-around skirt to add a little bit of modesty or femininity to a bathing suit. You can make the skirt so it can easily be removed or can attach the skirt to the waistline of the bathing suit for a permanent adornment. When making a detachable skirt, use a solid-colored fabric that you can pair with any bathing suit, or make the skirt from a vibrantly patterned fabric to permanently affix to your favorite bathing suit.
Step 1
Measure the circumference of your waist. Add about 60 percent to this width. Measure from your waist to the length you want the skirt. Add 1-1/2 inches to this length. Draw a rectangle on your nylon/lycra fabric according to these length and width measurements.
Step 2
Lay the rectangle on your work surface with the good side of the fabric facing downward. Fold over approximately 1/2 inch at each of the sides (the length) of the fabric. Sew a straight or zigzag stitch to make smooth sides to the wrap-around swim skirt.
Step 3
Fold over 1/2 inch of fabric along one of the remaining sides to make the skirt's hemline. Sew along the hem with a straight stitch.
Step 4
Fold over 1 inch of fabric along the remaining edge. Sew to make the top waist of the skirt.
Step 5
Cut a 2-inch-wide strip of nylon/lycra fabric that is equal to three times the length of your waist circumference.
Step 6
Fold the strip in half to make a 1-inch-wide strip. Sew it along the long, rough edge. Sew one of the short edges closed as well. Turn the nylon/lycra strip right side out and sew the remaining open end closed.
Step 7
Fold the strip in half and pin the fold to the top center of the good side of the skirt. Pin it in place all the way around the skirt. Sew it in place with a straight stitch.
Step 8
Wrap the skirt around your waist and make a mark on the fabric waistline where the ends of the strip intersect. Make a slit through the fabric so you can slide the strip through to tie the wrap-around skirt closed.
Tip
To attach the skirt to the bathing suit, Fold the skirt in half and pin the fold to the back center of the bathing suit's waistline. Sew it in place to the hips.