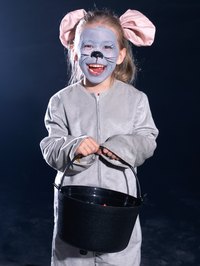 "Charlotte's Web" is a children's book about friendship told through a set of strong characters -- a young girl, a pig, a rat and a spider. Fern is Wilbur's friend, a farm girl. Wilbur is a small pig, Templeton is a devious rat and Charlotte, whose web gives the book its name, is a beautiful spider. Dressing up as these characters is as easy as gathering a few supplies.
Fern the Farm Girl
Don a pair of jeans or overalls.
Add work boots caked in some dirt to complete the look.
Wilbur the Pig
Dress in a pink hooded sweat suit.
Attach pig ears cut from pink felt to the hood.
Create a curly tail out of a pipe cleaner wrapped in pink elastic fabric and stuffed with cotton balls.
Templeton the Rat
Paint your nose with black makeup and paint on black whiskers.
Add a gray sweat suit, pink or white gloves, and a tail made of a rope.
Attach rat ears cut from gray felt to the hood.
Charlotte the Spider
Stuff two pairs of black tights to create four spider legs.
Attach the tights to the sweatshirt so that two legs stick out from either side.