Things You'll Need
Pants

Button-down shirt

Sweater vest

Pleated skirt

Brown belt

White tube socks

Black shoes

Black-rim glasses

Pocket protector

Pens
Whether you are celebrating spirit week at school, or you are planning a Halloween costume, the nerd is an awesome costume to create. Both girls and guys can transform themselves into a geeky nerd by wearing the appropriate clothing and accessories. Take advice from Steve Urkel, the king geek himself from the TV series "Family Matters," and show your nerd pride. There's no need to purchase a store-bought nerd costume or even suspenders -- just raid your closet or go through your parents' drawers for the hippest nerd attire.
Step 1
Choose a pair of high-waist pants with a straight leg, and a patterned, button-down short-sleeve shirt, making sure to button the top button. The shirt should have a chest pocket. The pants should be fitted through the waist and thigh and pulled as high as possible. Girls can substitute a pleated skirt instead of pants.
Step 2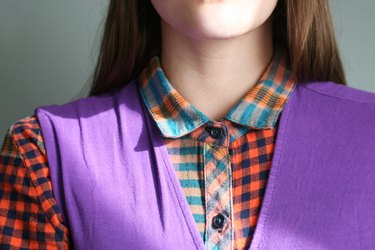 Pull a sweater vest over the button-down shirt. Choose a color that does not coordinate with the shirt.
Step 3
Insert a brown belt through the belt loops and pull tightly. This will keep the pants up around your waist and prevent them from falling down to your hips. Tuck the shirt in.
Step 4
Pull on long white tube socks and accompany them with black shoes. The shoes should not match the belt.
Step 5
Wear large, oversize black-rim glasses. Faux eyeglasses can be found at a party supply store.
Step 6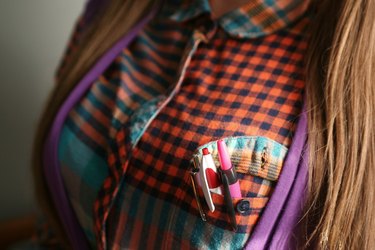 Place a pocket protector in the chest pocket. Place two or three pens inside the pocket protector.
Step 7
Fashion your hair to resemble a nerd by pulling it into pigtails for a girl, or slicking it to one side for a guy.
Tip
Use brown eyeliner to create fake freckles over your face. Roll high-waist pants at the bottom to raise the hem and expose your white socks.