Suspenders are a classic accessory for a geek or nerd costume, but they're not essential, and it's definitely possible to put together a super-nerdy outfit without them. Whether you're planning a nerd day outfit for school, want to dress in a nerd Halloween costume or simply want to let out your inner nerd, there are countless items of clothing and accessories to consider. You probably have some of them in your existing wardrobe.
An easy way to achieve a nerd look is to wear officelike or uniformlike clothing that fits awkwardly or clashes. Most importantly when creating your nerd outfit, avoid any styles that might be considered cool.
Things You'll Need
Button-down shirt

Bow tie or tie

Sweater vest

Pants, shorts or skirt

Belt

White tube socks

Glasses

Pocket protector with pens, calculator, etc.

Hair gel and accessories
Choose a nerd-style shirt
Skip the T-shirt. A classic component of nerd day outfits for all genders is a button-down shirt that is buttoned all the way to the top. There's something about that fastened top button that screams "nerd."
​Shirt.​ The button-up, collared shirt can be short-sleeved or long-sleeved but be sure to choose a shirt in a garish pattern, such as plaid or pinstripe, preferably with a chest pocket for an extra-nerdy look.
​Tie.​ You might add a bow tie or a tie, which should be awkwardly short in a clashing color or pattern.
A sweater vest really completes a nerd day outfit. Avoid any chance of looking cool in a sweater vest by choosing one that clashes with your shirt; has a dorky pattern, such as argyle; or looks like it could have been knit by someone's grandmother.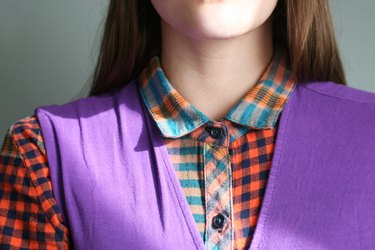 As well as being buttoned all the way to the top, a nerd's shirt must also be tightly tucked into a waistband. Hike up the waist of your pants or skirt and lock in those shirt tails with a belt so there's no risk of untucking and losing the nerdy style.
Choose pants, shorts or a skirt in a formal officewear or uniform style. These could be flat-front or pleated pants with a straight or tapered leg. High-waisted pants that are slightly too short look extra nerdy, so try to find those features or hem the ankles for a perfect nerd day outfit.
Brown, khaki, gray and plaid are all good fabric choices for nerdy pants, as is '80s-style acid-washed denim.
If you're opting for a skirt, consider a school-uniform-inspired pleated skirt in a long or midcalf length. For shorts, choose any pair befitting someone over the age of 80.
Dressing like a nerd means socks are an afterthought rather than a fashion element, so grab a pair of regular, old white tube socks and pull them all the way up.
A cooler person would only wear these socks with athletic clothing or loungewear, but any true nerd knows you can wear white tube socks anytime, anywhere.
Yes, it's a cliché that nerds wear glasses, but no nerd day outfit is complete without a pair of unfashionable frames. Choose a thick-framed or wire-framed style of eyeglasses that have been out of fashion for at least 10 years.
Wrap a piece of tape around the bridge to mimic a sloppy repair job worthy of a true nerd.
Accessorize your nerd outfit
A nerd needs to have pens and pencils available at all times, so track down a retro pocket protector for that essential chest pocket on your shirt. If you can't find the real thing, fashion one from cardboard and arrange those writing tools in your pocket.
As an alternative, fit a calculator or math tools, such as a protractor and set square, in your pocket.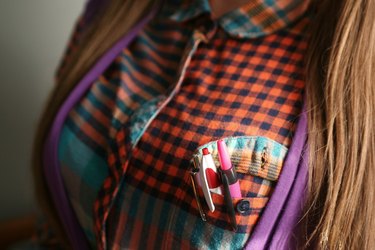 Complete your mission to dress like a nerd with an appropriately awkward hairstyle. If your hair is short, add a slick of gel and comb it oh-so-neatly to the sides. With longer hair, add some schoolgirl accessories, such as barrettes, or opt for a side ponytail.
Curly haired nerds need to amplify and mess up those curls as much as possible. Nerds have no time to tame their curls!