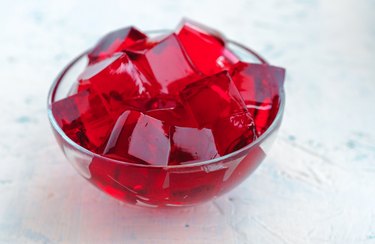 Dreaming up your own Halloween costume can be a tremendous amount of fun, and the more realistic you are able to make it, the better. If you will be transforming yourself into someone else, for Halloween or otherwise, you may be wondering how to use gelatin for skin to make realistic cuts, prosthetics and fake skin. The process is quite straightforward.
Wondering how to make a cut out of makeup? While you can use traditional face paints or even the cosmetics you already have at home to make wounds as part of your costume, you may create a more realistic look if you first apply a layer of fake skin, distress it and then decorate it.
You can make fake skin with gelatin. This "Jello skin" need not be fruit flavored; instead, you'll want to start with the plain gelatin you can find in the cooking supply aisle at your grocery store.
First, mix the gelatin and boiling water in a bowl according to package instructions. You may or may not require the entire package of gelatin to make your fake skin; if you need less, reduce the amount of water you use proportionally and then store the rest of the gelatin powder in a plastic bag.
The amount of gelatin need for a small wound's worth of fake skin is about 1/4 cup. If you'll be covering your whole face, you're likely to need the whole package. You'll want the gelatin to be in a thick, cake-batter-like consistency before you spread it. Then, allow it to cool just enough that it won't burn your skin. Add a drop of vegetable oil to keep the mixture from hardening as you work.
Spread the mixture over the area to be covered. If this is your face, you may need help from another person, or at the least, a good mirror. Smooth the gelatin over your face to create the first layer.
To create the appearance of cuts, wounds or scars, continue adding gelatin over the first layer. Dab it on thick as it cools, creating a clumpy look. Later, you can use face paints and cosmetics to decorate this for an authentic, and likely spooky, aesthetic.
Removing Gelatin From Skin
After your costumed fun, you'll need to remove the gelatin from your skin. This can be a laborious process, but with the right tools on your side, you shouldn't have too much trouble. First, try using liquid witch hazel on a cotton ball to rub away the gelatin. It may work especially well if the witch hazel is warm. If this works, you can then take a hot shower to further cleanse your skin of both gelatin and witch hazel.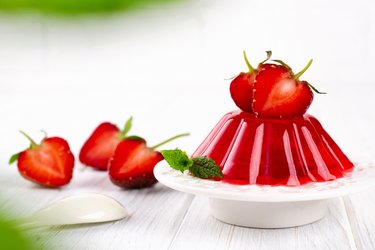 Depending on how much gelatin you applied to your skin, simply using warm water may also be adequate for removal. Athletes like synchronized swimmers have long sworn by brushing gelatin onto their hair before a meet, and a long, thorough shower typically is all they need to get the gelatin off.