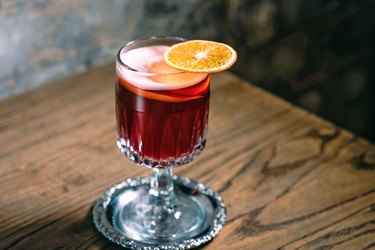 Mulled wine is a traditional drink served almost exclusively during the winter holiday season. While wine, nearly always red, is the main ingredient in mulled wine, it's the various additional ingredients that impart mulled wine's distinctive, dominant flavor profile. A blend of warming spices, fruits and other ingredients, which vary from recipe to recipe, transform regular wine into an entirely new drink. Add to this the tradition of serving mulled wine warm and it's clear that drinking mulled wine and drinking regular wine are very different taste experiences altogether.
How Does Regular Wine Taste?
The taste of red wine is incomparable to any other drink and almost impossible to accurately describe with words alone. The best comparison to offer to someone who has never tasted wine would be grape juice with almost all of its sweetness removed plus the hit of headiness from its alcohol content. Unless you have a reason not to, the best way to discover how red wine tastes is to have a sip.
Wine is essentially fermented grape juice, but that's where its simplicity ends. Every wine's taste is unique and depends on countless factors, top among them the variety of grape, the terroir (specific soil and climate conditions of the growing location), the vintage and the skills of the winemaker. Wine tastes are characterized by the level of sweetness or dryness, presence of tannins and flavors reminiscent of certain fruits among countless other descriptions. Note that there is no requirement to understand all these nuances to enjoy drinking wine, and most wine drinkers simply sample a variety of different wines and figure out their favorites.
How Does Mulled Wine Taste?
Mulled wine does taste like regular red wine, which is its main ingredient. However, its overall flavor profile is thoroughly transformed by heating and "mulling" with strong-flavored spices, fruits and the addition of sugar. Any nuance and complexity in the red wine used to make mulled wine is lost, although its broad flavor does remain. This is why mulled wine recipes generally suggest using a decent-quality, full-bodied red wine but definitely not the finest or most expensive bottles.
Mulled wine tastes sweet due to the sugar or honey added to it and also tastes fruity. The fruits used to make mulled wine are typically oranges, tangerines or clementines and sometimes apples and lemons. Spices added to mulled wine, usually whole spices, include cinnamon, nutmeg and cloves and sometimes peppercorns, cardamom, bay leaf, ginger or fennel as well. This blend of warming spices gives mulled wine its distinctively festive flavor.
Mulled Wine Is Served Warm
A major characteristic of mulled wine that distinguishes it further from regular wine taste is that it's served warm. Don't underestimate the effects of temperature on your perception of wine's taste. There's a reason white wine is usually chilled, while red wine is often enjoyed at room temperature or just a little cooler, and drinking warm wine isn't really a thing (unless it's mulled).
Mulled wine isn't boiled, as doing so would reduce its alcohol content, but it is brought to a simmering point and served at a just-sippable temperature. While it's unusual to drink warm wine, this temperature has a profound effect on the perceived intensity of mulled wine's various flavor notes. It makes mulled wine taste even more different from regular wine. It's also fitting for the cold winter season and complements a spice profile widely associated with holiday treats.
Mulled wine's taste differs further from the taste of regular wines due to variations in recipes. Along with different spice blends, fruit components and quantities of sweeteners, some recipes add other types of liquor, such as brandy or port. Some include fresh apple cider. You can also find nonalcoholic versions of mulled wine made with a fruit-juice base.
There is considerable variation in mulled wine's taste and ingredients by region of origin. Scandinavian glogg features raisins and almonds. France's vin chaud is sweetened with honey, while Romanian izvar always includes honey and black pepper.