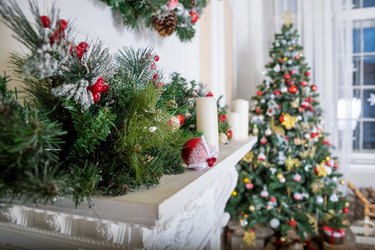 Buying, setting up and decorating a Christmas tree takes a lot of time, money and effort, so you will want it to last as long as possible. You might be wondering how to preserve Christmas tree life, and you might have heard that it helps to add vodka or other substances to the water. Does adding alcohol actually help, though?
How to Extend the Life of a Christmas Tree
There are a number of ways to prolong the life of an Xmas tree. Start by choosing the freshest tree you can find at a Christmas tree farm. Look for pines that are healthy and green with very few brown needles.
Run a few branches through your fingers. The needles should feel soft and not fall off when you do so. Also, raise the tree (if it is precut) a few inches off the ground and gently drop it. If a lot of green needles fall off, continue shopping.
Buy a tree stand that holds 1 quart of water for every inch of the trunk's diameter and check the water at least once a day. Trees can dry out without enough water, and they can also turn brown if there is too much heat or humidity in the room.
Handling and Positioning Christmas Trees
Before putting the tree in the stand, fill the stand's reservoir with water. Cut off 1 inch from the bottom of the trunk. Keep the tree away from heat sources, like space heaters and fireplaces, both of which are extremely dangerous and could also dry out the tree. You could try placing a humidifier on the other side of the room.
Once Christmas is over and the tree is dried out, do not wait too long before cleaning it up or you will have a massive, prickly mess on your hands. As a preventative measure, use your vacuum's hose to clean up the dead needles every few days before you need to get rid of the tree. Contact your town to see what the disposal options are for trees or add your Christmas companion to your compost pile or mulch it.
What to Put in Water to Preserve Christmas Trees
Some sources claim that vodka can be added to the water to preserve Christmas trees because it kills bacteria, but others disagree that it will work. Some sources recommend using aspirin, sugar or 7-Up to preserve a tree, but it is probably best to use plain old water. Most experts agree that none of these additives make Christmas trees last longer, and using anything besides water may even cause them to mold or lose their needles quicker.
Putting the tree in the stand as soon as possible once you get it home can help with needle retention. If you cannot do it right away, place the tree in a bucket with water until you are ready. In cases where cut Christmas trees are left out for more than 24 hours, it is best to cut about 1/4 inch off the base to allow the water to get absorbed more quickly.
Christmas Tree Safety Tips
You should review Christmas tree safety tips whenever you are putting a pine indoors. These cautions are even more important than prolonging the tree's life. Trees should be kept at least 3 feet away from heat sources, including candles and radiators, and they should not block exits.
The lights should be listed with a qualified testing laboratory. Note that some are not designed for indoor use. Replace light strands that have broken cords, worn cords or loose bulb connections and be sure to turn off the tree lights when going to bed or leaving home.