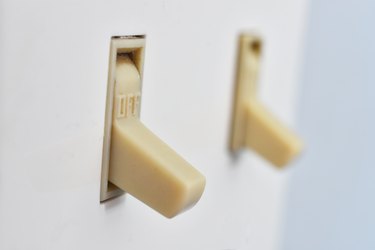 Electrical work entails some of the most complex repairs or home improvement projects you tackle, as it requires a great deal of caution and some expertise. Otherwise, you could cause a short, an outage or worse. One relatively common question is whether you can use a 15-amp switch on a 20-amp breaker lighting circuit. Often, if you already have one or the other installed, you might want to move ahead without making significant changes to your electrical system. You can, in fact, use a 15-amp switch on a 20-amp breaker lighting circuit since the 20-amp rating means that the circuit can handle anything up to 20 amps, so anything lower is alright to use.
National Electric Codes and Switch Ratings
Electrical devices and systems are rated and standardized by the National Fire Protection Association's Committee on the National Electric Codes. They set rules and regulations regarding electricity to prevent fires and protect grids. They also provide measurements and standards to measure and set electrical devices and systems. Switch ratings are part of that.
All electric switches are rated according to their maximum voltage, maximum current and the current they can carry: DC (direct current), AC (alternating current) or both. Note that switch ratings provide the maximum voltage and current. That means you can use a 15-amp switch on a 20-amp breaker lighting circuit. You could also use a 10-amp switch on the same circuit because that particular breaker can handle any voltage or amperage up to its rating. However, you couldn't use a 25-amp switch or a 30-amp switch because these are above that rating. These regulations are outlined in National Electric Code 404.14.
How to Find a Switch Rating
If you're unsure what kind of switch you have and what its rating is, there are some ways to find out without calling an electrician. You'll need to use a screwdriver to remove the switch plate covering the light switch. You should see several markings on the switch. One of these markings should clearly say something along the lines of "15 A/120 V," which means that the switch is rated for 15 amps and 120 volts.
Another marking that you should see on your switches is a UL label, which indicates that Underwriters Laboratories has tested it for safety. You should be able to identify whether it is an AC or DC switch; if it is both AC and DC, there may not be a label at all. Finally, the type of wiring is indicated by codes CU, meaning copper-clad aluminum wire, or CO/ALR, meaning it is either copper or aluminum wire.
Potential Problems With These Devices
For builders and contractors, it is illegal to violate the National Electric Code. Courts may hold these builders and contractors financially or even criminally liable for damage or injury caused by these violations. Homeowners won't get in trouble if they violate these codes, but they won't pass an inspection. If damage does occur, your homeowners' insurance may not cover it.
Even though it is safe to use a lower-rated device in a higher-rated outlet or switch, there are some potential drawbacks of which to be aware. For one thing, the lighting load can change. If that happens and the load begins to exceed the switch's rating, it can overheat and cause a fire.
In addition, depending on what type of system you have and how old it is, using the lower-rated device may cause you to use more electricity than you need, which can cost you money on your electric bill. Because of this, when you move into a new home, it's a good idea to understand the rating of your electrical system and how different switches and outlets might vary. Ask your home inspector or landlord for more information.