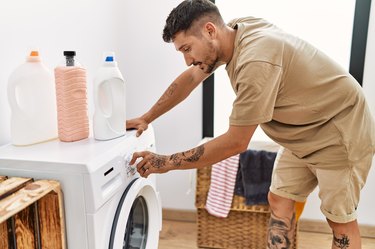 Though there are highly absorbent and robust paper towels on the market, a ShamWow towel holds 10 times its weight in liquid and can last 10 years. That can save you a lot of money. These products are versatile hybrid sponge/cleaning/chamois cloths. You may have seen the ShamWow product advertised on TV, and you can only order them through the company's website; they take several weeks to arrive.
These towels have been around for more than a decade and are made from a blend of rayon and polypropylene. Rayon is a semisynthetic manufactured and regenerated cellulose fiber used to make clothing and a variety of other textiles; the raw material comes from plants. Polypropylene is a thermoplastic polymer, and it's one of the safest commercial plastics on the market. It is FDA-approved for food contact and is used to manufacture food containers, implants, surgical devices, rugs and textiles.
The exact formula for making ShamWow cloths is not shared with the public, but the company claims that these nonabrasive cleaning towels are very effective for washing, drying and polishing any surface. ShamWow towels are sold in two sizes. The large ones are 20 by 24 inches, and the small (mini) ones measure 15 by 15 inches. As a point of reference, a standard-size bath towel measurement ranges from 20 by 40 inches to 30 by 58 inches. You wouldn't want to use a ShamWow towel for that purpose, though!
ShamWow Towels vs. Chamois
Regular chamois is usually made from sheepskin leather. To make it, you need to remove the grain and tan the leather with fish or marine oils. It is excellent for drying and polishing cleaned surfaces, which is why people often use them on their cars. However, they do not absorb a lot of water and drip a lot, and you will have to wring them out constantly. After chamois is used, rinsed and put out to dry, it becomes rigid, which means it isn't always nice for reuse.
ShamWow cloths remain soft after they dry and work well on cars, boats and many household surfaces. They're also good for mopping up spills and grease. Another added benefit over chamois is that if a ShamWow cloth gets stained, it is pretty straightforward to wash it. You can even add some bleach to the washing cycle if your ShamWow gets grease marks.
Can You Wash or Dry ShamWow Cloths?
Regular chamois cloths should be hand-washed. For the best results, wash them before using them the first time and wash them afterward with a detergent that doesn't contain softeners. Rinse with clear water and line dry. Chamois towels work best when damp. Regular bath, beach and kitchen towels can be machine-washed and dried, but you should always read the product labels first.
Most people don't think twice about washing and drying their household towels, but you cannot toss ShamWow cloths into the dryer. ShamWow towels are different from regular household linens that can be washed and dried in your laundry room. Wash them in warm or cold water; you can also add color-safe bleach if you'd like. You should never put them in the dryer. ShamWow products need to be air-dried; otherwise, the fibers will shrink, and you will ruin them.