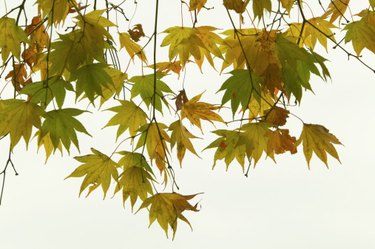 The Japanese maple tree (Acer palmatum) is a deciduous tree associated with the stunning displays of fall color typical of Northern climes. Whether or not you can successfully grow Japanese maple trees in Florida will depend on where in the state you are located, as these trees may struggle with intense sun exposure and summer temperatures below U.S. Department of Agriculture plant hardiness zone 8. Placement within the landscape is also key when it comes to growing maples in Florida.
Japanese Maple Trees in Florida
With thoughtful planting, the Japanese maple tree can be cultivated in parts of northern Florida, though it requires shade during hot summer afternoons. It is important to select cultivars that have been identified for their heat tolerance and resistance to leaf scorch. Options for Florida include the 'Golden Embers' cultivar, which was developed in Georgia, and the 'Seiryu' cultivar, which offers delicate, lacelike leaves.
The 'Emerald Lace' cultivar dazzles with deeply dissected green leaves and can handle hot summers if you provide afternoon shade. For a dwarf Japanese maple option in Florida, consider the 'Kiyohime', a spreading cultivar that is wider than it is tall. The leaves of this cultivar have a reddish-purple border when they emerge in the spring, which adds interest to the landscape.
There are two species of maple trees that are native to Florida, one of which is aptly known as the Florida maple (Acer floridanum). Some botany experts consider the Florida maple tree to be a subspecies of the sugar maple (Acer saccharum), which occurs further North; however, this is a subject of debate. The majority of these trees are found in the Florida panhandle and in a small part of central Florida.
The Florida maple tree is capable of reaching a height of 60 feet. However, more typically, it maxes out somewhere between 20 and 30 feet. It grows in a rounded or oval shape, which makes it a good option for a shade tree. In the fall, its leaves turn yellow and orange. The Florida maple tree should not be planted close to the shoreline, however, because it does not handle salt spray well.
Other Maple Trees in Florida
In addition to the Florida maple, the red maple (Acer rubrum) is another species that is native to Florida and fares well through USDA zone 9. The red maple is a medium-size maple tree that will grow between 40 and 60 feet tall. As its name suggests, in autumn, the foliage of the red maple turns a stunning bright crimson color.
The red maple is found throughout large swaths of the state and grows best in soils with an acidic pH below 7.2. You will need to keep this tree well watered in order to prevent leaf scorch, especially if you are in southern Florida.
Many other species of maple trees are best avoided in Florida, however, including the Norway maple (Acer platanoides) and the disease- and pest-prone silver maple (Acer saccharinum). The species sugar maple is also considered a bad choice for Florida because it does not tolerate heat or sandy soils.