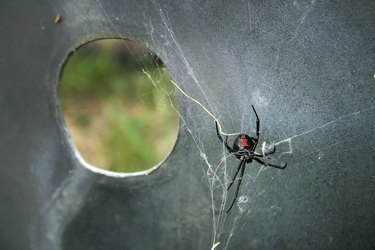 Spiders with venom that poses a danger to humans are rare in Minnesota. One potentially dangerous species sometimes makes its home in the state, though, and another may become more common in Minnesota in the future.
Northern Widow
The northern widow spider is one of three species, along with western and southern widows, commonly referred to as the black widow. The northern widow is not common in Minnesota, but it occasionally turns up in the state, where it builds its messy webs in secluded areas such as garages, crawlspaces and wood piles, under rocks and around utility meters.
A female northern widow is black, about 1/2 inch long and has a distinctive, red, hourglass-shaped marking on the underside of its abdomen. It typically spends most of its time hiding within its web.
A bite wound from a northern widow is usually painful right away, and the pain intensifies during the first few hours after the bite. The spider's venom contains a neurotoxin that causes pain at the wound site and can lead to headache, dizziness, shortness of breath, back pain, painful abdominal spasms, sweating, elevated blood pressure and stiff limbs, but it is rarely fatal to healthy adults. Children, elderly people and individual in ill health, however, are vulnerable to asphyxia from the bite.
Brown Recluse
The brown recluse spider is seen frequently in the central and southern United States but is almost never found in Minnesota. One specimen was recorded in the state in 1953, and a 2011 report by the University of Kansas Biodiversity Institute suggested that the species may soon expand its range into the Upper Midwest, including Minnesota, as a result of climate change.
The brown recluse is brown or tan and about 1/2 inch long. It has a distinctive fiddle-shaped marking on its back at and just behind its head. As its name suggests, it is reclusive, typically staying in areas such as basements and attics, away from activity.
A brown recluse's bite is often painless, but a small blister usually forms around the bite wound within six to 12 hours. The spider's venom causes the death of tissue surrounding the bite wound, which can result in severe damage over the course of weeks.
Sac Spiders
Sometimes the bite of the common sac spider is misdiagnosed as a brown recluse bite, but the common sac spider's venom is not strong enough to be dangerous to most people. Individuals with sensitivity to the venom, however, may experience severe reactions. The venom can cause swelling and slow-healing sores around the bite, which are reactions similar to those experienced from brown recluse bites.
First Aid
If you suspect that you were bitten by a northern widow or brown recluse spider, then seek attention from a doctor or an urgent-care facility as soon as possible. Physicians will likely recommend using ice and an over-the-counter pain reliever to control swelling and pain, and warn you to seek further attention if fever, an open ulcer or sign of infection develops. In severe cases, antivenin may be used to treat a northern widow bite.