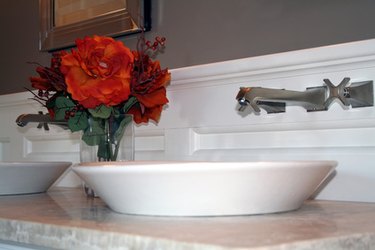 A vessel sink is a bowl that rests above the vanity surface. The type of vanity you have chosen will dictate the type of faucet that will work best. It is best to install the sink and faucet at the same time in case alterations are needed.
Wall-Mounted Faucet
The type of vessel and the position at which it is installed will determine the height at which you will need to mount a wall faucet. You will need to provide adequate space between the end of the faucet and the sink for washing hands. You may need to take other individual needs into consideration as well. The length of the faucet head should enable the water to flow directly into the drain to avoid splashing.
Counter-Based Faucet
If you choose to use a counter-based faucet, make sure there is enough space between a 1/2-inch from the sink and the back of the counter top. Keep in mind the space needed for hands to turn the knobs as well. Counter-based faucets for vessel sinks are designed with a long neck. The height of the neck will be determined by the type of vessel sink you have chosen. Vessel sinks range from nearly flat to very deep. A very deep vessel sink will require a very tall neck in order to provide adequate space for hand washing and other uses.
Installation
Vessel faucet designs vary but when it comes to installing them, your vessel faucet will function best when installed about 1/2 inch from the sink. Remember to use plumber's tape on the supply line connections. Most importantly, water supply lines are not designed to be torque, so hand-tighten only to avoid thread stripping and other damage. Another important point to remember is that the standard height for a bathroom sink is 36 inches from the floor. If your vessel sink sits on top of the vanity, your vanity may need to be shorter than the standard height.