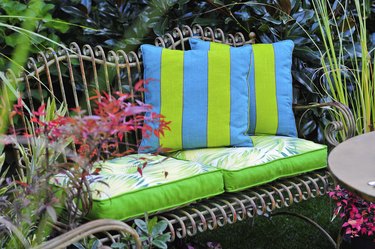 Comfort is key when it comes to deck and patio seating, and the right materials and outdoor cushion inserts make all the difference. Today's modern materials and appealing styles are plentiful, and it is easy to find durable, beautiful pieces that you can sit on comfortably for hours. The outdoor furniture pillow material and stuffing should both be made with weather-resistant materials that will hold up best to the elements. Some already have outdoor cushion stuffing, or you can get your own covers and filling.
Homemade Filling for Outdoor Cushions
If you choose to make your own outdoor cushion stuffing, keep the word "waterproof" in mind. If the outer fabric itself isn't waterproof, the cushion filling will become drenched and may start to smell or become moldy or mildewy. The best fabric for outdoor cushions is waterproof too.
You can try using plastic shopping bags as stuffing for outdoor pillows; they will certainly repel water. You will need to squeeze each into a ball and fill them into the pillow until it is the right shape. You can also take an indoor pillow that fits the cushion, cover it with garbage bags, fold in the excess material and place it inside the cushion.
Another option is to purchase an insert and some outdoor fabric. You can cut the fabric into one square for one side of the insert and two rectangles for the back, allowing an extra half inch for the seams. Pin the edges together inside out, leaving one edge open for the insert. Make sure the insert fits, sew up the edges envelope-style, turn it right side out and put in the filling.
If the cushion material is waterproof, you won't have to worry about protecting the stuffing. Some are made from polyfill, which can be recycled, unrecycled, woven or nonwoven synthetic fabrics. It is known to be soft and comfortable and is mildew-resistant and nonallergenic. If you are unsure about whether it is waterproof, just read the label.
High-density polyurethane foam holds its shape better than other kinds of cushion fillings. It absorbs water, though, and needs to be protected with plastic. You can also look for open-cell foam, which is more water-resistant. Some feel that closed-cell foam is the best filling for outdoor pillows because it does not absorb any water but can feel more rigid.
Best Fabrics for Outdoor Cushions
The best fabrics for outdoor cushions are water-repellent, mildew-resistant, fade-resistant and washable. Four great options are polyester, solution-dyed acrylic/solution-dyed olefin, PVC mesh or marine vinyl. Polyester fabrics should be of medium weight, and they come in a nice variety of colors and prints. The solution-dyed acrylics and olefins are heavier and more durable and less prone to fading, and they do not need to be brought indoors when it rains.
PVC mesh has a basket-weave, plasticlike look, and water passes through it quickly. However, it does not stretch and does not need cushion. This material is most often used in poolside and patio chairs and is simply attached to the frame. Although marine vinyl is also a consideration, it has a leatherlike appearance and is more suited for car and boat upholstery or indoor, high-traffic furniture.