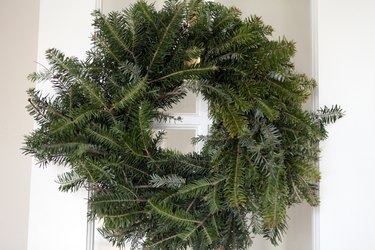 While you may often see wreaths during the holiday season, wreaths are not exclusive to Christmas. With a long history and prominence in many cultures, the wreath's symbolism extends further than the modern Christmas wreath. Wreaths have many applications, including ancient Greek headdresses denoting nobility, funerary wreaths to honor the departed, and Christmas, winter solstice or advent wreaths.
The Wreath's Ancient Origins
The history of the wreath extends further than greenery used as a Christmas decoration. While there is no definitive moment at which wreaths rose to prominence, their origins can be traced to ancient Greece and ancient Rome.
Tip
Athletes in ancient Greece and Rome received wreaths made from laurel trees, olives, wild celery and pine leaves.
In ancient Greece, those who attended aristocratic dinner parties wore wreaths, believing that the wreath would relieve their drunkenness. While there is no science to back up whether wearing a wreath on one's head prevents one from getting drunk, this belief may stem from parsley's breath mint properties, which can alleviate the smell of alcohol.
Celebrating status and achievements
Politicians and civil servants wore wreath headdresses to denote status, achievements and rank. Roman soldiers returning from battle also wore wreaths as a symbol of honor. Additionally, respected orators and poets were given wreaths as gifts.
What Does a Wreath Represent?
So, what does a wreath represent? Depending on the culture and application, wreaths have many meanings. To the ancient Roman soldiers and Greek Olympians, wreaths represented victory. However, when displayed during funerals, wreaths represented the natural circle of life.
Christians used funerary wreaths at martyrs' funerals to represent Christ's triumph over death. Wreaths were also placed in water to float away during funerals for sailors and those lost at sea. They are commonly placed on tombstones or carved into the stone of war memorials.
Similar to funerary wreaths, harvest wreaths denote the circular passing of time. Typically hung on front doors, harvest wreaths symbolized harvest preparations and were believed to bring good fortune for the upcoming winter. Some harvest wreaths included medicinal herbs to protect the home from disease.
Modern Christmas Wreath Meaning
The Christmas wreath tradition is interlinked with the history of the Christmas tree. As was a tradition in the 16th century, those who brought evergreen trees into their home pruned them, shaping the tree into a triangle representing the Holy Trinity. The cut-off branches were collected and shaped into a wreath to avoid wasting the trimmings.
Shaping the branches into a wreath had a practical purpose. During this time, Christmas traditions dictated that wreaths be hung on Christmas trees instead of used as stand-alone Christmas decorations in the way they are displayed today. The wreath's wheel shape allowed it to hang off the tree's branches easily. What does the Christmas wreath symbolize, though?
Tip
In addition to its practical purposes, the Christmas wreath symbolizes eternity because its circular shape never ends.
The Christmas wreath's meaning is also linked to the material used to make it. Evergreen trees were brought into homes as part of yule celebrations because they came to symbolize resilience in the cold winter months and, ultimately, hope.
Johann Hinrich Wichern, a German Lutheran pastor, is credited with adopting the wreath into Advent celebrations, placing a white candle inside to represent new life and the eternal light brought by Jesus Christ. Over time, people adorned them with ornaments such as red berries and pinecones.
Ultimately, a Christmas wreath stands for whatever means the most to you.