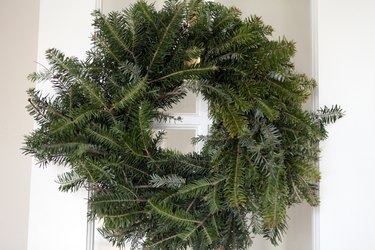 Wreaths are a popular sight during the holiday season, and, along with Christmas trees, Nativity sets, Santa Claus props and colored lights, they bring a sense of cheer and warmth to homes and communities. Unlike other holiday decorative traditions, the significance behind Christmas wreaths is less familiar. From lights to bows, the features of wreaths each have specific religious meanings.
Evergreen Branches
Per HolidayInsights.com, the wreath's real or artificial evergreen branches represent growth and the promise of eternal life symbolized by Jesus Christ. They also help religious believers remember his everlasting love, according to the Christmas Decorations and Gifts Store (see References).
Shape
Similarly, the wreath's circular shape—with no visible beginning or end—also signifies the eternal nature and love of Christianity's idea of God.
Holly
Holly symbolizes Jesus' crucifixion. The thorny branches represent his crown of thorns while the red berries remind Christians of the blood shed for their sins.
Lights
As with Christmas tree lights, those on a wreath—whether candles or electric bulbs—signify that Christ is the light of the world for Christians.
Fun Fact
Even before the advent of Christianity, northern Europeans and ancient Romans "decorated their homes with evergreen boughs during their winter festivals," according to the Christmas Decorations and Gifts Store.