Things You'll Need
Wire coat hangers

Floral tape

Scissors

Wire cutters

Fresh bay laurel branches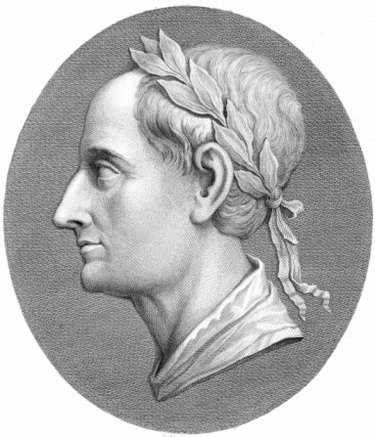 The laurel wreath is a symbol of victory to the ancient Roman empire. Roman emperors and other high-ranking officials wore a laurel wreath as a crown to represent their achievements and status. For centuries, the Roman laurel wreath played a valuable part in the Roman empire. Still, today, many people wear a laurel wreath at parties and other festive events. You can create your own Roman laurel wreath to wear with your outfit with materials found at craft stores and florists at a low cost.
Step 1
Bend and shape the coat wire hanger to form a circular shape. Try it on your head to check the size. Cut the excess wire from the coat hanger with wire cutters.
Step 2
Cover the circular wire in floral tape. Wrap the floral tape around the wire.
Step 3
Obtain fresh bay laurel leaf branches to create your wreath. Refrigerate the branches if you are not making the wreath immediately.
Step 4
Attach the laurel branches to the circular wire with small pieces of fishing wire. Cut the fishing wire with scissors and wrap the fishing wire around the laurel branch to secure it to the wire.
Step 5
Overlap the laurel branches and add enough laurel to cover the entire circular wire. Fill sparse areas with additional laurel branches.