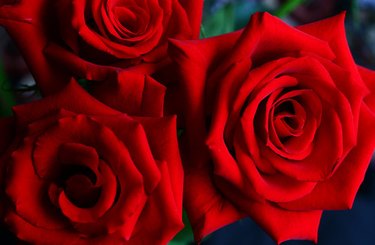 While Easter, Mother's Day and Christmas boost holiday florist sales, the floral industry experiences its highest sales, production and delivery volume on February 14th. The annual celebration of Valentine's Day is above all, the single busiest day for florists.
Why Valentine's Day?
The afternoon sales clerk at Piano's Flowers and Gifts in Memphis states the reason for this is, "On other holidays, orders are spread out over the week of the holiday, but on Valentine's Day, everyone wants their order for that very day, or at earliest, the day before."
Tradition of Red Roses
According to the St. Valentine's Day.org website, "The tradition of the giving of red roses on Valentine's Day became popular in the 1700's when Charles II of Sweden introduced the Persian custom of "the language of flowers" to Europe."
Most Popular Flowers
Red roses capture almost half of the sales percentage with Valentine's Day consumers. These perennials are followed in popularity by mixed flower bouquets, other roses than red, and bouquets of other singular type flowers such as tulips, irises, and lilies. Plants are the least preferred.
Who's Buying
Per the Society of American Florists' flower fact site, "29 percent of adults purchased flowers or plants as gifts for Valentines Day 2009—of these, 58 percent were men and 42 percent were women."
Interesting Fact
On its website at http://www.nrf.com,The National Retail Federation states this about Valentine's Day 2009 purchasing, "The 35-44 year old age group...spend the most." Second highest on their survey list is the young adults, ages 18 to 24.