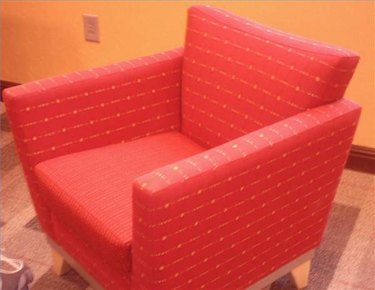 Contemporary interior design refers to whatever design trends are popular now. Modern is an actual style characterized by clean, spare, angular and gently curved lines, molded wood and plastic furniture and geometric fabric patterns. The terms are used interchangeably by many--and even though the term "contemporary" refers to the style based on mid-term modern, their meanings are different.
History
The term "contemporary" in reference to interior design and furniture began in the middle of the 20th century, and has been used since to refer to design trends of the current day that are based on the original.
Features
At the end of the first decade of the 21st century, contemporary design typically described furniture in the modern style made of wood, chrome, metal and glass, in rooms that often use industrial materials. The industrial component was not part of the original 1950s mid-century modern.
Effects
Contemporary design is sleek and uncluttered, and relies on its clean lines and quality materials for its distinctive character, not on carving or ornate embelllishment. Sectionals and modular elements are frequently used.
Size
Mid-century modern furniture was moderate in size. Contemporary design during the first decade of the 21st century expanded some in size.
Color
Colors popular at mid-century were oranges, turquoise, cream, browns and beiges. As time progressed, other colors have been added to the pallet--particularly bright, vibrant tones.
Considerations
Contemporary design will continue to evolve as the decades pass, and will change to reflect changes in society and culture.