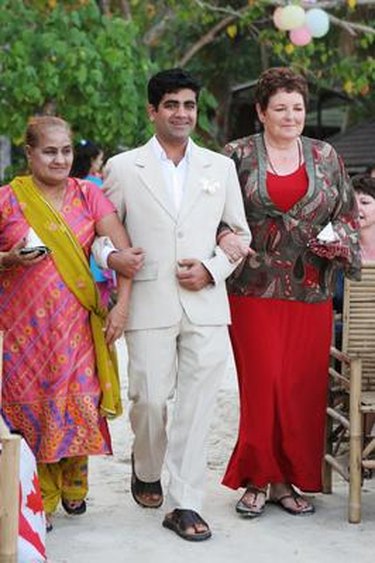 There are different rules of etiquette for wedding invitations in every culture, and Indian invitations are no exception. Though, the rules for sending Indian wedding invitations are generally the same as other cultures, there are few different rules that must be followed when sending an invitation to an Indian wedding.
Guest List
Similar to most wedding cultures, in an Indian wedding, the bride and groom must create the guest list together. Friends of both the bride and groom's parents should be invited to the wedding, and also business acquaintances of both families. The guest list should be made before the hall is reserved so that you can be sure there is room for all guests.
Extending the Invitation
For traditional Indian weddings, it is customary for the bride and groom to personally invite close friends and family members, especially the elderly guests, as opposed to sending them a paper invitation. For guests that aren't as close to the family, a paper invitation should be sent in the mail. A follow-up phone call should be made to all of the invited guests to make sure they received the invitation, or to remind the guests that were invited in person.
Mailing
When mailing an Indian wedding invitation, proper etiquette calls for all invitations to technically be mailed from the bride's home. This is true whether the guest receiving the invitation is a friend of the groom, or doesn't even know the bride yet. This means that the return address on the envelope should use the bride's name and address. Indian wedding invitations should be sent six to eight weeks in advance to give the guests time to plan for the wedding celebration. Include information about accommodations, and any other additional information at the time of mailing.
Save-The-Dates
Save-the-dates should be sent to guests who are traveling to come to your wedding. This is especially true of friends or family who are traveling overseas. Save-the-dates should be sent at least 10 weeks in advance, longer if they are traveling from a far location. Again, be sure to add hotel information so they can book their accommodations early.
RSVP's
RSVPs are not expected for Indian wedding information. It is uncommon for an RSVP date to be included in the text of the invite, nor a response card. However, if your guest list includes guests that are from a culture that does often send RSVPs, you should try to let them know that it will be assumed that they are coming unless they send their regrets. Perhaps, add a piece of paper including this information to the invitation to inform non-Indian guests.