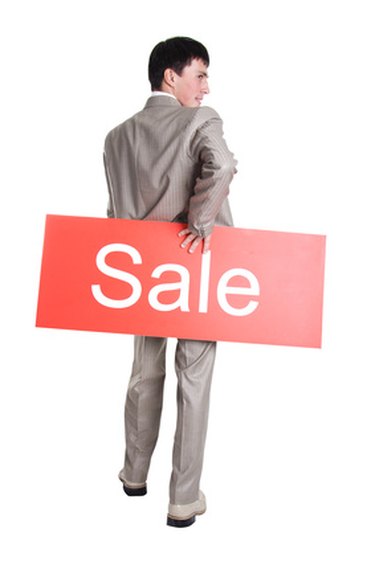 Many people use the term "poster board" to refer to any sort of cardboard used for display purposes. Poster board and tagboard have more in common than they have differences. Both are found in office supply, craft and art supply stores and are used for similar purposes.
Paperboards
Cardboard is actually a catch-all term for thick paper that consumers recognize as boards. Cardboard is divided into three groups: Paperboard, corrugated fiberboard and cardstock. Paperboard consists of those thick papers that are generally less than .010 inches thick. Both poster-board and tagboard are in the paperboard category.
Tagboard Defined
Tagboard is a lightweight cardboard that comes in many sizes, styles and colors. It is thinner than true poster board and is made from virgin wood pulp. It is not acid-free, so it should not be used for projects that involve keepsakes or photos. It has a smooth surface and can be written on easily. Tagboard is used in the sewing industry for patterns. In the transportation industry, coated tagboard is used to make the hazardous warning placards that are placed on semi-trucks.
Poster Board Defined
Poster board is a lightweight cardboard. It is manufactured from virgin wood pulp or recycled paper and can be cut to a thickness of either .048 inches or .058 inches. Some poster board is coated on both sides and can be used for screen printing, mounting or die cutting. It comes in a variety of sizes, colors and styles. It is available in an acid-free variety. Poster board has a smooth surface.
Making Paperboard
Simply put, all paperboards are manufactured in the same way as paper. Virgin wood is put through a process that breaks it down into individual fibers in a slurry of pulp. Chemicals might be used in the pre-pulp or pulping process to aid in breaking down the wood's cellulose. Once the wood is reduced to wet pulp, it is spread out so the water can evaporate. The fibers are pressed together, and any remaining moisture is removed. After pressing, the fibers are heated and rolled and resins or starches can be added.
A Personal Choice
The decision to choose either poster board or tagboard really comes down to what is available and how much you are willing to spend. Both come in much of the same colors, ranging from plain white to bright neon colors, and in sizes to fit various projects. Poster board is more common in major discount stores, but both paperboards can be purchased online.