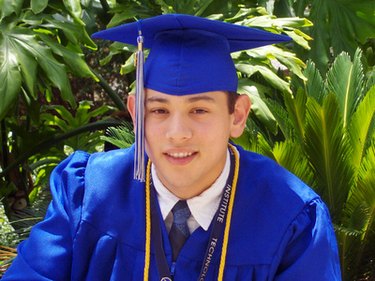 Traditionally a godmother is responsible for her godchild's religious and moral instruction, but she is also his first adult friend. It's customary for her to give her godchild generous gifts on special occasions, following the same etiquette which applies to the child's parents. Her graduation gift should have special significance, since it marks the occasion of the godchild taking his adult place in the world. She should present her gift either at the graduation party or privately afterwards, when she can express how proud she is of her godchild's accomplishment.
Religious Gifts
Since a godmother is a child's spiritual mentor, a religious gift is very appropriate. Consider giving a crucifix pendant, a presentation Bible or a rosary. St. Brigid is the patron saint of scholars, so a St. Brigid medal would be suitable, as well.
Look to the Future
It's appropriate for a godmother to give a graduation gift that will help her godchild to prepare for the future. If he'll be attending college, give him something that will help him there such as a dorm fridge or a notebook computer. If it's the godchild's college graduation, consider a gift that will help him as he starts in his new career, like a high-quality stethoscope or a set of leather-bound law books.
Something Personal
Since a godmother has a close relationship with her godchild, it's entirely suitable for her to give personal presents. Watches, lockets and other jewelry are good traditional gifts, and become more precious if they are engraved with a personalized message from the giver. Silver photograph frames, leather briefcases and clocks can also be engraved or monogrammed.
Give Her a Break
Many people take some time off after they graduate, so travel gifts are always welcome. Consider giving luggage or a good-quality digital camera to your godchild, or splurge and pay for the plane tickets. A godmother is also in a good position to know how to pamper her godchild and can give a relaxing gift such as a spa weekend or a massage.
Cash
Money is always a proper gift from a godparent. Give it in the form of cash, savings bonds, travelers' checks or gift cards, and enclose it in a card or letter in which you've written a note of congratulations.