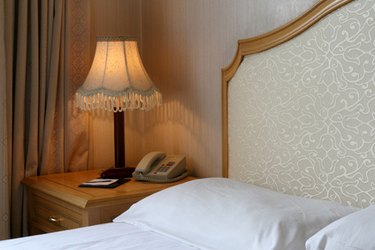 Bed pillows come in five different sizes. Not including specialty pillows for back sleepers, side sleepers or those who snore, pillows are labeled according to what size bed they are specifically sized to fit. The reason pillows are generally paired with a bed size is purely aesthetic, because any comfortable pillow will do for most people. Visually, a small bed can be overwhelmed by large pillows, while large beds can accommodate bigger pillows like king or European pillows, and sometimes even both.
Standard and Queen Pillows
A standard bed pillow is 20 inches x 26 inches and is ideal for a twin bed. Two standard pillows can be placed side by side on a queen bed, and three can be used side by side on a king-size bed. A queen-size pillow is 20 inches x 30 inches, and placing two side by side fits a queen-size bed.
King Pillows
King size pillows are 20 inches x 36 inches. Two king pillows laid side by side across a king bed are designed to fit well. A set of king-size pillows can be used by themselves or as part of a decorative assembly of pillows on the bed.
California King Pillows
You will occasionally run across a California king bed, which is a few inches wider than a regular king mattress. A pillow for a California king bed is 20 inches x 40 inches, 4 inches wider than a king pillow. California king sheets are also wider than regular king bed linens.
European Pillows
Also known as Euro pillows, a European pillow is a square 26 inches x 26 inches. Sometimes referred to by its metric size, 65 cm x 65 cm, the square shape of European pillows is ideal for sitting propped up. While semi-reclined in bed, European pillows support the mid-back.
Pillow Shams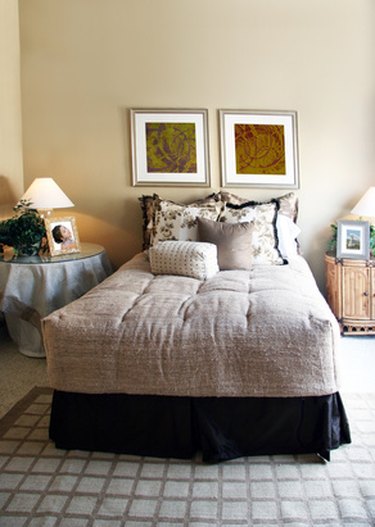 A pillow sham is a decorative pillow case. Shams can be ruffled, pleated or embellished with fringe. Shams may come with comforter sets, or may be purchased separately. A sham does not have to match the other pillows on the bed, but it should be of the same style and color range. European pillows have shams sized specifically for the pillow, as do other pillow sizes. Typically, the set of the largest pillows on the bed will have a pillow sham on it instead of a pillow case.
Pillow Arrangement
To make a bed presentation that rivals those found in store displays, a lot of pillows are used. To imitate this look on a king-size bed, place two king pillows in regular pillow cases against the headboard, or along the top of the bed; these are the pillows you will sleep on. Put three European pillows in shams across the front of the pillows you will use while sleeping. Keep the look going by layering a row of three standard pillows in decorative shams across the front, or use two king pillows in decorative shams. The results will deliver three rows of pillows. Top the look off with numerous throw pillows in a variety of shapes, sizes and colors that complement the pillow arrangement.
To Consider
Numerous pillows on a bed may appear feminine, but can look more masculine if dark or neutral colors are used for the linens. Using simple patterns and box-style shams also adds to sleeker results. Taking the pillows off the bed each night before going to sleep can be a bother; therefore, guest rooms are often well suited to a large quantity of decorative pillows because the beds are used less often.