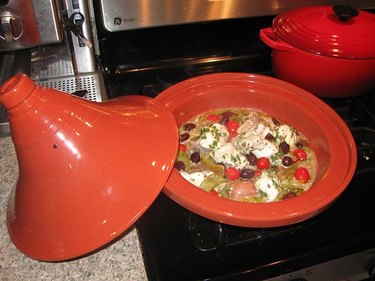 If you enjoy making or eating international cuisine, chances are you have been intrigued by Moroccan stews and meat dishes. Many cooks like to create the delicious Moroccan dish known as tagine, or tangine. A tagine, named after the vessel it is cooked in, is a stew that can be vegetarian but more often contains meat such as chicken or lamb, combined with spices, vegetables and fruits. A tagine can be made in a regular Dutch oven or large pot, but for authentic results many cooks prefer to use a tagine.
Function
Tagines are a special kind of pot, traditionally made of clay, used to insulate and slow cook foods. They are commonly used in North Africa where the traditional cuisine uses a variety of spices that benefit from being cooked slowly and steadily with very little added water.
Features
Tagines consist of two pieces, a cone-shaped lid and a plate-like bottom. The tall, inverted lid allows steam to circulate throughout the pot while cooking, which helps ensure a flavorful and tender dish. The design also ensures easy preparation since there is no need to stir or open the cuisine during the cooking process. In North Africa, they are also used as an insulated serving dish since they retain heat for long periods of time.
Size
Emile Henry's Flame Top tagine is available in a 2.6-quart size and a 3.7-quart size. The larger size is perfect for a dinner party or a big family.
According to the Le Creuset website, Le Creuset's tagine is currently available in a 1.75-quart size. A 2-quart model is also available from many Internet retailers. The Le Creuset sizing is similar to the 1.8- to 2-quart size of many traditional North African tagines.
Identification
Emile Henry's tagine is constructed of burgundy clay, which is suitable for use with any type of cooktop. According to Emile Henry's website, it is about 30 percent lighter than a cast-iron tagine and is available in figue (a dark purple-brown), azur, red and black. It is dishwasher-safe and can be used both in the oven and on the stove top. Emile Henry offers a three-year warranty for household use.
Le Creuset makes the base of its tagine out of enameled cast iron and the lid out of stoneware. The Le Creuset tagine carries a limited-lifetime warranty. It is easy to clean and can be washed in the dishwasher. You can use it on the stove top at high temperatures to braise or brown foods before lowering the heat and slow cooking them in the tagine. The Le Creuset tagine is available in kiwi, cherry red, cobalt blue, dijon and Caribbean.
Considerations
Le Creuset's enameled cast-iron tagine is heavier, but it is also virtually indestructible and unlikely to crack or break. The Le Creuset tagine serves a maximum of four people with moderate appetites so it is perfect for smaller families or couples.
Emile Henry's tagine is less expensive than Le Creuset's, and the 2.6-quart size is generally perfect for a group of four to six while the larger size can serve as many as 10 people. Since it is a stoneware tagine, it is more similar to the traditional clay ones that have been used in North Africa for hundreds of years.