Things You'll Need
Butter

4 cups miniature marshmallows

Green food coloring

6 cups Rice Krispies cereal

Pan

13 by 9 inch cake pan

Red cinnamon candy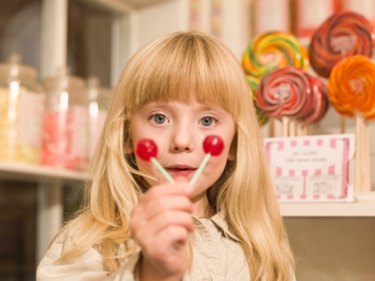 Kellogg's introduced the breakfast cereal, Rice Krispies, to the American public in 1928. While its marketing jingle includes the familiar "snap, crackle and pop," many consumers recognize the product by the bar cookie bars made from the cereal, Rice Krispies Treats. Mildred Day, an employee of Kellogg, invented the recipe in 1930 as a fundraiser for the Camp Fire Girls. The recipe went public 10 years later. Over the years, creative cooks have added their own touches to the cookie, such as giving the treats a bit of holiday flare by making red and green Rice Krispie Treats.
Step 1
Melt the marshmallows and 3 tbsp. butter in a pan.
Step 2
Add a few drops of green food coloring. Stir until you have a smooth, solid color. Add more food coloring for a darker green. Red food coloring doesn't work as well, as the end result looks more pink than red.
Step 3
Add the Rice Krispies cereal to the marshmallow mixture and blend to completely coat the cereal.
Step 4
Wash, dry and butter your hands. This will prevent the mixture from sticking to your hands while filling the cake pan.
Step 5
Put the mixture in a buttered cake pan, and pat down until the top is fairly flat.
Step 6
Press red cinnamon candy into the top of the mixture. Add enough candy, so that when cutting the mixture into bar cookies, each cookie will have several pieces of red candy decorating its top.
Step 7
Allow the mixture to firm up before cutting.
Tip
Instead of cinnamon candy, use other red-colored candy to decorate the cookies.