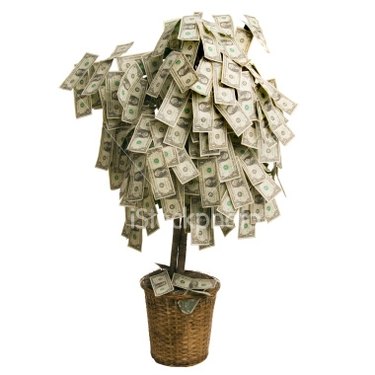 Money doesn't grow on trees, but it's nice to pretend it does, especially on your birthday. A 40th birthday can be difficult for some people because it's been traditionally viewed as going "over the hill." Though some will see the humor in this gag theme, a thoughtful and homemade birthday gift like a money tree can make others forget about aging and simply have fun. Here are some creative money tree ideas that will show friends and family on a 40th milestone that the fun isn't over and neither are they.
40 is the New 30
If 30 is the new 20, than 40 is the new 30. Forty isn't considered old anymore, so your friend doesn't need to feel old on her 40th birthday. A money tree with this concept is bound to be a pleaser. Simply write the tag line "40 is the new 30" in a cute font and put it on the top of the tree. Then, put 30 dollar bills throughout the tree. If this makes it seem the tag line was just to get out of sticking a full $40 on the tree, hide a $10 somewhere as a special "bonus" buck.
To add money to a tree, simply tie or tape the bills to the branches. Dollars can be rolled up, fanned out or even balled. It depends on the style and look you desire for the tree. There is no wrong way to affix the bills.
Big Spender
Forty is a big milestone, and huge parties are often had to celebrate the occasion. People tend to spend more money on gifts for milestone birthdays, but a money tree can be a big gift, too. Since the magic number is 40, simply put two $20 bills tied to every branch instead of the traditional dollar. Or mix up the branches with different dollar amounts and have $40 tied to only the top branch. Either way, your friend will be delighted.
Coupon Tree
Money isn't the only thing that doesn't grow on trees. Coupons and gift cards don't, either, but we wish they did, too. Gift cards to coffee shops, music stores or pampering places like massage and hair salons are creative twists on a traditional money tree. With the different colors of the gift cards or even homemade coupons (a coupon granting a free night of relaxation from a husband, for instance), the gift tree will look uniquely decorative.
Momentous Money Tree
Forty years is a while, or at least it will seem like that to the birthday boy or girl. With four decades of memories and a party to share them, a money tree could be the perfect photo album. Print photos of monumental life moments like the births of children, weddings and past birthdays and tape money to the backs of them. Then, punch a hole in the tops of the photos and tie a string loop through the hole. Hang these on the tree for a memorable money tree.
Over the Hill
While 40 is a depressing birthday for some, others will see the funny in the traditional "over the hill" birthday. If "over the hill" balloons and swag are present, a money tree would fit in nicely beside them. Simply get a black tree--fake black trees are sold around Halloween at craft stores and elsewhere--and choose a theme above to decorate. Whether money or photos, an "Over the Hill" sign from a party store on the top of the tree is a must.