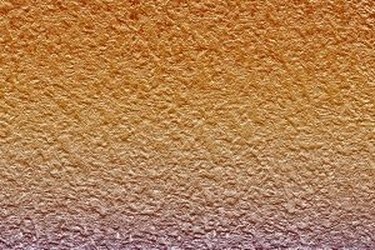 Latex paint is a water-based paint that comes in different finishes, including flat, semi-gloss and glossy. Outdoor and indoor latex paints are available and can be tinted to any color. Latex paints make up about 75% of the paint market, with the other 25% being oil-based paints. There are many advantages to latex paint that make it a good choice to use on many different surfaces.
Walls and Trim
Latex paint is a good choice to paint your indoor interior, including walls and trim. It will dry faster than oil-based paints so a second coat can be applied after a shorter wait. It also goes on smoother and does not show brush strokes as easily as oil based paints. Latex paint is also easy to clean up since it is water based. Soap and water will usually do the trick. Latex paints also have fewer "Volatile Organic Compounds" (VOC) than oil based paints. VOCs are the gases you smell during and after painting, which can affect your health when you are overexposed.
Concrete
Latex paint works well to cover concrete. There are special latex masonry paints designed to be used on concrete, both indoors and outdoors such as floors, stairs, decks and garages. These paints are specially formulated to protect the concrete from moisture. They also resist scuffing and chipping, which is essential on a concrete floor. Concrete surfaces painted with latex masonry paints can be cleaned with soap and water.
Wood
Latex paint covers wood well. Wood paneling, wood furniture and wood siding all can be painted with latex paint. Again, it is easy to clean up and has lower VOCs than oil-based paints. 100% acrylic latex paints can resist freezing, so if the wood you are painting is exposed to low temperatures, be sure to check the label.
Aluminum Siding
Rather than replacing your old and weathered aluminum siding, you can clean it and paint it with outdoor latex paint, made with 100% acrylic. It will resist fading caused from the sun as well as retain its color due to other outdoor elements. It will not chalk so the paint will look nice for many years. In addition, latex paint is more durable and more elastic than oil based paints, so the paint will not easily crack as the temperatures fluctuate and cause the siding to expand and contract.
Stucco
Like concrete, stucco can be painted with special latex paint designed for masonry surfaces. The latex paint will resist moisture and mildew growth. It will not fade if exposed to the sun. Latex paint will also help hide some minor defects in the stucco. Since using latex paint that is quick drying, a second coat can usually be applied within a few hours. Afterwards, you can use soap and water to keep your stucco clean.