The possibilities are limitless when it comes to what you can cook on an electric griddle. Many people have an electric griddle hidden away and do not realize the versatility of these flat-top grills. Many owners may believe that electric griddles are just for pancakes.
Commercial restaurants frequently use electric griddles in their operations for large amounts of food as well as to keep food warm. These griddles can be very large and be able to cook food for one up to 200 people.
Pancakes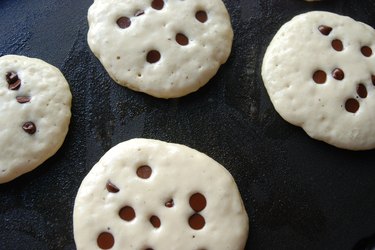 Pancakes are the most popular food to cook on an electric griddle but they don't have to be the usual pancakes. To make your pancakes different, add flavor extracts, fruit, nuts and candy. Try some of these combinations.
Lemon poppy pancakes: To each two cups of pancake batter, add 1 tsp. lemon extract, rind of half a lemon, 2 tbsp. sugar and a 1 tsp. poppy seeds.
Chocolate chip pancakes: Pour each individual portion of pancake batter onto the hot griddle. Sprinkle chocolate chips onto the batter. Flip and cook until the pancake is cooked through.
Cranberry walnut pancakes: To each 2 cups of pancake batter, add one-quarter cup of chopped walnuts and one-quarter cup of dried sweetened cranberries.
French Toast
French toast is also a common food cooked on electric griddles. Make your french toast in the usual manner, but add flavors to the batter or toast before cooking.
Flavored french toast: Add orange, lemon or almond extract to the egg and milk mixture.
Coconut french toast: After battering your french toast, dredge the slice of bread in coconut and grill as usual.
Burgers
Burgers of all types can be cooked on an electric griddle. Try some of these interesting combinations.
Asian salmon burgers: Mix 1 lb. chopped salmon, 1 tsp. soy sauce and sesame oil, 2 chopped green onions and divide the mixture into four burgers. Grill the burgers on medium heat until the salmon is completely cooked through (about 3 minutes each side).
Turkey Chorizo burgers: Mix 1 lb. turkey with one-half cup of chorizo Mexican sausage. Divide the mixture into four patties. Grill your burger at medium heat for 3 minutes on each side till completely cooked through.
Asian Stir Fry
Take a pepper, 1 onion, a garlic clove, 1 cup of pea pods, one julienned carrot and 1 tbsp. of vegetable oil and saute on the electric griddle on high heat till the peppers and onions are just soft. Add 1 tbsp. soy sauce, 1 tbsp. sesame oil and 1 tbsp. oyster sauce to the vegetable mixture. Cook another minute and serve with white rice. You can add cooked grilled chicken, tofu or beef to this mixture.
Steaks
Season beefsteaks with salt and pepper and cook on medium to high heat, depending on how you like your steak. Season your steak with herbs and spices for a different taste. Dust your steak with a combination of garlic and onion powder, paprika and dried thyme and cook as usual. If you like your foods spicy, add some cayenne pepper.
Fish
Any type of fish can be cooked on an electric griddle. You can sear tuna, salmon, tilapia or any other fillet. Season the fillet with salt and pepper and sear on medium or high heat.
Commercial Griddle Uses
Commercial griddles are most often used for burgers and pancakes just the same as residential griddles. In addition to pancakes and burgers, commercial griddles are used to cook numerous other foods.
Commercial griddles are used to saute onions and peppers for pastas and burgers. These griddles can be used to make hash browns for breakfast service. Buns and rolls are steamed under large lids on top of commercial griddles. Sauces and soups are kept hot in large stainless steel pots placed on the griddles.