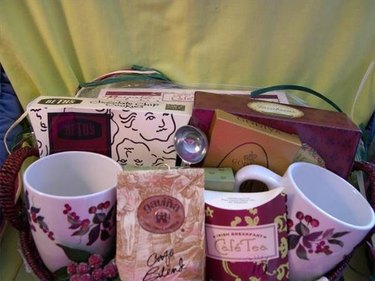 Gift baskets are an appropriate, appreciated gift for any occasion and practically anyone. You can give one to someone as distant as a business associate and as close to you as your spouse or child. You can make up a gift basket that suits the holiday or event, or tailor it to the recipient's personality. The best part is that even if you do not consider yourself creative, you can put together a basket that looks professionally made, once you know what to put inside of it.
Significance
While corporate gift baskets are more impersonal, those you make for people close to you are an ideal way to show someone how much they mean to you. By taking the time to find several small items that suit your friend's or loved one's hobbies, tastes and interests, you show that you care and pay attention. For instance, if your mother mentioned she would like to take up gardening, you could tuck a pair of gloves and some seed packets into her basket.
Types
While there is no right or wrong way to fill a gift basket, the best method to use is choosing a theme. Write a list of everything that comes to mind about your gift basket recipient. Does he love baseball? You could put a couple of collectible baseball cards and a ball cap in the basket. Does she spend all her summers at the beach? Put in a pair of fun flip-flops, some sunglasses and a rolled up beach towel.
Features
While your gift basket should be made up of several small gifts, you can still feature one significant item, if you wish. For instance, a pair of tickets to a ball game would thrill your sports fan. Alternatively, you might create a basket with a relaxation theme for your wife. Include some aromatic candles, soothing bath salts, a CD of calming music and a sleep mask. Top it off with a gift certificate for a massage or other spa treatment.
Considerations
When deciding what to put inside of the gift basket, you will also need to consider what to put the items in. Your first thought will likely be a standard wicker basket. While this is a perfectly acceptable choice, you may want to be a bit more creative. Your container can be part of the gift. If you are making a cooking-themed basket, you could place the items in a decorative colander. For someone who loves crafts, add gifts to a pretty sewing basket.
Effects
Using some type of filler adds a professional effect to the gift basket. Lightly crumpled tissue paper in a color that coordinates with the container or most of the contents always looks nice. You can also use shreds of tissue paper, cellophane or thicker paper. Once you have filled the gift basket, wrap it with cellophane, tulle or shrink-wrap and tie it with a ribbon, raffia or a lovely bow. Your recipient will be delighted that you put so much thought and effort into this gift.