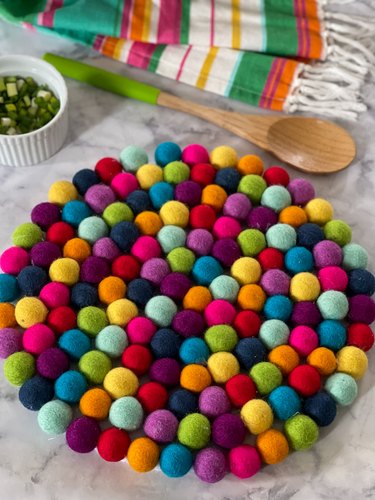 You work hard to prepare beautiful meals for your loved ones—why not showcase your food on an equally beautiful dining room tablescape? Here's where the humble place mat comes in. Yes, place mats protect your dining table from scratches and heat damage, but when combined with pretty napkins, table runners and tablecloths, they also create a feast for the eyes.
Video: Bring a Rainbow to the Table With DIY Pompom Place Mats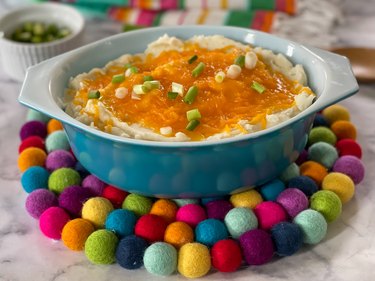 Quilted and reversible place mats have been around for ages, but how about adding vibrancy, warmth and texture to your table with place mats made from rainbow pompoms? Yes, we said pompoms! We'll be right by your side with instructions for crafting an ultra-colorful DIY pompom place mat.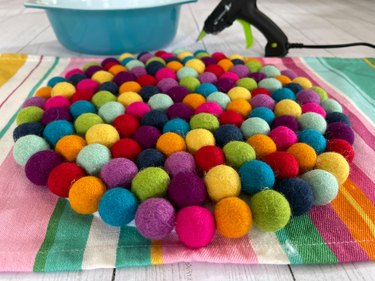 Things You'll Need
150 1-inch wool felt pompoms in assorted colors

1/2 yard section of white felt, fusible fleece or fusible interfacing

Marking pen


Sharp scissors

Hot glue gun

Measuring tape or ruler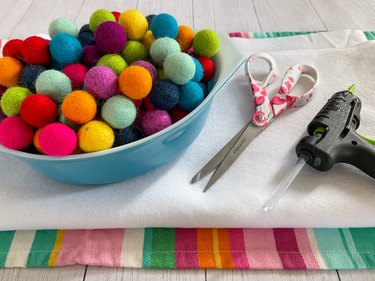 How to make a Rainbow Pompom Place Mat:
Fold 1/2-yard section of white felt or fusible fleece in half to create two layers. Using a marking pen, trace around a large, round plate or platter onto the felt. Next, use a sharp pair of scissors or a rotary cutter on a cutting mat to cut through both pieces of fabric—you'll end up with two circles of material. The raw edges on felt won't fray, so you don't need to use a sewing machine to finish the edges.
2. Glue felt circles together
To form the place mat's backing fabric, glue the two felt circles together using a hot glue gun. This will leave you with one double-layered felt circle.
Tip
Go ahead and use a thrifted piece or one of your own place mats as a base if you don't have enough felt on hand. Just make sure the place mat is made from fabric or a natural material so the glued-on pompoms will stick. Plastic place mats will not work for this project.
3. Find and mark the center of the circle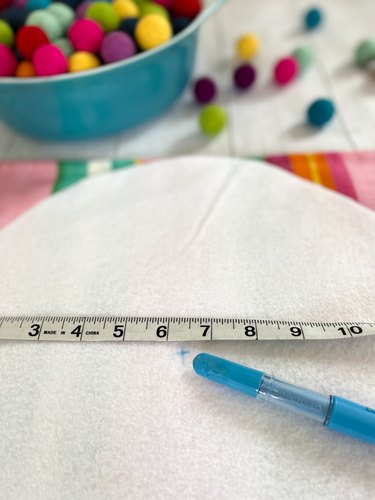 Use measuring tape to find the circle's precise center and mark it with a marking pen. This designates the spot where your first pompom will be placed.
How to Make Your Own Pompoms
Instead of buying premade felted wool pompoms on Amazon, you can make your own! Making felted wool pompoms is very similar to making felted wool dryer balls.
Use a small handful of wool roving and roll it into a ball in the palm of your hand. Run it under warm water and add dish soap. Rub the dish soap into the ball while rolling the ball around in your hands, just like rolling a dough ball. Continue massaging until the ball feels firm. Kneading the wool will lock fibers together to begin the felting process.
When you've achieved your desired shape and size, rinse the soap and let the ball dry in a warm place. Use fabric dye to create as many colored felt balls as you'd like.
4. Attach colorful pompoms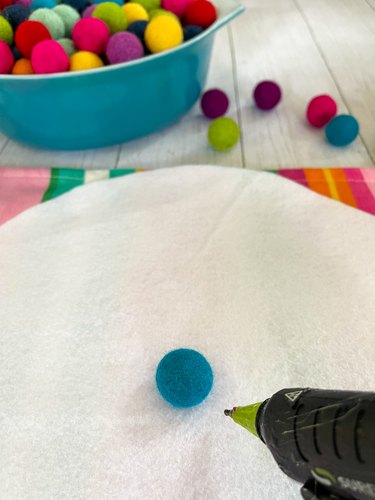 Attach the first pompom to the center of the felt circle using a hot glue gun. Continue gluing pompoms around the center until they've reached the outer edge. At this point, it's time to let your creative juices flow.
We went with a totally random color arrangement, but the design is completely up to you! You could even arrange pompoms in the shape of a letter or spell out a word to give your place mats a personal touch.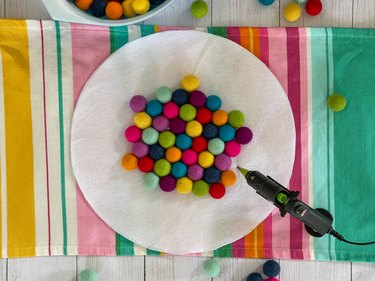 Put this fun, easy place mat on your dining table the next time you gather for a meal with loved ones and watch their eyes light up.
Tip
Not feeling up to making an entire place mat? Modify this DIY with smaller felt circles and fewer pompoms to create coasters!
And just like that, you have a playful pop of color to accompany your latest mouthwatering meal. We can't think of a better way to dress up dinnertime!