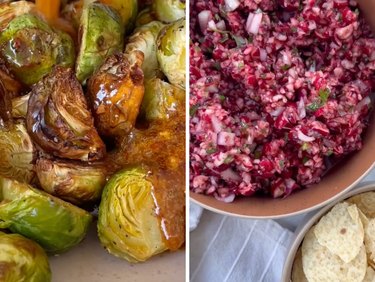 It's not a true Thanksgiving feast unless there are more side dishes on the holiday table than there are people sitting around it, right? Go ahead and enjoy classics like mashed potatoes and stove top stuffing but don't stop there! There's a whole world of nontraditional holiday side dish ideas out there, just waiting to deliver the crunchy, cheesy, sticky, creamy indulgence you crave from a Thanksgiving meal.
This year, we're giving thanks to all the social media chefs who've created and shared unconventional yet crowd-pleasing Thanksgiving side dish recipes. To help dress up your Thanksgiving table with something new, we've rounded up some of our faves for your consideration—just don't be surprised if you start drooling. Who knows? Maybe an out-of-the-box Thanksgiving side will become your signature dish for years to come.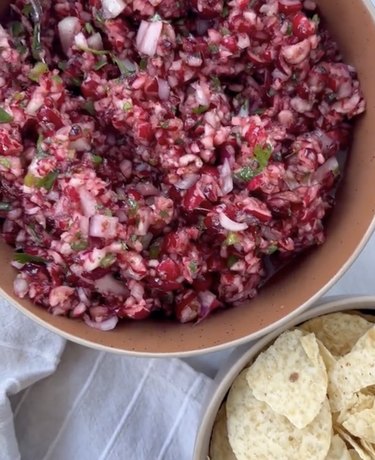 There's a good chance that no one at your Thanksgiving gathering has ever tried cranberry salsa before, so you'll be performing a true act of holiday service by introducing everyone to this tangy alternative to a classic! TikToker @thedailytayste shares a family recipe that swaps cranberries for tomatoes. It's packed with all the onion, garlic, lime juice, jalapeño and olive oil you'd add to a traditional salsa plus sugar to counterbalance the cranberries' tartness. Serve it as a predinner appetizer with tortilla chips or right on the Thanksgiving table as a tasty alternative to traditional cranberry sauce.
2. Crispy Sweet Potato Stacks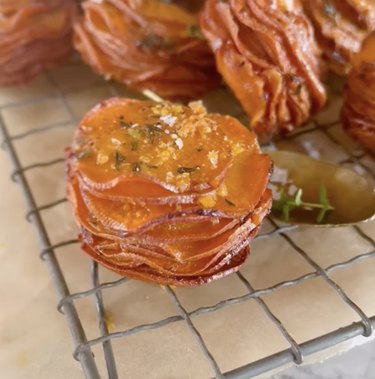 We don't recommend watching this TikTok from @halfbakedharvest while hungry. You're not going to want to wait for Thanksgiving to make these buttery sweet potato stacks—and honestly, what's keeping you from making a "test batch" now? They're essentially a variation on Hasselback potatoes but even crispier. Each thin slice of sweet potato is coated with garlicky brown butter and Parmesan cheese (yum) and then stacked in a muffin tin for baking. What a brilliant hack!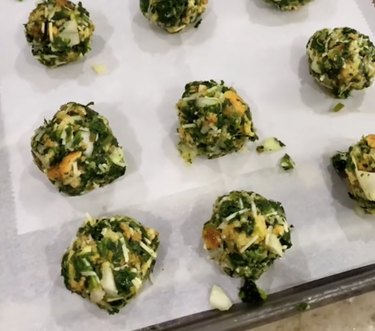 Even the pickiest eaters at the kids' table might gobble down these savory spinach balls from TikToker @living_in_central_fl. Combining frozen spinach, preshredded Parmesan and a bag of herb-seasoned stuffing mix makes this a quick and satisfying recipe that comes together in minutes. Plus, you can make and freeze them ahead and then reheat just before mealtime—no extra dishes to wash on Thanksgiving!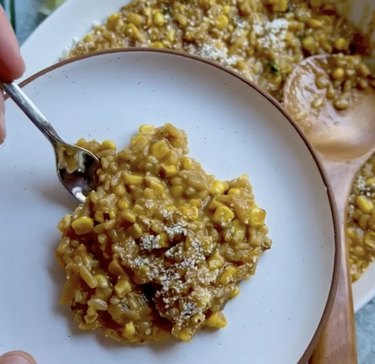 If you love creamed corn or corn pudding at Thanksgiving, you have to try this poblano corn risotto from TikToker @hangryinlove. You still get that silky, salty comfort-food feeling you crave plus the flavor of sweet corn, but the roasted poblanos and paprika add slightly smoky and spicy notes that are perfect for autumn. As a bonus, this risotto can easily be made vegan and/or gluten-free!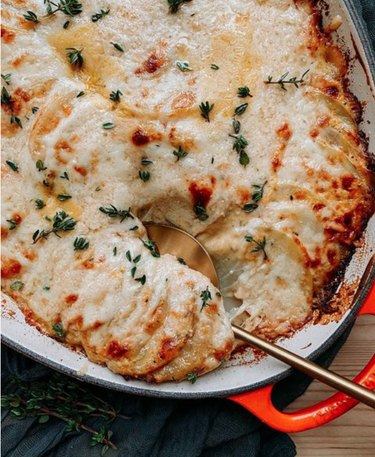 Most Thanksgiving menus include potatoes in some form, but they're rarely paired with pumpkin! Picture it: thin layers of tender potatoes swimming in a creamy, garlicky pumpkin sauce and topped with a thick golden crust of Gruyère cheese. You might not care about saving room for main dishes with pumpkin potatoes au gratin on the Thanksgiving table. This decadent recipe comes from Instagrammer @whipandwander, who clearly understands that there can never be too much cheese on potatoes.
6. Roasted Root Vegetable Salad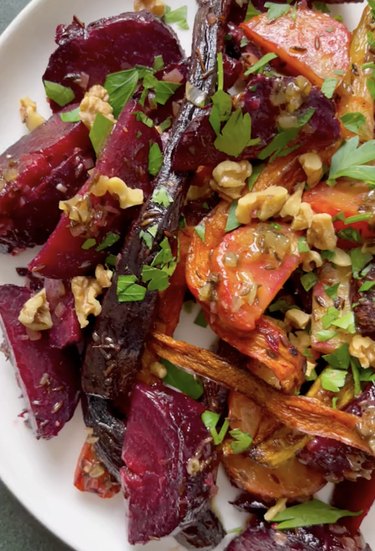 Veggies balance out all the heavier Thanksgiving dishes, but a special day calls for something more elevated than a basic green salad recipe. Exhibit A: this roasted carrot and beet salad, beautifully highlighted by TikToker @zestfulkitchen. It's bright in both color and flavor, with a red wine vinaigrette made from toasted cumin, shallots and maple syrup that's spooned over sweet roasted root vegetables. Top it with fresh herbs, toasted walnuts and spoonfuls of goat cheese or feta. Delicious!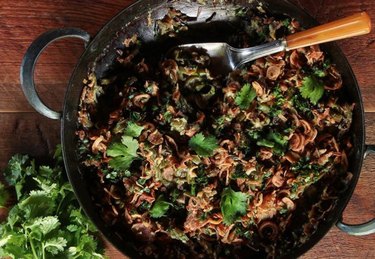 How does an elevated take on a traditional green bean casserole sound? This nopalitos casserole recipe from Instagrammer @thefarmhouseproject fits the bill. Instead of green beans, the recipe uses jarred nopalitos—aka the edible part of prickly pear cacti. Wild rice and savory dried mushrooms are a perfect complement to the slightly sour, citrusy flavor of nopalitos, while cream of mushroom soup and fried shallots are ‌just‌ traditional enough to satisfy your green bean casserole cravings.
8. Hot Honey Garlic Brussels Sprouts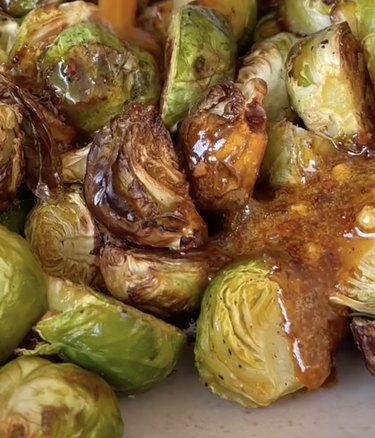 Plain roasted Brussels sprouts are delicious all year long. For Thanksgiving, though, you've gotta kick it up a notch (or several notches) with the addition of hot honey sauce! The recipe TikToker @zenaskitchen uses to make hot honey Brussels sprouts is super simple. A sticky sauce made of salted brown butter, garlic, Aleppo pepper and honey is poured over perfectly roasted Brussels sprouts hot from the oven. (You'll want to devour them as is, but wouldn't they also make an amazing topper for macaroni and cheese?)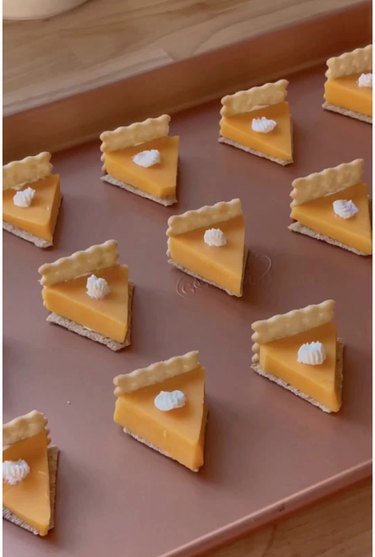 For folks who might not be prolific bakers, making a contribution to the Thanksgiving table doesn't need to be stressful. Keep the oven turned off and focus on festive treats that require simple assembly, like these mini faux pumpkin pie slices made from cheese and crackers. TikToker @gariannestable shows us how it's done, topping each one with a dollop of cream cheese to mimic whipped cream. So cute!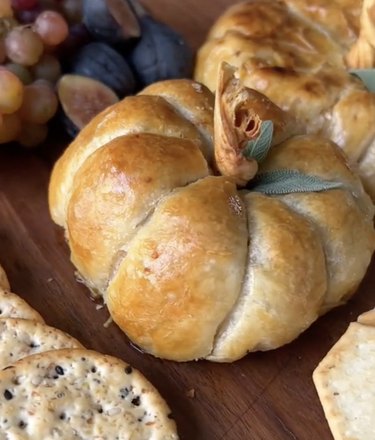 How cute are these miniature individual baked Bries from TikToker @mindylavenhome? Baked Brie is typically served as a communal appetizer, so it would be a special Thanksgiving treat for everyone to get their very own little pillow of dough-encrusted gooey cheese. As @mindylavenhome demonstrates, using twine to tie them before baking and topping with sage leaves yields pumpkins that are (almost) too adorable to eat.
11. Pomegranate Sweet Potatoes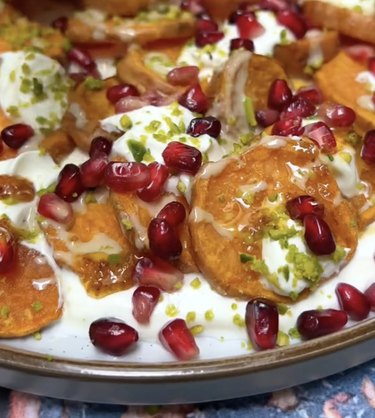 Here's a fun twist on sweet potato casserole that just might steal the show on Thanksgiving. TikToker @johngs whips up roasted sweet potatoes with sour cream, chili butter and pomegranate for an extra dash of sweetness instead of marshmallows. No pomegranates on hand? Spicy or candied pecans would also be pretty delicious. You could whip up this easy side on Thursday morning without missing a minute of the Thanksgiving Day parade!
Whether you're the head chef for a family gathering or simply on the hunt for easy recipes to serve at Friendsgiving, this is the year to shake things up with our collection of the best Thanksgiving side dish ideas from creative foodies. Why not start making test batches tonight? You know, for science—not because you're already craving garlic sweet potato stacks and cranberry salsa and hot honey Brussels sprouts and...