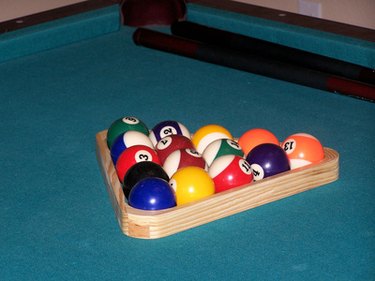 Like most rock, the slate used in a pool table's flat playing surface -- just underneath the felt -- lasts for thousands of years. Unfortunately, pool tables also have wood components, which do not hold up as long. So when a pool table finally wears out, the slate is often still very good, and can be reused for other household surfaces.
Foosball Table
Pool table slate is flat, stable and heavy -- an ideal playing surface for a homemade foosball table. Unless you own a wet tile saw, you'll need to take the slate to a countertop-cutting facility to cut the slate to your dimensions. Once you fit the slate in your frame, the foosball table will "play" a lot better. The ball will no longer get stuck in the small hills and valleys that are common in a wooden surface. Slate also eliminates the problem of warps, so the ball will roll true and not wander around. Spray-paint the slate lawn green, and it will last for years.
Countertop
Use pool table slate to make kitchen or bathroom countertops. According to certified kitchen designer Susan Serra, slate works well because it is impervious to water -- even more so than granite. Make a poster board pattern of the counter you want. Draw the overall outside dimensions and the location of the sink cutout. Transport the slate and the pattern to a countertop-cutting facility, which will cut the slate to the cardboard pattern, for a fee. You will need three or four strong helpers to carry the slate, since it is very heavy.
Workbench Top
Slate will make a sturdy workbench top. Because slate is heavy, your bench will not wiggle around when you are planing, sawing or exerting sideways pressure on it. Slate's flatness also comes in handy when sanding or working on other projects that require a level surface.