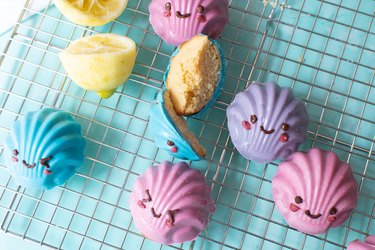 Making madeleines—dainty and sweet French butter cakes—might sound intimidating, but the process has actually never been simpler. In fact, our easy recipe for homemade madeleines is pretty much fuss-free. What's more, these seashell-inspired pastel madeleines are loaded with charm, making them an ideal sweet treat for both beach lovers and dessert enthusiasts.
Video: Sweet Seashell Madeleines to Enjoy Along the Seashore
You'll only need basic pantry ingredients: butter, sugar, eggs, vanilla, flour and salt. Flavor madeleines with extracts or zests; in this recipe, we used lemon zest and juice. The resulting crumb is beautifully light and pairs perfectly with a cup of tea or coffee. To make matters easier, there's no need for a stand mixer or to refrigerate madeleine batter before baking. The mixture comes together within minutes and yields perfectly buttery, lemony sponge cakes.
If you're ready to make a splash with seashell-inspired madeleines, read on!
Quick Recipe Overview
‌SERVING SIZE‌: ‌12 seashell madeleines
‌‌PREP TIME‌:‌‌ 15 minutes
‌‌‌COOK TIME‌:‌ 9-12 minutes
‌‌‌‌DECORATING TIME‌: ‌20 minutes
‌‌‌TOTAL TIME‌:‌ 45–50 minutes
Things You'll Need
Pastry brush

Large mixing bowl

Whisk

Rubber spatula

Small cookie scoop (1.5 Tbsp.)

Cooling rack

1 Tbsp. butter, melted

1 Tbsp. all-purpose flour

1 stick (8 Tbsp.) unsalted butter, melted

1/2 cup (100 g) granulated sugar

1/4 cup (50 g) brown sugar, tightly packed

Juice and zest of 1 medium lemon

2 large eggs, room temperature

1 tsp. vanilla extract

1 1/4 cup (160 g) all-purpose flour

1/2 tsp. salt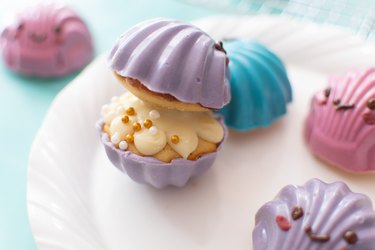 Tip
To create scallop shapes, we used a madeleine pan from Amazon. After baking, we coated pans with candy melts. The process is simple: Put madeleines back in and then pop them right out of the mold!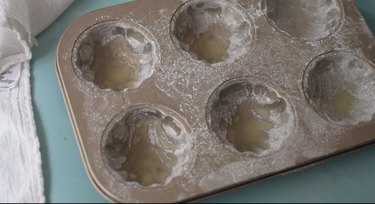 Using pastry brush, lightly brush melted butter into each cavity. Sprinkle on all-purpose flour. Preheat oven to 375°F.
2. Massage lemon zest and sugars
In a large bowl, combine lemon zest and sugars. Using your fingers, rub zest and sugar together. This releases essential oils from lemon zest into sugar, amplifying the citrus flavor.
3. Mix in eggs and vanilla
Whisk in eggs and vanilla until mixture is smooth.
4. Whisk in melted butter and lemon juice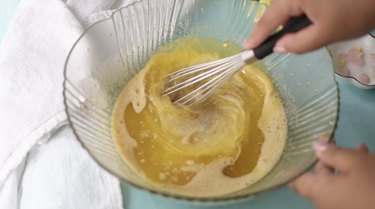 Add in melted butter and lemon juice. Whisk until smooth.
5. Sift in dry ingredients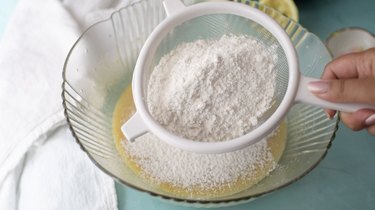 Using a sifter, sift in dry ingredients. Fold batter using a rubber spatula until no dry spots remain.
Tip
If batter is lumpy, pass it through the sifter into another bowl.
Using small cookie scoop, add about 1.5 Tbsp. of batter into each madeleine cavity.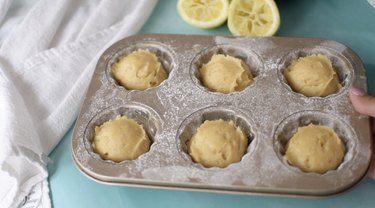 Bake madeleines for 9-12 minutes or until their signature bump appears on top and edges are golden brown. Madeleines should spring back when poked. Flip madeleines out of pan and onto a cooling rack.
Allow mold to cool before brushing on a new layer of butter and sprinkling on flour. Bake remaining madeleine batter.
Part 2: Make White Chocolate Ganache
Things You'll Need
Small microwave-safe bowl

Rubber spatula

Piping bag

1/3 cup white chocolate chips

2 Tbsp. heavy cream
1. Combine white chocolate and heavy cream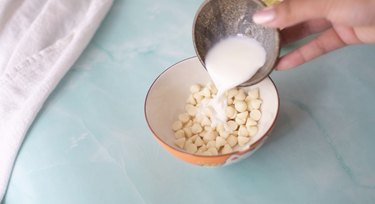 Combine white chocolate and heavy cream in a small microwave-safe bowl.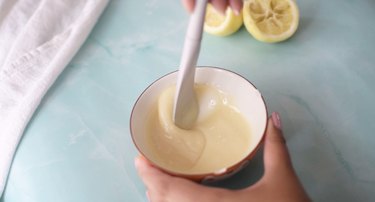 Heat in microwave in 30-second increments, stirring in between until melted.
Cover ganache with plastic wrap and refrigerate until thick enough to pipe. Check ganache after 30 minutes and then every 5-10 minutes. Transfer to piping bag and cut a medium tip.
Part 3: Decorate Madeleines
Things You'll Need
Seashell madeleines

5 small microwave-safe bowls

Spoon

Small piping bag

Toothpick

Candy melts (purple, pink, blue, red)

2 Tbsp. milk chocolate, melted
1. Spoon melted candy melts into madeleine pans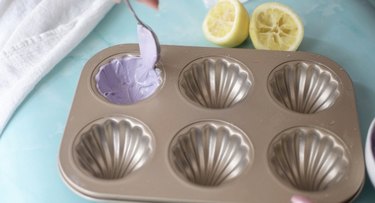 Melt candy melts in 30-second increments, stirring in between. Spread melted candy melts one at a time into cavities.
2. Top chocolate with madeleines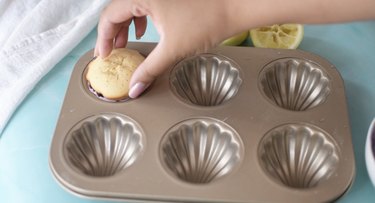 Gently add baked madeleines atop melted candy melts.
Freeze madeleine pan for about 10 minutes. Invert and tap tray hard onto wire rack or work surface until madeleines pop out.
3. Decorate shells with faces
Melt milk chocolate and then transfer to piping bag. Snip off a small tip with scissors. Use this for eyes and smiles. Draw on blush using red candy melts and a toothpick.
Allow chocolate to set. This will take about 15 minutes.
Tip
You can speed up the setting process by popping madeleines in the freezer for 5 minutes.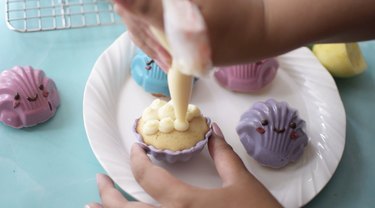 Match shells by color and then flip one over. Pipe ganache on bottom side of one madeleine and then place matching madeleine on top.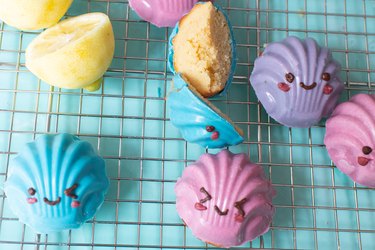 Enjoy these little cakes with friends and a nice cup of tea. Store madeleines in an airtight container at room temperature for up to three days.
Have you ever seen such adorable treats? If you're looking for us, we'll be unwinding with a handful of seashells along the seashore. Seashell madeleines, that is!