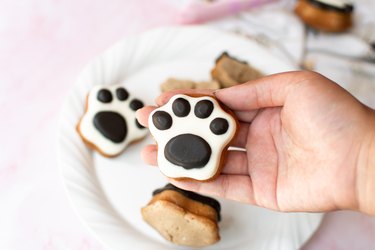 Madeleines are a total treat, no matter their shape. These small French cakes are made with basic kitchen ingredients: nothing more than flour, salt, sugars, eggs and butter. They're a light snack, easily enjoyed with coffee or tea, and beginner-friendly. The best part? They're easy to shape into a variety of fun, playful designs.
This one-bowl recipe doesn't require a stand mixer—just a hand whisk, rubber spatula and sifter. You can flavor the batter by adding espresso powder, as we did here, or by mixing in lemon juice and zest. (See our seashell madeleine recipe for an example!)
Thanks to this paw print madeleine mold, we baked our batter into cute bear paw cakes. After baking, we decorated with white and milk chocolate, calling to mind traditional black-and-white cookies. And they came out SO cute—just like little polar bear paws.
These yummy madeleines are the paw-fect treat to make for any party, so let's get baking!
Quick Recipe Overview
‌SERVING SIZE‌:‌‌ 12 paw print madeleines
‌‌PREP TIME‌:‌ ‌15 minutes
‌‌‌‌COOK TIME‌:‌‌ 9–12 minutes
‌‌‌‌‌DECORATING TIME‌: ‌‌20 minutes
‌‌‌‌TOTAL TIME‌:‌ 45–50 minutes
Part 1: Bake Paw Print Madeleines
Things You'll Need
Large mixing bowl

1/2 cup (100 g) granulated sugar

1/4 cup (50 g) brown sugar, tightly packed

1 tsp. espresso powder, optional

2 large eggs, room temperature

1 tsp. vanilla extract

Whisk

1 stick (8 Tbsp.) unsalted butter, melted

1 1/4 cup (160 g) all-purpose flour

1/2 teaspoon salt

Rubber spatula

Pastry brush

1 Tbsp. butter, melted

1 Tbsp. all-purpose flour

Small cookie scoop (1.5 Tbsp.)


Cooling rack
1. Whisk sugars, espresso powder, eggs and vanilla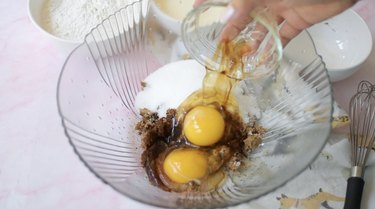 In large mixing bowl, combine granulated sugar, brown sugar, espresso powder, eggs and vanilla until smooth.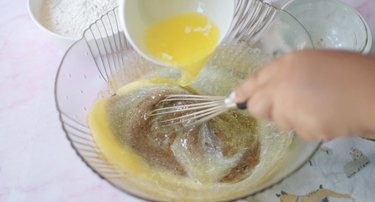 Pour in melted butter while whisking. Mix until smooth.
3. Sift in dry ingredients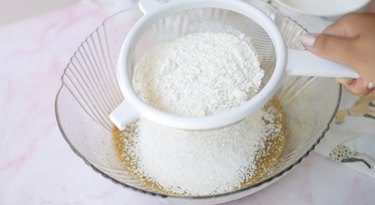 Using a sifter, sift in flour and salt. Fold batter using a rubber spatula until no dry spots remain.
Tip
If batter is lumpy, pass it through the sifter into another bowl.
Using pastry brush, lightly brush melted butter into each cavity of madeleine pan. Lightly sprinkle with all-purpose flour.
Using small cookie scoop, add about 1.5 Tbsp. of batter into each madeleine cavity.
Tip
Place madeleine mold on top of a baking sheet so it's easier to remove from the oven after baking.
Bake madeleines for 9–12 minutes, or until signature bump appears on top and edges are golden brown. Madeleines should spring back when poked. Flip madeleines out of pan and onto a cooling rack.
Allow pan to cool before brushing on a new layer of butter and sprinkling on flour. Bake remaining madeleine batter.
Part 2: Decorate Paw Print Madeleines
Things You'll Need
2 small microwave-safe bowls


1/8 cup white chocolate chips

1/8 cup milk or dark chocolate chips

2 rubber spatulas

Black oil-based food coloring

2 small piping bag

Paw print madeleine pan

Paw print madeleines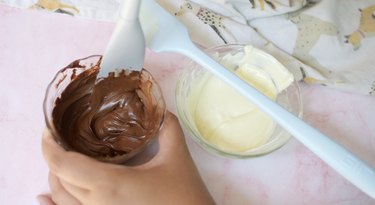 Melt both chocolates in microwave-safe bowl at 30-second increments, stirring with spatulas in between.
2. Add black food coloring to chocolate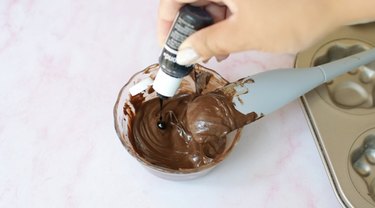 Stir black oil-based food coloring into melted milk chocolate chips.
Transfer white and black chocolates into their own piping bags.
3. Pipe chocolates into madeleine mold
To make the bear paw print, first pipe paw pads. Next, pipe surrounding area.
4. Top chocolate with madeleines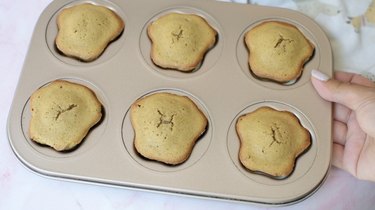 Gently add baked madeleines on top of melted chocolate.
Freeze madeleine pan for about 10 minutes. Invert and tap pan hard on wire rack or work surface until madeleines pop out, then enjoy!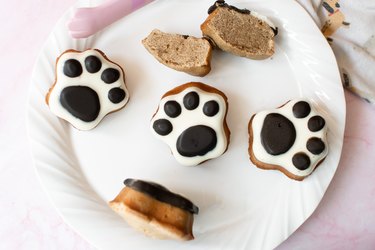 Store madeleines in an airtight container at room temperature for up to three days.
Does it get much cuter than that? Whether you're serving these paw print madeleines at a birthday party, gifting a batch to the animal lover in your life or simply baking for the fun of it, madeleine magic awaits!