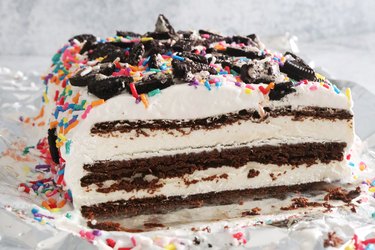 I scream, you scream, we all scream for ice cream cake! If you believe that cake made of ice cream is ‌cooler‌ (pun intended) than the regular kind, you've come to the right place. We've created three recipes for mini ice cream cakes that will make your taste buds sing: an ice cream sandwich cake (featuring classic sandwiches made of chocolate wafers and vanilla ice cream), Oreo-crusted ice cream cupcakes and a basic stacked ice cream cake.
Why ‌mini‌ ice cream cakes, you ask? For starters, mini desserts are often more approachable and practical, especially if you don't have a lot of freezer space (or if it's your first time whipping up DIY ice cream cakes). Mini cakes can also be made with a small amount of ice cream, allowing you to use up whatever you have left in the freezer—and they're so darn cute too!
Video: 3 Easy Homemade Ice Cream Cake Recipes
For our trio of homemade ice cream cake recipes, we used three iconic flavors: vanilla, chocolate and strawberry. However, you're more than welcome to use your favorite flavors of ice cream, whether that's chocolate chip cookie dough, mint chocolate chip or something totally out of the ordinary. Dairy-free ice cream is another option!
Ready to make your own mini ice cream cakes? Here's the scoop!
Recipe 1: Ice Cream Sandwich Cake
Things You'll Need
8 ice cream sandwiches

Whipped cream topping (thawed)

Crushed Oreo cookies

Rainbow sprinkles
Tip
Be sure to use whipped cream topping from the tub, not the can! This type of whipped cream is found in the frozen section of grocery stores. We used Cool Whip brand. Alternatively, make your own whipped cream by beating 1 cup of heavy cream in a large, chilled bowl. Once the cream is frothy, add 1 Tbsp. powdered sugar and 1 tsp. vanilla extract and then beat until stiff peaks form.
1. Arrange ice cream sandwiches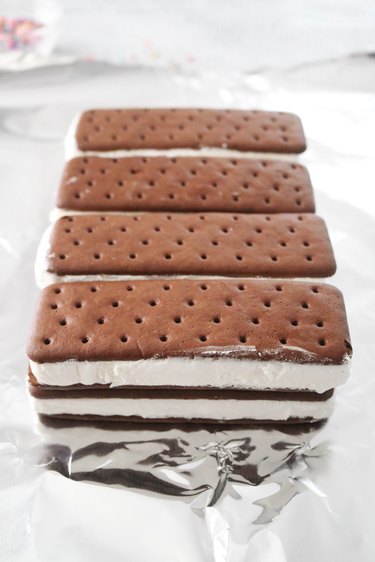 To make an easy ice cream cake, lay a large sheet of aluminum foil on a quarter baking sheet. Place four ice cream sandwiches on foil, arranging them side by side. Place another four ice cream sandwiches on top.
Tip
If ice cream in the sandwiches begins to soften, pop everything in the freezer for 30 minutes. Otherwise, if ice cream is too soft, it might be difficult to properly spread whipped cream on sandwiches.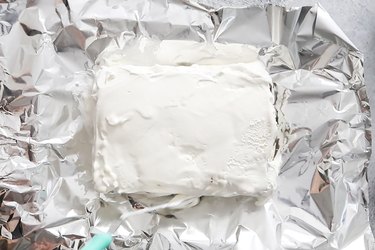 Using an offset spatula, quickly coat sandwiches with whipped cream. This will be easier to do if whipped cream has been thawed.
3. Add Oreos and sprinkles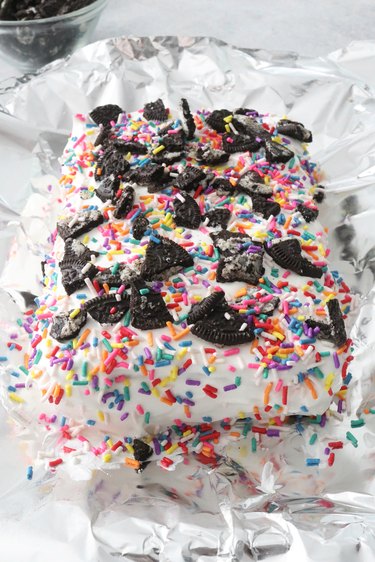 Garnish cake with crushed Oreos and sprinkles.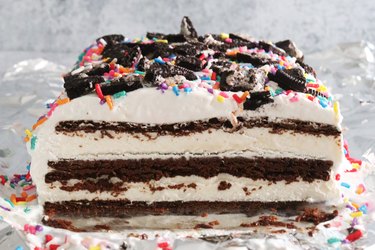 Return cake to freezer for one hour. After an hour, loosely cover cake with foil and freeze for another 3 to 4 hours or overnight.
Tip
Use a large, sharp knife to slice the cake. For clean cuts, carefully wipe the knife with a damp cloth or paper towel before each slice.
When you're ready to serve, let completed cake sit at room temperature for 5 to 10 minutes. This will make it easier to slice.
Recipe 2: Ice Cream Cupcakes
Things You'll Need
1 cup chocolate ice cream (softened)

1 cup strawberry ice cream (softened)

6 Oreo cookies (crushed)

2 Tbsp. butter (melted)

6 tsp. chocolate syrup

Whipped cream topping

Sprinkles

6 cupcake liners

Silicone baking cups or cupcake tin
Tip
For a more compact crust, crush Oreos into fine crumbs with a food processor.
In a bowl, combine crushed Oreos and melted butter. Place cupcake liners in silicone baking cups or a cupcake tin. This will help ice cream cupcakes hold their shape.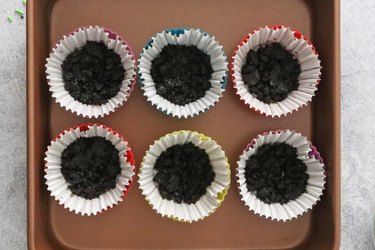 Divide mixture between cupcake liners, pressing down on mixture with the back of a spoon.
Tip
You can also make ice cream cupcakes directly in silicone baking cups.
2. Add ice cream and chocolate syrup
Add about 1/4 cup ice cream to each liner. If possible, use softened ice cream; this will fill up cupcake liners better and take on their shape. If you're not using softened ice cream, be sure to press it into liner with back of a spoon.
Drizzle about 1 tsp. chocolate syrup atop ice cream layer.
Tip
You can also use caramel or strawberry chocolate syrup or a combination of both. Other tasty options include hot fudge sauce or slightly warmed peanut butter.
3. Add whipped cream and sprinkles
To complete mini frozen desserts, top ice cream with whipped cream and sprinkles.
Tip
If you want to make more ice cream cupcakes, simply double or triple the recipe. You can even make just one or two cupcakes for a quick and fun treat.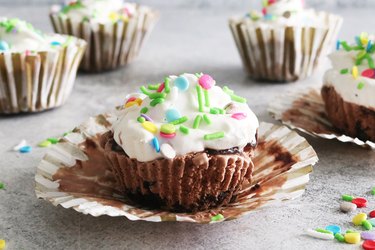 Freeze for 2 to 3 hours or until hardened.
Recipe 3: Mini Stacked Ice Cream Cake
Things You'll Need
2 4-inch cake pans

Vanilla ice cream

Chocolate ice cream

Crushed Oreos

Sprinkles


Whipped cream topping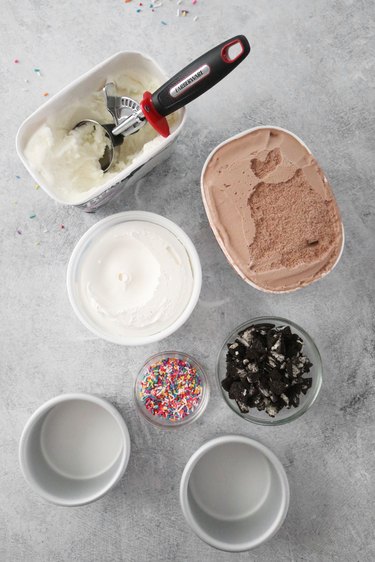 Line both cake pans with plastic wrap, ensuring it hangs over edges.
Pack one pan with vanilla ice cream, pressing down to fill it completely. Fold over plastic wrap so it covers top of ice cream.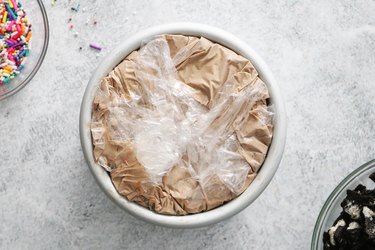 Repeat with second pan and chocolate ice cream. Freeze both flavors for at least 4 hours.
Tip
We used the classic combo of chocolate and vanilla, but you're welcome to work with your favorite ice cream flavor. You don't even have to use two different flavors; it can also be made with layers of the same ice cream.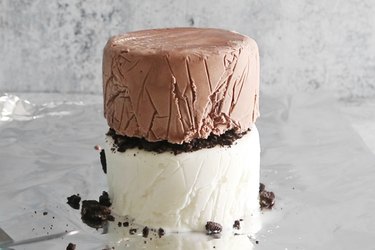 Unwrap first layer of ice cream and place it on a freezer-safe dish lined with parchment paper or aluminum foil. You'll be returning the cake to the freezer.
Add crushed Oreos and/or sprinkles atop ice cream. Unwrap second ice cream flavor and place it on top, gently pressing down to combine the two.
Tip
You can easily turn this Oreo ice cream cake into a different version by using different fillings. For example, instead of crushed Oreos, try adding brownie pieces for a more classic cake layer. Yum!
3. Add whipped cream and sprinkles
Using an offset spatula, quickly spread thawed whipped cream on top and sides of cake. Finally, add sprinkles. Don't limit yourself to the top of the cake, though! Be sure to toss sprinkles onto sides for more color and fun.
Return cake to freezer for 2 to 3 hours. When you're ready to enjoy your no-bake dessert, remove from freezer and let sit for 10 minutes. Slice cake with a sharp knife, making sure to wipe knife before each cut.
With this ice cream cake trio, you'll soon be ‌chilling‌ in the most delicious way possible. Whether you share your homemade confections with others or keep them all to yourself (we don't judge!), they're sure to sweeten the season.