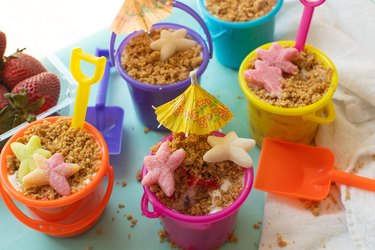 Who remembers dirt cups growing up? The chocolate pudding cups topped with crushed cookies and gummy worms are one of the ultimate treats of childhood. Well, we have a fun summer upgrade! If you loved chocolate dirt cups, you're gonna love this strawberry cheesecake version, aka "beach bucket cups"!
Video: A Twist on Dirt Cups: Sandy Cheesecake Beach Bucket Treats
You can plate this dessert in a plastic cup if you'd like, but these mini beach buckets are the perfect vessel for this summer-themed recipe. And to make them extra summery, we topped the cheesecakes with cocktail umbrellas and starfish gummies, making them a great addition to any pool party on a hot summer day.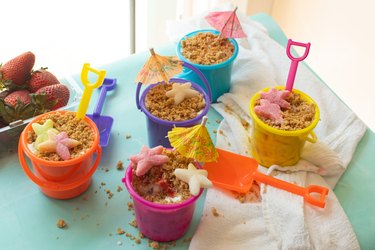 Our cheesecake recipe is super versatile in case you have other party ideas in mind. You can always change up the flavor by swapping in different berries or treats. For example, you could do a vanilla pudding version, swirl in peanut butter or add whipped cream. If you wanted a s'mores version, you could omit the strawberries, keep the graham cracker sand and add layers of chocolate and marshmallows.
The possibilities are endless, so let's get started!
Strawberry Cheesecake Beach Bucket Cups
Quick Recipe Overview
‌SERVINGS‌: 6 beach buckets
‌PREP TIME‌: 20 minutes
‌ASSEMBLY TIME‌: 10 minutes
‌TOTAL TIME‌: 30 minutes
Part 1: Macerated Strawberries
Things You'll Need
Medium bowl

Rubber spatula or wooden spoon

1 pint strawberries, roughly chopped

1/4 cup granulated sugar

Juice and zest of one small lemon
1. Combine strawberries, sugar, lemon juice and zest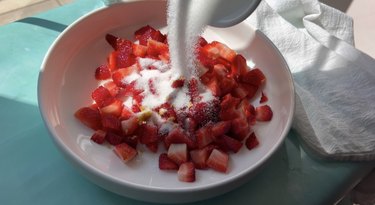 In a medium bowl, add the strawberries, sugar, lemon juice and zest. Stir until combined.
2. Let sit for 15 minutes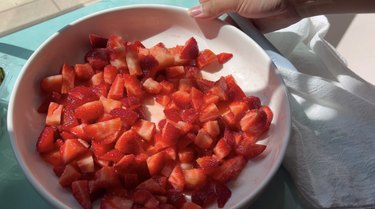 Set the strawberries aside while you move on to the next steps. This time will help sweeten and soften the berries while draining out excess liquid (which turns into a yummy strawberry syrup).
Part 2: Graham Cracker Sand
Things You'll Need
Gallon-size Ziploc bag

Medium mixing bowl

Rubber spatula or wooden spoon

6 Tbsp. unsalted butter, melted

8 graham crackers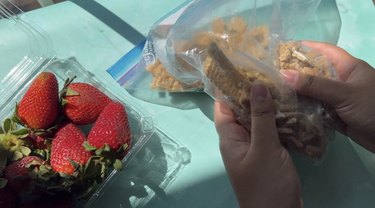 Put all of the graham crackers into a large Ziploc bag. Seal the bag and then crush the crackers using your hands or a rolling pin until you get graham cracker crumbs. Alternatively, you can use a food processor.
2. Combine graham crackers and melted butter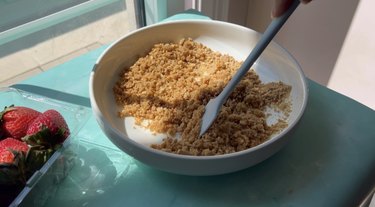 Stir the crushed graham crackers and melted butter until the crumbs are hydrated. Set it aside while you make the cheesecake filling.
Part 3: Cheesecake Filling
Things You'll Need
Stand mixer with paddle attachment or hand mixer


Large mixing bowl or bowl of stand mixer


8 oz. cream cheese, softened


3/4 cup Greek yogurt


1 14-oz. can of sweetened condensed milk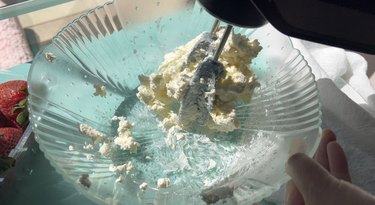 In a large mixing bowl or the bowl of a stand mixer, beat the cream cheese on medium speed until smooth.
2. Add Greek yogurt and sweetened condensed milk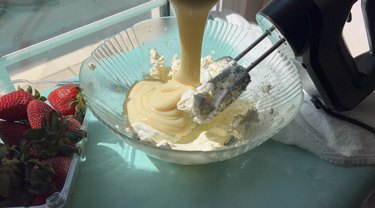 Beat in the Greek yogurt and sweetened condensed milk on a medium speed.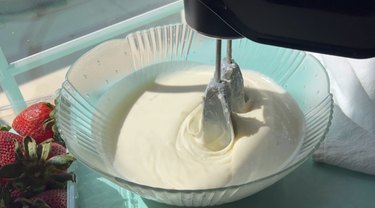 Continue mixing until smooth.
Tip
If the mixture is chunky, you can pass it through a mesh sieve or sifter.
Things You'll Need
Macerated strawberries

Graham cracker sand

Cheesecake filling
1. Add cheesecake filling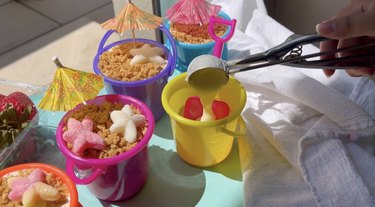 For the first layer, add a few tablespoons of the cheesecake filling to the beach buckets.
2. Top with macerated strawberries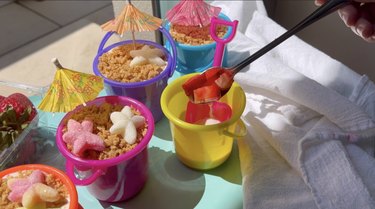 Spoon macerated strawberries on top, drizzling a bit of liquid as well.
3. Sprinkle on graham cracker sand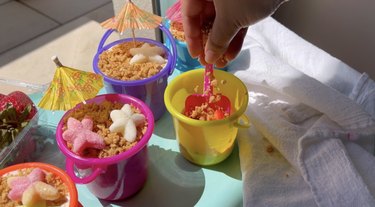 Top the strawberries with the crushed graham crackers. Repeat the layering, finishing with the graham cracker layer on top.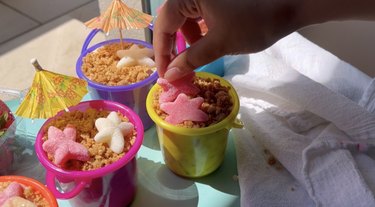 Add any decorations you'd like, such as starfish gummies and umbrellas.
To store these beach buckets, cover the tops with plastic wrap or keep them in a large, airtight container in the fridge for up to three days.