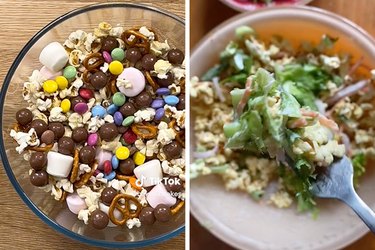 Salad and popcorn?! It might not sound like a natural pairing, but on TikTok—the perfect place to find unconventional yet delicious food combinations—popcorn salad is totally having a moment. While some creators interpret "salad" as a catchall term for a combination of ingredients, others literally mix popcorn with leafy greens (for real!). Whether you're intrigued by the metaphorical popcorn salad or the literal popcorn salad, honor that kernel of curiosity and read on!
1. Sweet & Savory Popcorn Salad
Our first popcorn salad recipe comes from TikToker @bakedincakes, who serves up a movie-night-worthy combination of sweet and savory foods. They mix popcorn, pretzels, chocolate, marshmallows, chocolate malted balls and colorful chocolate candies. As @bakedincakes mentions, the combination of textures sounds divine, and you can't beat the taste of salty popcorn meshing with sweet chocolate.
2. Leafy Green Popcorn Salad
Next, TikToker @delishaas takes the idea of popcorn salad a bit more literally. Using a recipe developed by cookbook author and blogger Molly Yeh, the creator starts with freshly popped popcorn and then tops it with white cheddar popcorn seasoning. Next, they whip up a sauce of mayonnaise, sour cream, cider vinegar, sugar, Dijon mustard, shallot, salt and pepper. Finally, the salad mixture is loaded with snap peas, carrots, celery, celery leaves and watercress. Talk about a unique eat!
Movie Night Popcorn Salad Ideas
Want to make popcorn salad to match the genre of your next movie night? Try one of these fun, playful flavor combos:
‌Rom-com popcorn salad:‌ Popcorn, Sweethearts conversation hearts and red M&M's
‌Horror movie popcorn salad‌: Popcorn, red vines and chocolate sauce
‌Nature documentary popcorn salad:‌ Popcorn, Swedish fish and circus animal cookies
3. Oreo White Chocolate Popcorn Salad
Now for another sweet spin on the popcorn salad trend: Oreo white chocolate popcorn salad! This recipe from TikToker @riinalahuikku is easy to make, calling for nothing more than popcorn, crushed Oreo cookies and a melted white chocolate "dressing." Riina suggests refrigerating the popcorn salad before digging in to allow the white chocolate to harden. We'd top our serving with even more crumbled cookies. Yum!
So, should popcorn and salad be added to the hall of fame that includes dynamic duos like peanut butter and jelly and strawberries and cream? Get poppin' on one of these unconventional recipes and let us know!