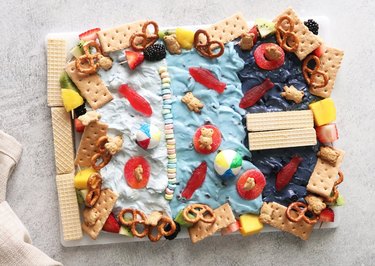 Ready for a break from the typical grazing board or looking for a twist on the beloved frosting board? It's time to dive into a sweet dessert dip board! Designed to look like a pool party on a hot summer day, this no-bake dessert offers a unique way to serve sweet treats.
Video: Dive Into a Delicious Dessert Dip Board
Our tutorial includes three tasty dessert dip recipes: Marshmallow Dip, Cannoli Dip and Blueberry Cheesecake Dip. All three versions are made with a cream cheese base, so they're sure to be extra thick and yummy. Each dip is also studded with chunky add-ins (mini marshmallows, mini chocolate chips and blueberries, respectively) for even more flavor and fun.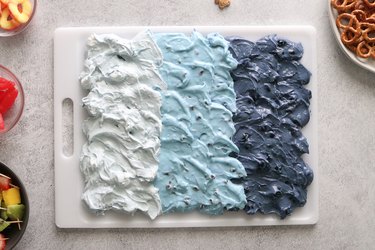 Once you've dyed your party dips with blue food coloring and spread them on a board, bring in your favorite edible dippers. Think: mini pretzel twists, graham crackers, wafers and Teddy Grahams. These colorful recipes also double as tasty fruit dips, so you can add chopped strawberries, mango and kiwi for a fresh take. (Just be sure to put them on toothpicks so things don't get too messy!) Our tutorial also includes graham cracker "beach ball" truffles, though this part is totally optional.
If you're ready to make a splash and jump right into this summery dip board, read on for the easy recipes plus plenty of tips for personalization.
Things You'll Need
8 oz. cream cheese

2 cups marshmallow fluff

1/2 cup mini marshmallows (optional)

Blue food coloring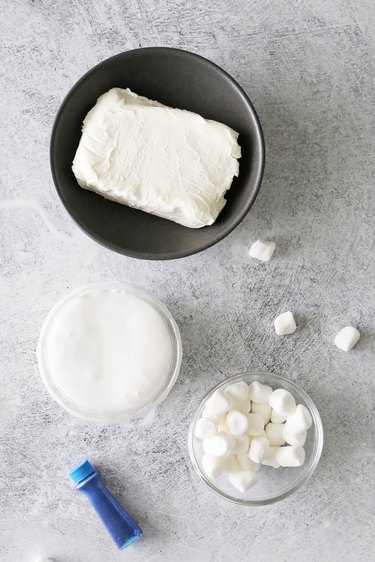 Tip
To turn this recipe into s'mores dip, add mini chocolate chips with or in place of marshmallows.
1. Make marshmallow cream cheese base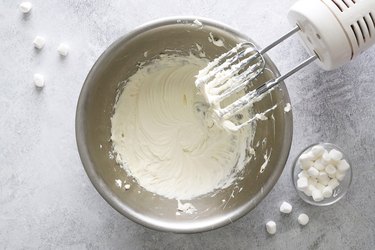 In a large bowl, beat softened cream cheese for about 30 seconds.
Add marshmallow fluff and then beat to combine, about 2-3 minutes.
2. Dye with blue food coloring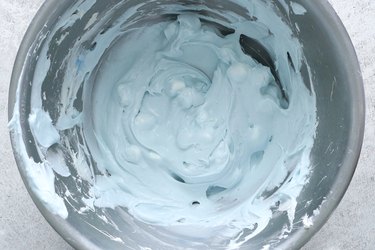 Add blue food coloring to marshmallow dip, making sure to use less than you will in cannoli dip. This will ensure you can make the gradient design.
If you are using mini marshmallows, fold them in.
Things You'll Need
8 oz. cream cheese (softened)

1/2 cup ricotta

1 1/2 cup powdered sugar

1 tsp. vanilla extract

1/4 cup mini chocolate chips

Blue food coloring
Tip
If you don't have ricotta, you can use Greek yogurt or whipping cream, like Cool Whip, instead. It won't have the iconic cannoli flavor but will taste just as good.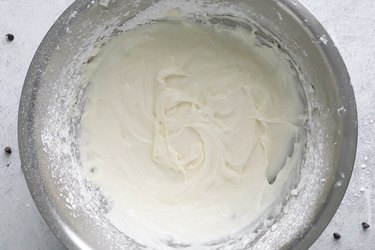 In a large bowl, beat softened cream cheese until smooth, about 30 seconds.
Add vanilla extract and ricotta and then beat for 30 seconds. Add powdered sugar and beat for 2-3 minutes or until fluffy and combined.
2. Add blue food coloring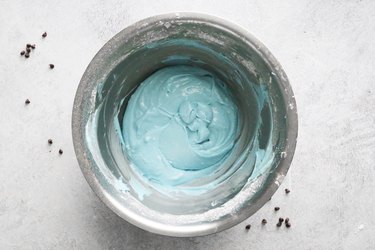 Add blue food coloring to cannoli dip a few drops at a time, mixing until just combined after each addition. Continue until desired shade is reached.
3. Fold in chocolate chips
Now, it's time for the chocolate. Add mini chocolate chips and fold to combine.
Refrigerate finished dessert dip for at least an hour.
Part 3: Blueberry Cheesecake Dip
Things You'll Need
8 oz. cream cheese (softened)

3 Tbsp. butter (softened)

1 1/2 cups powdered sugar

1 tsp. vanilla extract

1 Tbsp. milk

1/2 cup blueberries

Blue food coloring

Black food coloring

Purple food coloring

Blueberry flavoring oil (optional)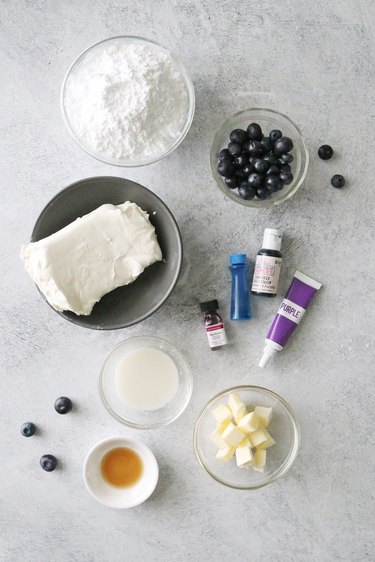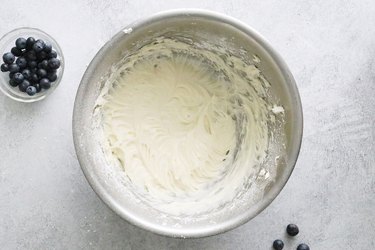 In a large bowl, beat softened cream cheese and butter until combined, about 30 seconds. Add powdered sugar, vanilla extract and milk. Beat until smooth and combined, about 2-3 minutes.
Tip
You can omit milk, but we recommend using it. Since the dip is made of just cream cheese and butter, adding milk will help make it more spreadable. Any type of milk will do, including plant-based versions.
2. Add color and flavoring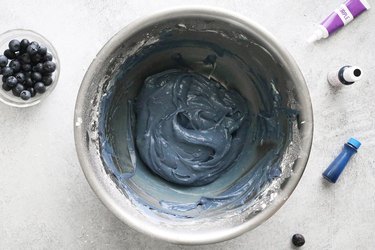 To dye cream cheese dip navy blue, you'll need blue, black and purple gel food coloring at a 2:1:1 ratio.
Work in batches to avoid overdyeing dip. For example, add eight drops of blue, four drops of black and four drops of purple food coloring and then fold until just combined. Continue until color reaches desired shade but avoid adding too much black food coloring, as it can change the flavor of your dip. Color will intensify over time.
Tip
It's easy to find blue, black and purple food coloring in the baking section of craft stores. However, if you want to use fewer drops of food coloring or prefer a darker hue, consider buying ready-made navy blue food coloring. This shade is less commonly found in stores, but you can buy it online if necessary.
If using blueberry flavoring oil, add 1/2 tsp. to dip and then mix to combine.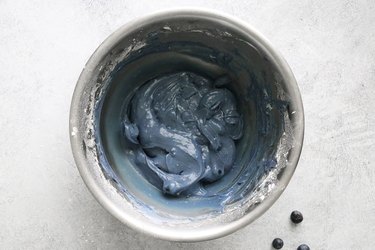 Add blueberries to dip and then gently fold to combine and create a ‌berry‌ delicious dip.
Refrigerate fruit dip recipe for at least one hour.
Part 4: Beach Ball Truffles
Things You'll Need
2 oz. cream cheese (softened)

1/4 cup graham cracker crumbs plus more as needed

1/2 tsp. vanilla extract

White fondant

Food coloring pens

Fondant roller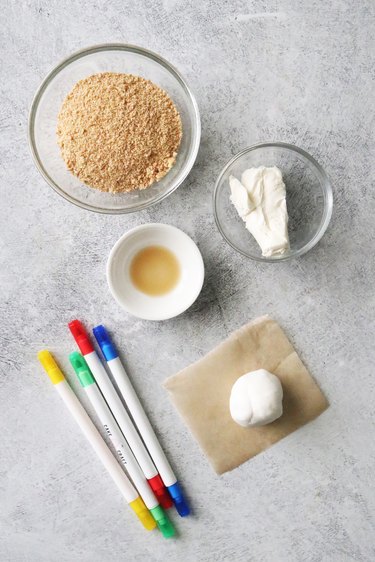 Tip
If you don't want to open another block of cream cheese, you can use some from the above recipes. After all, dips are very forgiving, so using slightly less cream cheese in any one of them won't affect the recipe too much.
In a bowl, combine softened cream cheese, vanilla and graham cracker crumbs. A large fork is helpful for mashing up cream cheese. The mixture is ready once it clumps together like wet sand. It should also be tacky to the touch. If it's still sticky, add more crumbs.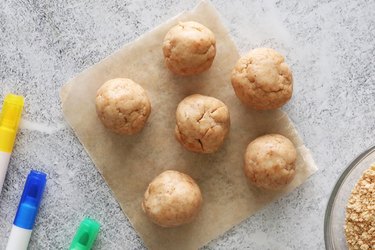 Form mixture into small balls. Refrigerate for at least an hour.
2. Add beach ball details
Using a fondant roller, roll white fondant into a thin, even layer. Wrap truffles with fondant, removing excess as needed. Roll covered truffle between your hands to smooth out fondant.
Let sit at room temperature until fondant is slightly dry, about 10 minutes.
Draw classic beach ball sections using food coloring markers.
Tip
If you don't plan on immediately serving the truffles, store them in the fridge. This will also help dry marker ink.
Part 5: Assembling Dip Board
Things You'll Need
Blueberry cheesecake dip

Cannoli dip

Marshmallow dip

Gummy fish

Gummy peach rings

Graham crackers

Vanilla wafer cookies

Teddy Grahams

Mini pretzel twists

Chopped fresh fruit, speared onto toothpicks

Candy necklace

Beach ball truffles (optional)

Large white cutting board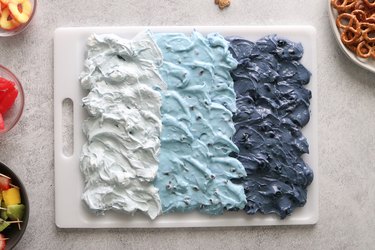 Spread dips onto cutting board, working from lightest to darkest (or vice versa) to create a wavelike gradient.
Tip
One method for creating the illusion of waves is to add dips in rows and by the spoonful. You can then use the back of spoon to gently "flick" each spoonful upward, helping add dimension to the spread. You can also swirl colors together if you'd like!
2. Decorate dip board perimeter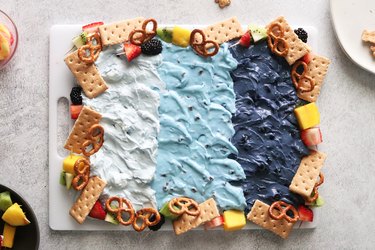 It's time for the fun part! Add your dippers to perimeter of board. This includes graham crackers, wafer cookies, Teddy Grahams, mini pretzel twists and fruit.
Tip
Other ideas for dippers include Oreos, chocolate chip cookies, apple slices, animal crackers and even broken waffle cones.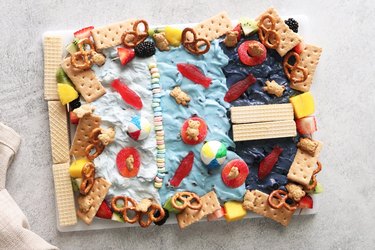 Cut a candy necklace over a bowl to make sure beads don't get away. Place it across pool to make a "pool rope." Next, add Beach Ball Truffles, gummy fish, peach rings ("pool tubes") and Teddy Grahams. Adorable!
Ideas for Leftover Dips
Depending on the size of your cutting board, you might have leftovers. Luckily, you can instantly turn them into new dips by mixing in other simple ingredients! For example, try adding a dollop of peanut butter or Nutella to any of the above dips; the result is sure to taste amazing. You can also fold in sprinkles or brownie chunks or even chopped nuts, like pecans or almonds. The addition of sprinkles is especially great if you're looking for a birthday cake batter twist.
Whether or not you have a pool in your own backyard, this pool-themed dessert dip board offers a playful way to unwind and celebrate the spirit of summertime. Take the plunge and get mixing!