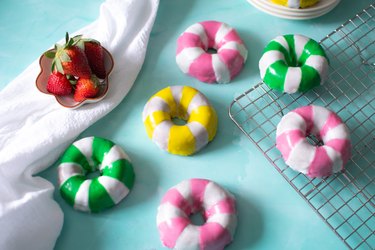 No matter what the weather is like in your neck of the woods, there's something comforting about realizing that it's a pool day somewhere! We can't think of a better way to embrace the wonders of a day on the water than by making these colorful pool floatie strawberry donuts. They're crispy on the outside, light and chewy in the middle and loaded with strawberry flavor (though you can substitute another berry if you wish).
Video: Make a Splash With Homemade Strawberry Pool Tube Donuts
But Wait! I've Never Made Donuts Before...
Don't worry! If it's your first time making donuts, this is a fairly easy donut recipe. The donut batter is mixed in one bowl and comes out more like a thick cake batter, which means you don't have to knead donut dough or let the batter rest (no dough hook needed here!). You'll simply pour the batter into a mold and bake donuts in the oven, so there's no need for an air fryer, hot oil or other mechanism required for typical fried donuts. Phew!
Our homemade donuts are made with mochiko flour instead of all-purpose flour, making them naturally gluten-free. Mochiko flour, also known as Japanese sweet glutinous rice flour, is made from short-grained glutinous rice and results in bouncier, chewier textures. You'll find it in desserts like mochi, brownies, donuts and more—check out our mochi guide for a full run-down.
Now that you've got the basics, are you ready to make a splash and get baking? If you're looking for a fun baking project that will make you feel like you're relaxing poolside, this from-scratch recipe is sure to delight. Let's dive in!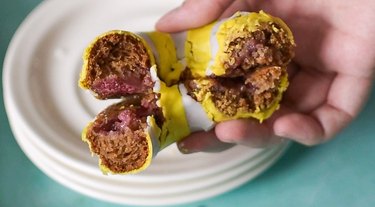 Quick Recipe Overview
‌SERVINGS‌: 8-10 donuts
‌PREP TIME‌: 15 minutes
‌COOK TIME‌: 30-35 minutes
‌DECORATING TIME‌: 20 minutes
‌TOTAL TIME‌: 1 hour 5 minutes to 1 hour 20 minutes
Part 1: Strawberry Mochi Donuts
Things You'll Need
Nonstick cooking spray

Large mixing bowl

Hand whisk, electric mixer or stand mixer fitted with whisk attachment

Small cookie scoop, piping bag, spoon or cup with spout


Baking sheet

Wire rack

1 cup mochiko flour

1 tsp. baking powder

1/4 cup brown sugar, packed

1/2 tsp. salt

1/2 cup whole milk or alternative milk

1 large egg

2 Tbsp. unsalted butter (melted) or neutral oil (canola or vegetable oil)

1 tsp. vanilla extract

3 Tbsp. strawberry jam

Food coloring (red), optional

1/2 cup strawberries, diced
How to make Strawberry Mochi Donuts:
1. Combine brown sugar, egg, vanilla and butter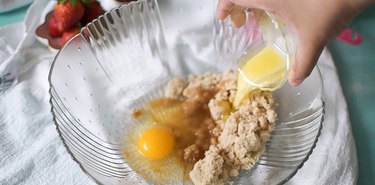 Preheat oven to 350°F/177°C. In a large bowl, whisk together brown sugar, egg, vanilla extract and melted butter.
2. Add strawberry jam and food coloring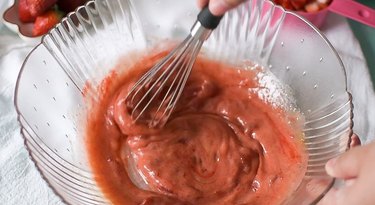 Stir in strawberry jam and red food coloring until combined.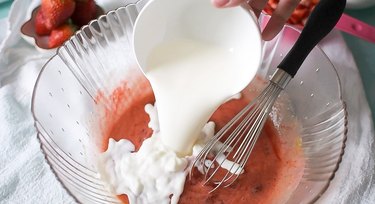 Whisk in milk until smooth.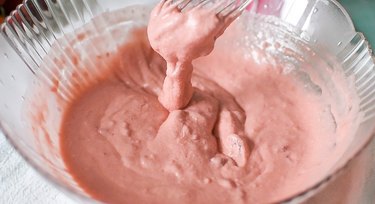 Mix in all dry ingredients and whisk until there are no dry spots of flour remaining.
5. Transfer batter to donut pans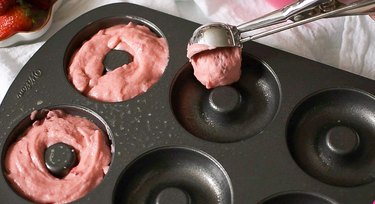 Coat donut pans with non-stick cooking spray. Using a small cookie scoop, small piping bag, spoon or cup with spout, transfer batter to pans. Fill cavities until they're about 3/4 of the way full.
6. Top with diced strawberries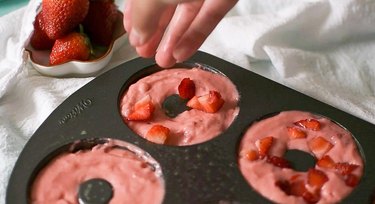 Tip
Place the donut pan on a sheet tray so it's easier to transfer in and out of the oven.
Add strawberries on top, pushing them slightly into the batter. Bake the donuts until a cake test comes out mostly golden brown and clean with a few crumbs or when donuts spring back when poked.
Things You'll Need
Medium mixing bowl

Rubber spatula

2 cups powdered sugar, sifted

2 Tbsp. water or milk

Food coloring (yellow, green, pink)
Place sifted powdered sugar into a mixing bowl. Add water or milk in 1/4 Tbsp. increments until you reach the desired consistency. Icing should be thick but pipeable.
Transfer icing to a piping bag and cut a small to medium tip.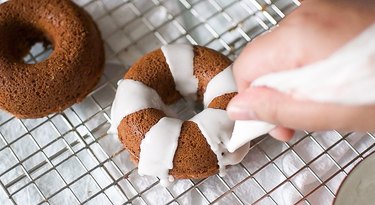 Using the completed icing, pipe white stripes on each donut.
Tip
Decorate donuts while they're on top of a cooling rack so extra icing doesn't pool (no pun intended!) at the bottom. You can place paper towels, parchment paper or a baking sheet underneath to catch the icing.
3. Split and dye remaining icing
Split remaining icing into three equal portions and color each one yellow, green and pink. Transfer each into individual piping bags. Pipe on colored stripes for each donut.
To store your pool-inspired homemade donuts, keep them in an airtight container at room temperature for up to three days...if they even last that long! If you're feeling extra creative, whip up a batch of donut holes and decorate them to resemble beach balls.