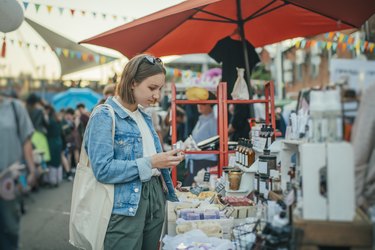 Selling homemade goods at a craft fair or trade show is an amazing way to showcase your small business, build your community, and, of course, make some sales on your hard-earned creations. And, while you might have the whole making thing down pat, the display thing might feel a little more daunting—especially if you're just starting out and don't know which types of craft fair displays to use. Whether you're selling at a local flea market or gearing up for a big trade show, we've got all of your showcase needs covered with our top picks for display ideas, plus what to consider when planning out your craft booth.
What to Consider When Purchasing Craft Fair Displays
‌What You're Selling:‌ Before choosing a craft fair display, consider the types of items you sell and how you envision customers shopping for your creations. With so many different display options available, shopping can get overwhelming if you don't go into it with a plan. For more visual planners, it also helps to sketch out how you want your booth to look and where all of your creations will go.
‌Craft Show Display Types:‌ From tabletop display shelves to jewelry display cases, there are so many different types of craft show display pieces available. While not every type of booth display will work well with every creation, many options boast lots of versatility and can be used for numerous goods such as candles, jewelry, stickers, keychains, greeting cards and more. Before shopping for craft fair displays, think about the types of retail displays that work best for your small business and use that to guide you. While hangers and rolling racks might be the more obvious choice for clothing display, you might find that graphic tees look better on a tiered shelving unit or hung from a pegboard instead. Similarly, not all jewelry pieces need to be displayed on a bust or traditional jewelry display—you can also place them on risers, in trinket dishes or in a display case.
‌Material:‌ What the display is made of also matters, not just from a durability perspective but from a branding and aesthetic perspective, too. Most display racks, shelves and stands come in wood, which, depending on the stain and finish, can have either a farmhouse, minimalistic Scandinavian or mid-century modern feel that transforms your craft booth into a pop-up version of your small business. However, wood isn't your only choice for display materials. You can also find acrylic display options, as well as concrete, resin and metal, too. When shopping for your craft show display, consider the types of materials you incorporate into your branding already to get an idea of what looks best with your creations.
‌Craft Booth Size:‌ The size of your craft show display matters for several reasons. First, a retail display must fit your pieces in a way that not only looks presentable but is also easy for customers to shop. It's also important that you can actually get larger display pieces to the craft fair, so collapsable or foldable options can make a major difference. Additionally, the craft booth must be able to fit all of your display racks, tabletop shelves, and display stands without feeling too overcrowded and providing an area for customers to check out. For this reason, it helps to have the craft booth measurements handy when shopping and to draw out a blueprint of what the booth will look like—with measurements—so that you can ensure everything fits when it comes time to set up.
‌Signage:‌ Albeit not a display stand for your creations, signs are just as important as a proper craft fair display. From easels to wall-mounted signs, there are lots of options for sharing your small business with customers. Additionally, getting creative with the displays and incorporating your business name above a display shelf or on a table display sign is also helpful for spreading the word and inviting customers into your booth.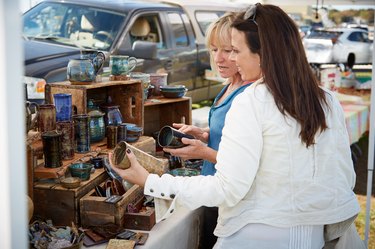 1. ANDGOO Display Risers, 6 Pieces
Risers are a versatile display shelf option that allow you to showcase various items—including mugs, plant pots and even handbags—in a way that feels organized and sleek. We love the ANDGOO Display Risers from Amazon because they are made from durable acrylic material and come in two sets of three different sizes, totaling six pieces. While they work best for smaller items, the shelves are budget-friendly, and they could easily be re-purposed for organizing back stock when you're not at a craft fair.
2. BiieiiDisplay Jewelry Display Stand
If you sell jewelry and want a display stand that not only looks good but allows you to display a variety of different jewelry pieces, look no further than the Biieiii Display Jewelry Display Stand, which has a mid-century modern aesthetic and is designed to fit necklaces, rings, bracelets, earrings and more. The stand also comes in several different stains, so you can choose the option that best fits your business' branding aesthetic.
3. Betonvton Prop for Product Photography or Product Placement
Having a lot of tabletop space to work with means you can get creative with your display types and style your craft booth in an elevated manner. We love the Betonvton Prop for Product Photography or Product Placement because they not only look super chic but they also boast lots of versatility and can be used in replace of or alongside risers for an eye-catching display. The concrete and plaster display risers are also designed for photography so you can repurpose these in your online product pictures and social media posts, too.
4. WindyCityCustoms Four Tier Craft Fair Display Stand
If you want a tabletop display shelf that is durable enough for heavy pieces like pottery, plants and soaps, the WindyCityCustoms Four Tier Craft Fair Display Stand is one of our top picks. We love this craft booth display piece because it has an ultra-sleek finish so it doesn't distract from what you're selling. Additionally, it's easy to assemble and it is large enough to fit lots of items without it taking up too much space. And, if you need more than one display shelf, you can save some money as the price per shelf goes down when you purchase multiples.
5. like-it Wood Shelf Risers
For smaller items or pieces you want to spotlight, the like-it Wood Shelf Risers from Food52 are a great choice. The durable MDF risers come in a set of two and also allow you to maximize craft booth space since you can place items on top and below the pieces. The pieces also store well without taking up a ton of space, so they're ideal for craft booth displays both in the booth and after packing down.
6. BettyCreativeCrafts Natural Limestones With Fossils Jewelry Display
When displaying jewelry, there are many different ways to get creative, especially when showing off specific pieces. To add some style to your craft booth, consider the Betty Creative Crafts Natural Limestones With Fossils Jewelry Display which features a stone finish and comes in several different packs, starting at $12.93. Some stone options are ideal for elevating earrings and bracelets on a tabletop, while others feature little indentations at the top that make it easier to display necklaces.
7. Woodernist Asymmetrical Wavy Collapsible Stand
Collapsible display stands make setting up and breaking down your craft booth so much easier, and you can find some gorgeous options, like the Woodernist Asymmetrical Wavy Collapsible Stand, which features seven small shelves for displaying ceramics, plants, crystals and more. This display unit is also super easy to assemble and remains durable despite its collapsible design. It measures 30.7 inches tall, and the shelves are 11.81 inches long with a 5.91-inch gap in between them.
8. MannPlans DIY Market Display Building Plans
For a more DIY and budget-friendly approach to your craft booth display, you can find building plans for shelving units, racks and more on Etsy. We love the MannPlans DIY Market Display Building Plans because the finished product can easily stand on its own or be incorporated into a booth, depending on the selling situation. Plus, the display unit boasts lots of versatility with a spacious tabletop and rack.
9. Arch Shaped Display Rack
Add some dimension to your tabletop display with the Arch Shaped Display Rack from Apolo. This rack comes in black, white and tan and features a trendy arch silhouette with a stylish clear panel in the back. It's a fantastic way to pull out small items to showcase on your table without taking up a lot of space.
10. Threshold Wood and Rattan Wall Shelf
You can find lots of ways to display handmade goods at home decor stores, too. Case in point: The Threshold Wood and Rattan Wall Shelf is designed as a wall-mounted shelf but could easily transform into a wall display or a tabletop vignette at a craft fair. We love it for its bohemian vibes, versatility and durability. Plus, it's more budget-friendly compared to some other shelving displays.
11. hildie & jo Gold Iron Necklace Display Stand
When selling jewelry, it's a good idea to invest in a few different types of displays, and having a classic rack that can hold necklaces, bracelets and earrings is nice to have on hand for both your tabletop and your back stock. The hildie & jo Gold Necklace Display Stand from JOANN has a stylish design that matches a mid-century or modern style and is big enough to fit lots of items.