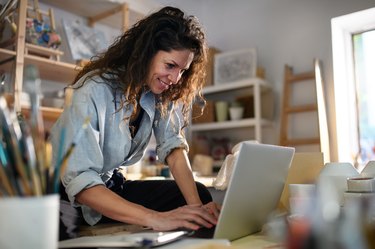 With the advent of the internet, sharing information and learning new skills has never been easier. And thanks to online tutorials and workshops, you don't even have to meet in person in order to learn from crafting professionals and try your hand at new artistic projects under their guidance. Online video tutorial giants like Udemy and Skillshare, as well as crafts-centric businesses like Crafter, Craftsy and Uncommon Goods offer a plethora of online workshops to choose from, including sewing, knitting, embroidery, calligraphy, drawing, painting and woodworking.
We've curated a list of excellent and diverse online craft workshops that cater to both experienced crafters and curious beginners alike. Whether you're looking for a new hobby yourself or shopping for a unique birthday gift (or experience!) for another, there's something for practically everyone.
A Snapshot of Major Craft Workshop Providers
There are many great online craft workshops available, covering a wide range of crafts and skill levels. Here are some of the best options:
Creativebug: Creativebug is a subscription-based platform that offers a wide range of video workshops on topics such as knitting, crochet, sewing, quilting, and more. The workshops are taught by experienced instructors and are suitable for all skill levels. There are three plans with prices ranging from $5.95 to $9.95 per month, and you can start a 7-day free trial before you begin paying.
Skillshare: Skillshare is an online learning community with thousands of classes on a variety of topics, including art and crafts. There are many craft workshops available, including classes on calligraphy, embroidery, painting and more. Subscription plans cater to individuals and teams, and you can enjoy a one-month free trial. Paying Skillshare users also get 20% off Adobe Creative Cloud All Apps or a two-month free trial of Adobe Express.
Craftsy: Craftsy (previously named Bluprint) is an online learning platform that offers a variety of craft workshops, including classes on quilting, knitting, sewing and more. The workshops are taught by expert instructors and are suitable for all skill levels. You can download the Craftsy app onto your smartphone for access on-the-go. Classes and content can be purchased à la carte, or may be included in a Premium ($97/year) or Gold ($166/year) membership. Membership unlocks exclusive content and perks not available to regular users.
Udemy: Udemy is a popular online learning platform with a wide range of courses, including many craft workshops. The courses are taught by experienced instructors and cover a variety of crafts, such as painting, drawing and embroidery. Courses are purchased individually, typically falling within the $15 to $50 price range. They're also often on sale. Avid learners can also subscribe to Udemy's top courses with Personal Plan, which starts at $16.58 per month after a seven-day free trial.
CreativeLive: CreativeLive offers live online workshops and classes taught by expert instructors in a variety of creative fields, including crafts. The workshops cover a range of topics, such as knitting, embroidery, sewing and more. Subscriptions start at less than $13 per month and provide access to over 2,000 classes, which you can download for offline viewing.
Crafter: Crafter is an online crafting marketplace that sells a variety of crafting tools and materials, including all-inclusive DIY workshops. The workshops are taught by experienced instructors and craft professionals, and cater to beginner through advanced skill levels. It's a great place to find less common craft projects like gel plate printing, alcohol ink on ceramic, leather bag making and pyrography (wood burning art).
Brit + Co: Brit + Co offers a range of online craft workshops, including classes on calligraphy, embroidery and painting. The workshops are taught by experienced instructors and are suitable for all skill levels. You can purchase classes individually or access them as part of the All Access Pass ($10/month) or an annual subscription ($96/year).
Uncommon Goods: Uncommon Goods not only sells beautiful decor, apparel and home products, but also offers a catalog of live DIY workshops (called "experiences") that are great for individuals or couples. The experiences involve face-to-face online interaction with professionals and have set dates and times to choose from. Prices range from as low as $25 to over $200. Subjects include cooking, baking, mixology, flower arranging and chocolate-tasting, in addition to arts and crafts like romantic mapmaking, painting, tie-dye, eco-printing and more.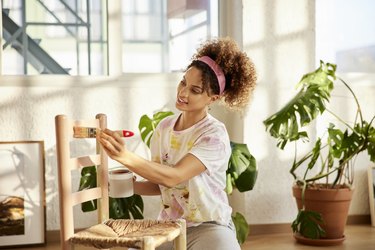 What to Consider Before Purchasing an Online Craft Workshop
‌What's Included:‌ Some craft workshops, like most of the ones offered by Crafter, are all-inclusive, meaning you receive a DIY kit or essential tools and materials to get started. Other workshops may require you to buy materials beforehand or use what you have at home. If you're thinking of giving somebody a craft workshop as a gift, it's probably a good idea to pick one that requires minimal preparation or expenditure on their part.
‌Skill Level:‌ Many of the hundreds of online craft workshops and art tutorials are beginner-friendly, but some are designed for more experienced or skilled crafters. Consider whether you want something relatively simple and relaxing or if you want a challenge. If you're going to gift someone a crafting workshop, get a gauge of their skill level (and interest level, too) in the particular hobby or craft you have in mind, for the best results.
‌Accessibility:‌ Accessibility here refers both to how easy it is to access the workshop content and how easy or comfortable it is for people of different abilities to participate. For example, some workshop providers have a mobile app you can download that allows you to watch tutorials on your smartphone. Other workshops may include video downloads that you can keep forever, even if you end your subscription.
When it comes to the workshop itself, consider how accessible it is for people with varying physical abilities. Depending on your or your gift recipient's needs, you may want to avoid crafts or projects that can strain the eyes, involve heavy tools, call for a high level of dexterity or require an extremely steady hand.
‌Time Frame:‌ Many online craft workshops do not involve live face-to-face instruction, meaning you can proceed at your own pace. However, some classes are held live, which may meet in either a single session or multiple sessions on different days. It's important to make sure you know what you're getting and the level of commitment involved. If a live workshop lasts for two hours and results in a great-looking finished craft project, it can make a great gift or birthday experience. On the other hand, for people with busy lives, a self-study workshop without deadlines or time limits may work best.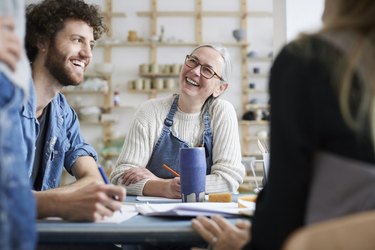 This intermediate-level workshop comes with everything you need to make gorgeous alcohol ink artwork out of several ceramic dishes. The alcohol inks—with the assistance of isopropyl alcohol—create unique swirling and rippling patterns that evoke the light touch of watercolor paints. The kit includes a 12-inch ceramic tray, two 4-inch ceramic ring dishes, four round ceramic coasters (complete with cork backings), alcohol inks in six colors, a heat gun, a pair of safety goggles, resin and more.
Each purchase comes with a detailed digital workshop led by Michelle Whitehead of Michelle Lynn Art, as well as a PDF of instructions and access to a live Maker Chat Q&A where you can meet the artist. You'll need to supply your own cotton balls, cotton swabs and paper towels. You can complete everything in one afternoon (plus drying time).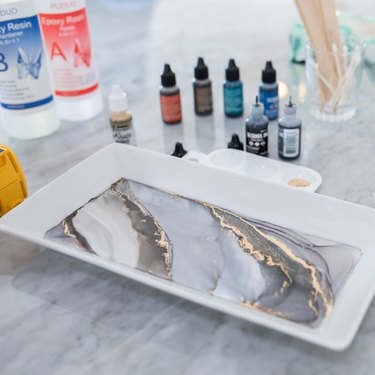 2. Sit, Fetch, Purr, Paint: Paint Your Pet
If you love your pet to pieces or want to give a friend or family member a custom artistic tribute to their pet, this live workshop with artist Addie Stunkard will be tons of fun. You'll need to pick one of the dates and times offered (there are normally one or two workshops a month, on Saturdays) and the scheduled workshop time is two hours. For $65, you can select the all-inclusive workshop, which means you'll receive a 36-color watercolor paint set along with the workshop itself, or you can purchase just the workshop for $35 and use your own supplies. The workshop covers pencil work and basic painting techniques as you recreate a photo of your furry friend as an artistic masterpiece that you can probably complete within the two hours. The recommended age level is 16 and up.
3. Paper Marbling Workshop
Crafter comes in strong again with this beautiful paper marbling workshop, which will help you create stunning swirl and freeform patterns in vibrant colors on heavyweight paper. Artist and instructor Natalie Stopka will take you through every step of the marbling process, ultimately showing you how to make elegant envelopes out of your marbled paper. The workshop includes a paper marbling kit with everything you need to make 12 sheets of marbled paper, as well as a PDF download with instructions, a detailed digital workshop and access to a live Maker Chat Q&A with Stopka. Once you learn how to make marbled paper, you can apply it to a number of creations like party hats, stationery and paper decorations.
4. Startup Library: Hand Embroidery
Love working with your hands? This comprehensive, beginner-level digital workshop in hand embroidery just may jumpstart your newest sewing hobby. Sewing expert Kat McTee walks users through the basics, from choosing fabrics and floss to hooping and crafting 19 beautiful stitches. Over three hours of content are segmented into 13 videos, making it easy to refer back to specific material. By the end, you'll learn how to create a sampler using multiple techniques, including working with letters and numbers, finished garments and how to finish flat embroidery. This is a digital tutorial only, so you will have to provide your own supplies—but the workshop covers all the materials you'll need in-depth so you won't feel lost.
5. Crochet Granny Squares Bag Workshop
It seems there's almost no limit to the types of things you can make using crochet, and the cute granny squares bags you can create from this workshop are a testament to that. In this workshop, Toni Lipsey, the crochet designer and educator behind TL Yarn Crafts, demonstrates step-by-step how to crochet each round of a granny square, whip stitch seams and attach leather handles so you're left with a bag that's both trendy and practical.
The workshop includes a detailed digital tutorial and written instructions. It also comes with a kit with seven balls of yarn in the colorway of your choice, a crochet hook, a big-eye tapestry needle, a custom-made long leather handle set and more. The workshop is beginner-friendly and it will take around one day or more to make a complete bag.
6. Paper Crafting: Skills and Techniques
This comprehensive digital workshop introduces you to myriad paper crafting techniques and projects, including how to make your own colored paper, creating marbled paper, making crate paper flowers and paper boutonnieres, and so much more. Designer and maker Robert Mahar leads you through nearly nine hours of content spread out over 22 videos, making it easy to pick and choose what to focus on and refer back to specific information.
This is a digital-only workshop, so it doesn't come with any materials or supplies, but the videos help you understand everything you'll need. Purchasing this workshop gives you lifetime access, streaming access on desktop and mobile devices, offline syncing with CreativeLive's iPhone and iPad apps, downloads for offline access and exclusive bonus content. Near the bottom of the workshop page, check out photos of some of the colorful creations students of this workshop have made to get inspired!
Couples celebrating a birthday or anniversary, or those who simply want to spend some quality time together may enjoy this unique romantic mapmaking workshop. In this live, 90-minute workshop, creative cartographer Brendan Lorber walks couples through the art of mapmaking, ultimately helping them create an artistic roadmap of their relationship, including their favorite memories, shared interests and pivotal moments in their lives. There's a fun Concepting Your Map homework assignment for couples to do beforehand to brainstorm these ideas together so you're not struggling to come up with something in the moment.
The workshop includes the 90-minute experience and a mapmaking kit with a template on artist-quality paper, a French curve drawing tool, a cartography guide, a perfectly-sized wooden frame and more. Each map you create can represent your entire relationship or a specific time frame, such as your dating period, engagement or first year of marriage. Lorber typically offers one or two workshops a month that must be booked in advance. The age recommendation is 16 and up.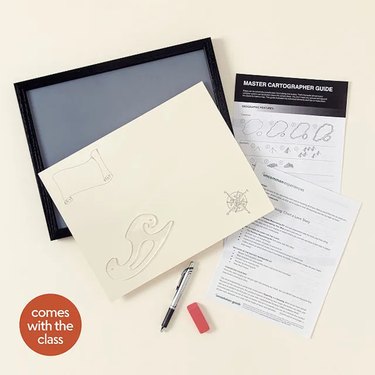 8. Eco-Printing With Flowers
For anyone partial to anything floral, this flower eco-printing workshop led by textile artist Michelle Moore is worth pursuing. The short and sweet, hour-long workshop covers an introduction to eco-printing, which is the process of transferring the shapes and colors of real flowers onto fabric, and an overview of your tools before diving into designing your floral layout and the dyeing steps required.
The workshop comes with Michelle's Eco-Printing With Flowers Natural Dye Kit, which includes a ready-to-print cotton bandana, plant-based dyes and real pressed flowers from Michelle's Hudson Valley garden in New York. By the end of the class, you'll have a lovely floral eco-print creation made on a large bandana. The workshop is recommended for ages 16 and up and is suitable for no more than two people per screen so as to ensure a higher quality experience for everyone.
9. Introduction to Calligraphy
Calligraphy may seem like something anyone can mimic without training, but it really does take time to learn! Fortunately, this introductory workshop taught by Bianca Mascorro, a professional calligrapher and designer, will go a long way on your journey to become skilled in your own right. It's a fairly short and breezy workshop consisting of six videos over approximately 70 minutes of content. Mascorro covers what materials you'll need, using the pen, creating basic strokes, forming upper and lowercase letters and forming numbers. Purchasing this workshop gives you lifetime access, streaming access on desktop and mobile devices, offline syncing with CreativeLive's iPhone and iPad apps, downloads for offline access and exclusive bonus content. Soon, you'll be dazzling your friends and family with every envelope you address!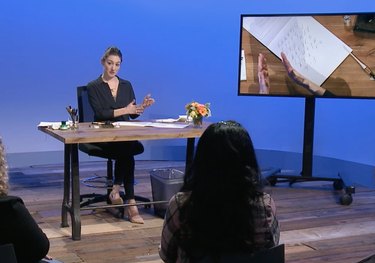 10. Wood Carving for Beginners
By the end of this workshop, you'll be able to carve your own "little person" figurine and know how best to paint it, opening the doorway to creating a whole village of little wooden people to display, should you continue. Taught by Phoenix-based artist and woodcarver, Sharon Elliot, this digital-only workshop includes over two-and-a-half hours of on-demand video (with lifetime access) that's divided into six sections and 16 lectures for easy, focused learning.
Elliot will walk you through everything from choosing the right knife and wood materials (not included) to detailed face carving. To get started, you will need a carving knife and a V tool (which are discussed early in the workshop) and a 7/8-inch by 7/8-inch by 2 1/4-inch piece of basswood (you may want to get multiple pieces as backups). The workshop is beginner-friendly, and the final result makes for some really cute decor with a rustic touch.