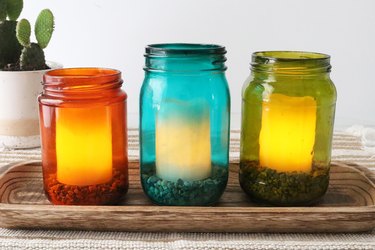 This summer, brighten up your outdoor space with these DIY lanterns. They're made of upcycled glass jars stained with two surprising ingredients: Mod Podge and food coloring! Simply mix them together, add a splash of water, and coat the inside of the jar. Once dry, add an LED votive candle and you'll have a charming DIY outdoor lantern.
What's more, thanks to the use of food coloring, the possibilities for this DIY project are endless. For example, you can create a set of jar lights using colors that match your existing home decor or landscaping, or if you're hosting a themed outdoor party, you can choose colors from a specific palette. You can even combine multiple food colorings to create customized shades.
But don't limit yourself to outdoor lighting. After summer has come and gone, this lantern idea can be used as interior home decor. Try using the jar lights as centerpieces or wherever you need a bit of light and color.
Whether you use them as table lights or garden lanterns, these jars are perfect for summer. Read on for the full tutorial along with tips, tricks and more decor ideas.
Things You'll Need
Mod Podge

Food coloring

Wooden craft sticks (or another mixing tool)

Water

Clean glass jars

Mixing container (such as a clean plastic condiment cup)

Paintbrush

Wax paper

Craft mat or junk mail

Decorative pebbles

LED votive candles
Tip
Make sure your glass jars are clean and dry. You can also use Mason jars.
Step 1
In a small container, add 3 tablespoons of Mod Podge. Add six to 10 drops of food coloring depending on its saturation. Mix until completely blended.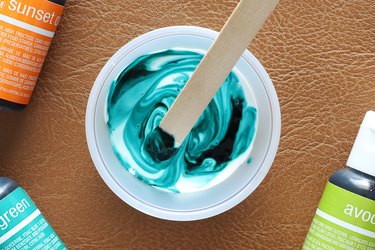 Step 2
Add 1/2 teaspoon of water. Stir until combined.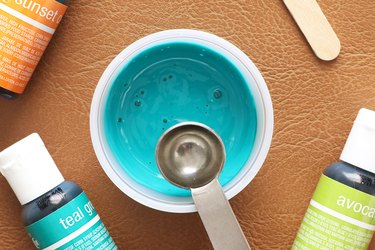 Step 3
Pour the mixture into the jar.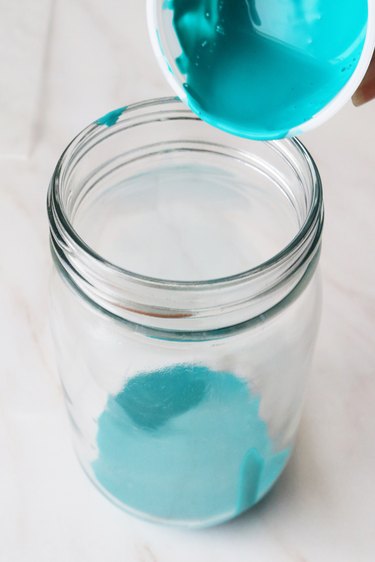 Step 4
Working quickly, rotate the jar to spread the Mod Podge along the inside. Continue spinning and rotating the jar until the inside is completely coated.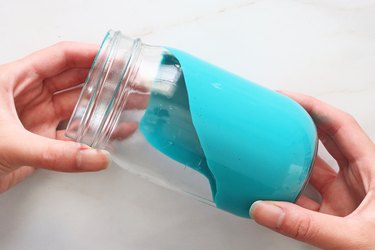 Tip
Keep your mixing container nearby. As the Mod Podge reaches the opening of the jar, you'll want to pour the excess into the container. You can also use a paintbrush to help spread the Mod Podge.
Step 5
Place the jar upside down on top of several sheets of wax paper. To protect your work surface, you can also add a craft mat or junk mail underneath the wax paper.
Let it dry for five hours in this position and then turn the jar right side up. Let it sit for 24 hours or until it's completely dry and translucent.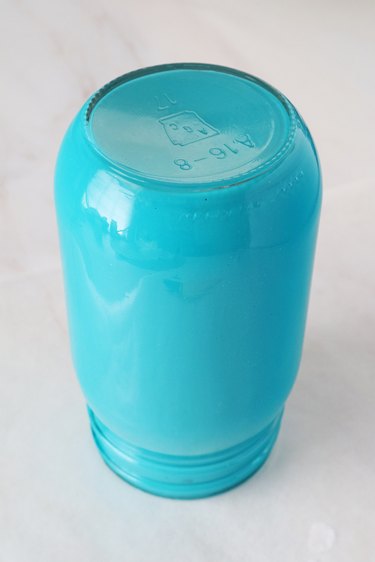 Step 6
Pour decorative pebbles into the glass jar.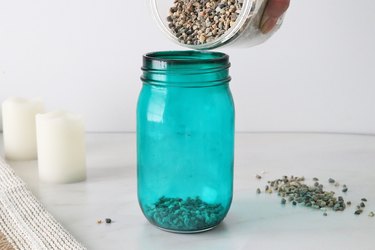 Step 7
Add an LED votive candle. You can use LED tea lights. Avoid using real candles.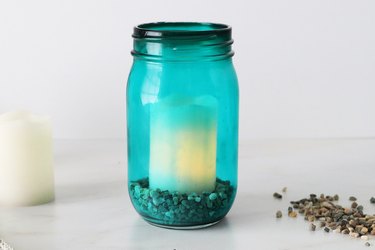 Tip
For a more eco-friendly option, consider using candles with solar lights. This way, you won't have to worry about constantly replacing the batteries.
To create a complete set of luminaries, simply repeat the process with other colors and jars.
If you want to further customize this easy DIY idea, you're in luck. There are plenty of ways to personalize this lantern project. For example, to elevate the stained glass look, use Mod Podge to adhere scrap pieces of tissue paper to the outside of the jar. You can even try coating the inside of each jar with multiple colors at once.
Are you looking for something less permanent? Try wrapping different materials, like twine or ribbon, around the jars. Another idea is to embellish your Mason jar lanterns by painting patterns on the outside. Polka dots, stripes or zigzags are all fun and easy to do.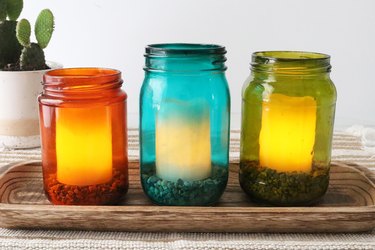 Keep in mind that Mod Podge is not waterproof. So, while you can use these candle lanterns as outdoor decor, be sure to store them inside, especially if it's supposed to rain.
Once styled with string lights and tiki torches, these DIY Mason jar lanterns will create the ultimate dreamy space. Happy summer!