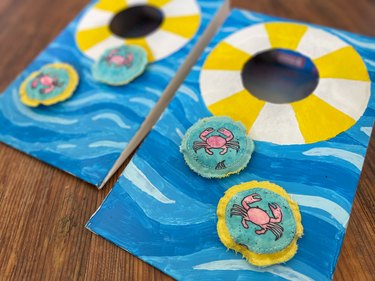 Corn hole is a beloved backyard game for a reason. What better way to spend a sunny day or outdoor party with the family than with a little competition? But if you don't have an outdoor space or you want to play corn hole come rain or shine, we have the perfect solution—a DIY mini tabletop corn hole set made out of cereal boxes!
With just a few (recycled) household items and a bit of ingenuity, you can turn any empty cereal box into a fun and functional game for all ages. Whether you're looking for a rainy day activity or simply making the most of a small space, this unique DIY provides all the fun of classic corn hole in a creative, fun-size package.
Video: Mini Corn Hole Made From Recycled Cereal Boxes
Things You'll Need
2 cereal boxes, same shape and size

Utility knife

Hot glue gun

Duct tape

White spray paint

Acrylic paint

Paintbrush


Fabric

Round shape to trace

Sharp scissors

Rice, beans or sand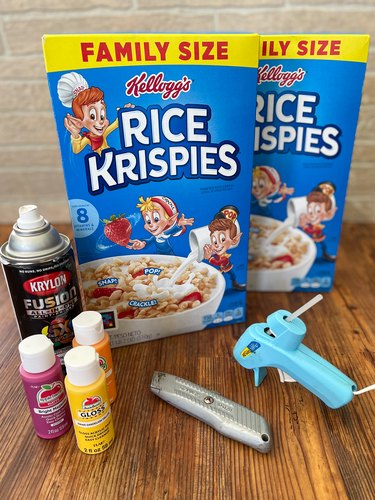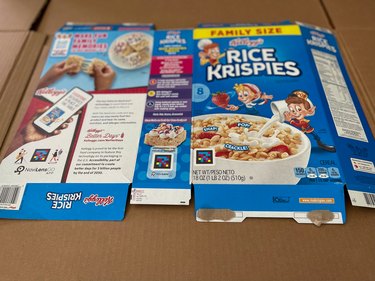 Flatten top and bottom of box and then slice down one side. Using a utility knife, cut box sides at a diagonal.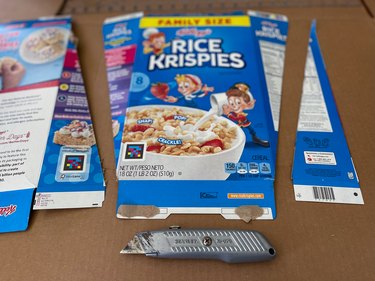 Using a steady hand, create a 3 1/4-in. hole in front of box.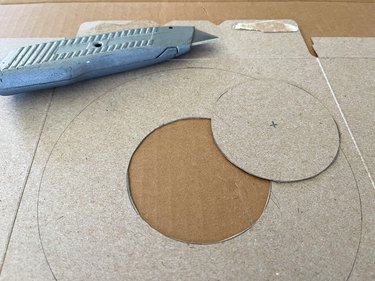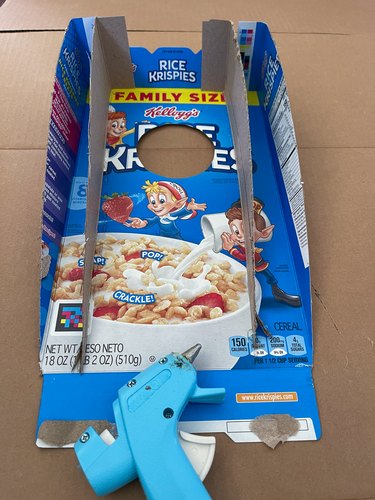 Fold box inside out with printed sides facing inward. Use hot glue gun to reattach diagonal pieces you sliced off earlier and give tabletop corn hole board extra stability.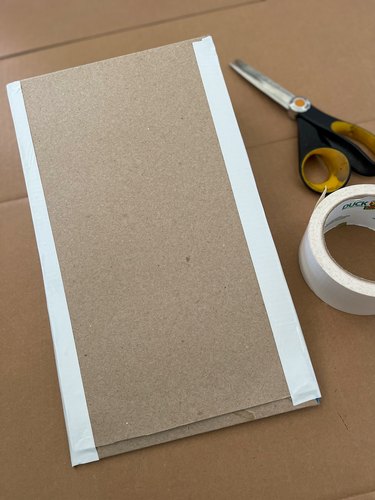 Use duct tape to attach bottom piece. With this sturdy tape, your game set will withstand even the most intense bean bag toss battles.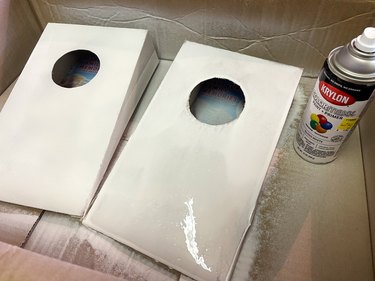 Move boxes to a well-ventilated space and coat with white spray paint.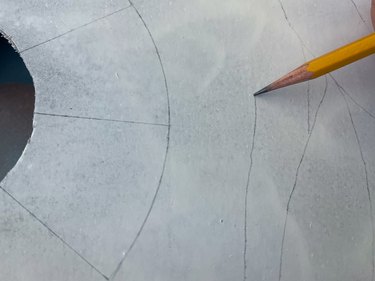 Once paint is dry (don't rush this step), add designs with a pencil. We opted for a summer fun theme with waves and a pool tube, but your design is up to you.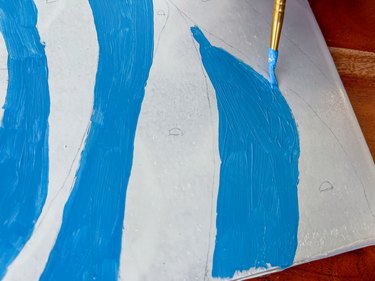 For extra dimension, paint over waves in various shades of blue.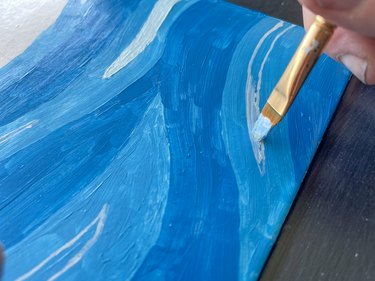 Next, we added a white and yellow-striped pool tube. Again, feel free to let your creativity lead the way and select your own design.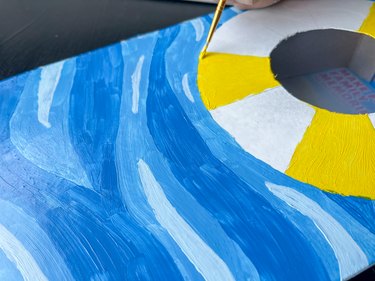 Part 3: Make Corn Hole Bean Bags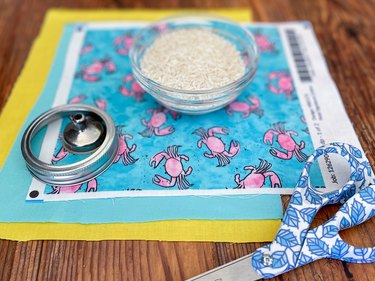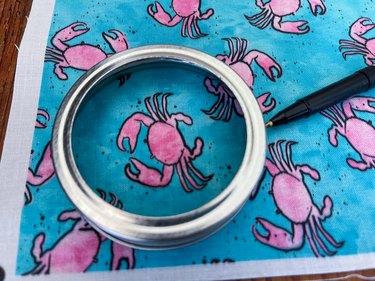 Find something round with a diameter of about 2 3/4-in. (a soup can or water bottle, for example) and trace. Cut out eight circles: four for fronts and four for backs of bean bags. We opted for adorable pink crabs in keeping with our beach theme.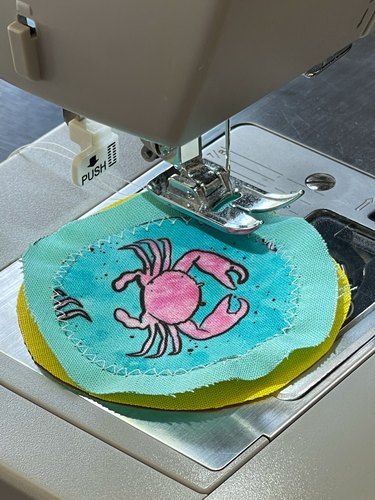 Place two circles together with wrong sides facing in and zigzag stitch your way around. Don't stitch all the way closed just yet—leave a small gap so bag can be filled with rice, beans or sand for weight.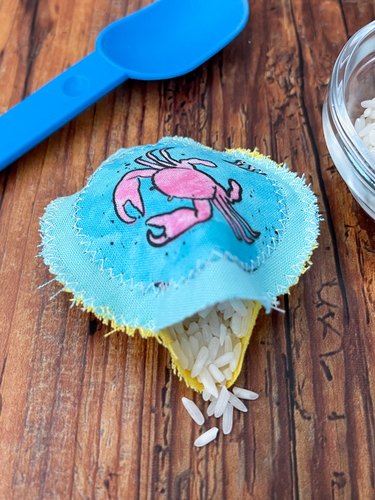 Fill bags with material of your choice and use a zigzag stitch to close up opening.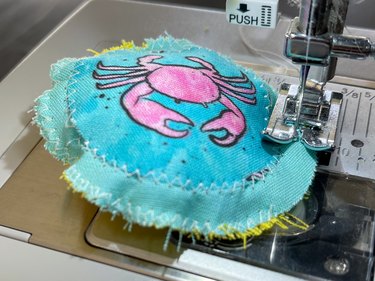 Take your time while sewing so you don't accidentally prick rice or other filling with needle.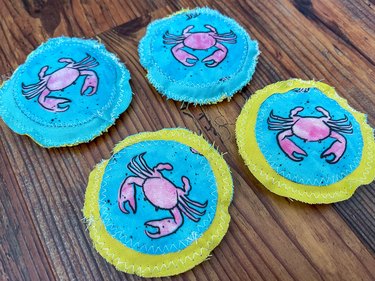 Now you're all set to enjoy your new mini tabletop cornhole board!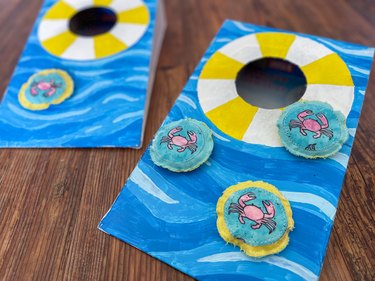 Perfect for a rainy day or just a super fun addition to your family game night, this DIY custom corn hole board will provide hours of entertainment. The traditional bean bag toss game is a timeless classic, and now you can enjoy it from the comfort of the great ‌indoors‌. Let the games begin!