Now that the first day of summer has arrived and the days are getting warmer, it's time to spend more time outside and finally break out those backyard party games. Whether you're having a birthday party, a picnic or just getting the whole family together to celebrate the warm weather, playing yard games together creates good memories and will give everyone something to do.
Set up that badminton net, wipe off those horseshoes, prepare your corn hole boards and amp up a typical ring toss game by creating a colorful and unique cactus ring toss game. Whether you design, paint and build your own cacti or purchase a premade set of cardboard cacti, your party guests are sure to remember tossing a ring or two onto these showy succulents for years to come.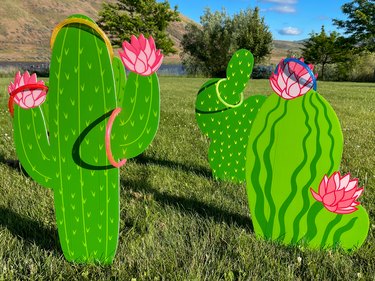 Things You'll Need
Cardboard cactus

Metal stakes or wooden dowels

Plastic pool rings

Glow-in-the-dark necklaces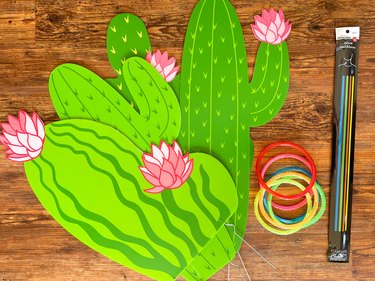 Step 1
If you're crafty and would like to DIY the cacti for this backyard game of ring toss, simply paint each cactus on thick cardboard with different colors of green acrylic paint and then cut out each cardboard cactus. Attach some metal stakes or wooden dowels to the back with masking tape.
If you're more into woodworking and would like to have a more durable ring toss game, you could paint the cactus on some scrap wood, use a sander or sandpaper to smooth the sides and cut them out with a jig saw. Sometimes, it just makes sense to create a quick and easy yard game for the whole family to play. So by purchasing some premade cardboard cacti, you'll have more time to spend with your friends and family playing the games. Simply take them out of the package and slide the metal stakes into the bottom of the cardboard cactus.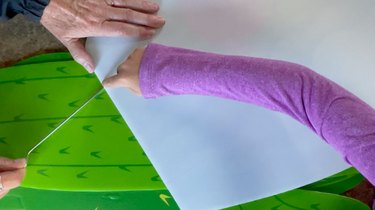 Step 2
Plastic pool diving rings in different colors make the perfect ring toss rings. You can find these in the summer pool section.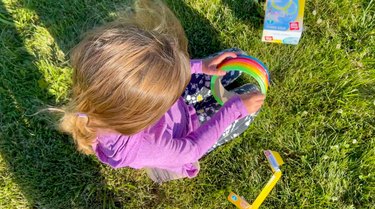 Step 3
Choose the area for your outdoor game. Inset the metal stakes or wooden dowels into the ground.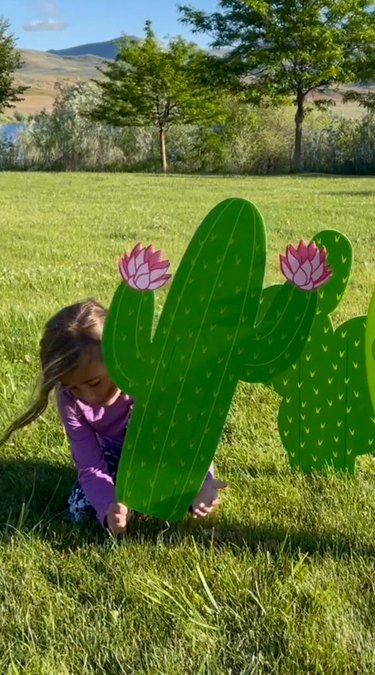 Step 4
This cactus ring toss game can be played with two players or as a team sport. When two players are playing against each other, the players choose their ring colors, and both players stand behind the same line to take turns tossing the rings onto the cactus. The scoring is as follows: If a player's ring lands on any part of the cactus, they get three points for each ring that lands on the cactus. If no one makes a ringer, the player whose ring landed closest to the cactus receives one point. The first player to reach 25 points is the winner.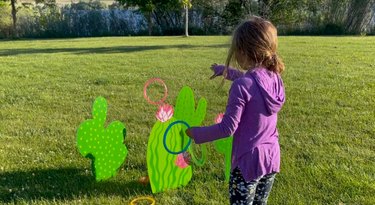 Step 5
Don't forget to celebrate your success at this succulent slinging sport.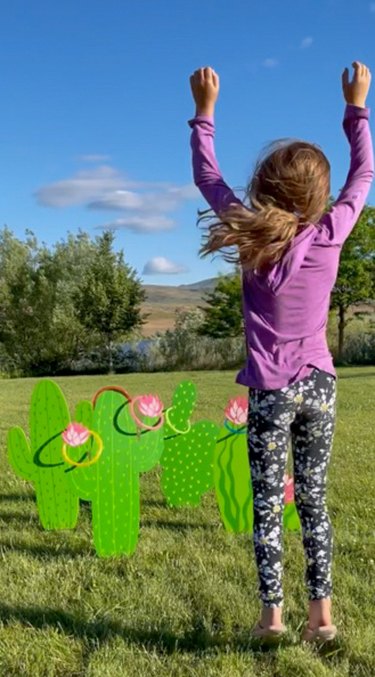 Step 6
You can even continue the fun well into the night by casting some colorful glow-in-the-dark necklaces onto the cacti.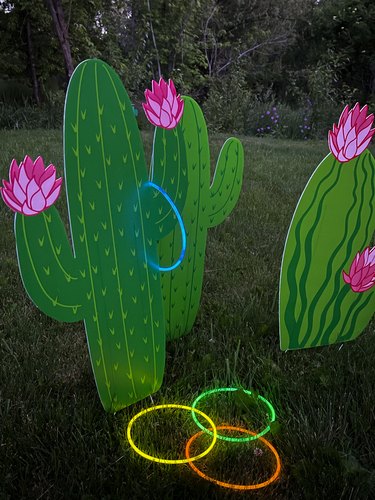 Happy cactus ring tossing!