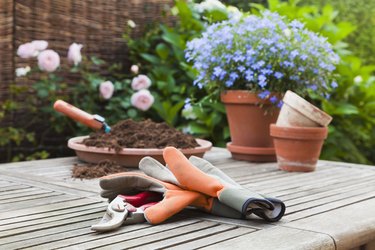 All it takes is one prick, scrape, scratch or rash to realize that gardening is a lot safer and more enjoyable when wearing gardening gloves. A reliable pair of garden gloves makes weeding, landscaping and general yard work less taxing on your hands so you can focus on the actual task at hand. Whether you're adding more soil to your garden bed, pruning roses, trimming brushes, pulling weeds or spreading chemicals like fertilizer, pesticides or herbicides, gardening gloves offer the protection your hands deserve.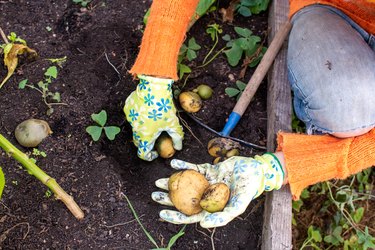 What to Consider When Purchasing Gardening Gloves
‌Type:‌ There are several types of garden gloves to choose from, from lightweight options to heavy-duty gloves for freezing temperatures.
‌Cloth gloves:‌ The most common and least expensive option, these gloves are typically made from cotton, jersey or bamboo. They keep hands clean while digging in the dirt and protect against blisters, but they offer the least protection from pokes, scrapes and chemicals, and they aren't waterproof. Cloth gloves are machine washable and tend to be more breathable than other types of garden gloves.
‌Leather gloves:‌ Leather is more expensive, but the gloves do a great job of protecting against thorns and other sharp plants. They are usually waterproof or water-resistant.
‌Rubber coated gloves:‌ Rubber coated gloves are made of latex and can protect your hands from various chemicals like pesticides, herbicides and fungicides. They offer significant protection, but they do cause hands to get pretty hot and sweaty.
‌Nitrile gloves:‌ Made from synthetic rubber material, nitrile gloves keep hands protected from cuts and chemicals, but they won't protect against sharp plants or thorns.
‌Purpose:‌ The garden gloves you choose will depend on what you plan to use them for. Not all garden gloves are designed to do the same thing. Some protect your hands and fingers from thorns or wires, others have a non-slip grip that work well with tools, and some even have fingertip claws that are ideal for digging without needing to use a hand trowel.
‌Fit:‌ It's important to find gardening gloves that snuggly fit your hands so they don't slip off, but not too tight that they restrict hand movement. Most garden gloves come in a variety of sizes, so you should be able to find sizes ranging from small to extra large, although you might find that gloves made specifically for women or men may only offer one-size-fits-all.
With these considerations in mind, we've selected the best gardening gloves on the market to keep those pricks, scratches and scrapes at bay.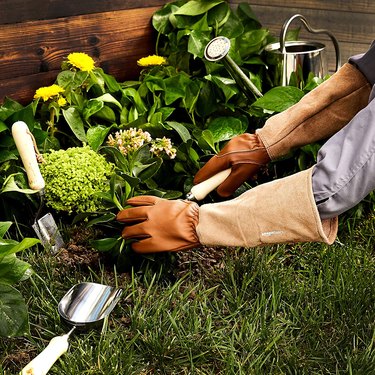 The Best Overall Gardening Gloves
If you like your gardening gloves to fit like a second skin, these are the ones to get. Made from breathable bamboo and rubber, this pair of gloves from Pine Tree Tools will keep your hands cool in the summer and warm in the winter. The gloves fit extra snugly, so if you prefer them to be a little looser, the company recommends ordering one size up. While they don't offer much protection from thorns, they have a non-slip grip and are great for weeding and trimming. Something that makes these gloves extra convenient is their ability to be used with a smartphone. So, if you need to use your phone while wearing them, the touchscreen feature will come in handy.
‌Size options:‌ Small – 2X-large
The Best Budget Gardening Gloves
Protect your hands while working in your garden with these nitrile coated gloves. You get three pairs for under $6, so there should always be gloves laying around when you need them. Their general purpose is for gardening tasks, but these latex-free nitrile gloves can be used for many types of yard work. They're made from breathable material and come in a size medium/large for women.
‌Size options:‌ Medium/large
The Best Long-Cuff Gloves
Long-cuff gloves offer forearm protection, which is ideal for pruning rose bushes, cutting back blackberries, trimming bougainvillea, etc. Made of puncture-resistant goatskin leather with aramid palm lining and cowhide gauntlet, these thorn-proof gloves are flexible with a pliable design so you can comfortably move your hands. Ergonomic thumbs give you dexterity and a solid grip on your tools.
‌Size options‌: Extra small – large
The Best Gardening Gloves for Thorns
Designed for all types of work environments, these heavy duty leather work gloves are made from genuine cowhide. They are extra thick while remaining soft and flexible for dexterity with a solid grip. They're water-resistant along with moderate oil and puncture resistance. An elastic wrist design makes it easy to put on and take off the gloves and will also help keep dirt and debris out.
‌Size options:‌ Small – extra large
The Best Gardening Gloves for Digging
They might look like something out of a sci-fi movie, but these gardening gloves with claws are actually really beneficial. Each glove has four plastic claws that make digging without any tools a lot more efficient—you know, rather than trying to dig with your fingers until you get frustrated, finally give up then go find your hand trowel or shovel. The nylon fabric is comfortable, breathable, waterproof and puncture-resistant.
‌Size options:‌ One-size-fits-most
The Best Non-Slip Grip Gardening Gloves
Gorilla Grip gloves are specially designed for maximum durability and dexterity. They're made from nylon with grip coating to ensure they never slip. The gloves are machine washable and latex-free, and they work well for wet, dry or oily applications that require hand protection. You'll find that they have a snug fit but are still comfortable.
‌Size options:‌ Small – extra large
The Best Gardening Gloves for Kids
If your kids have an interest in gardening with you, these gripper gloves will keep their hands safe and clean. Plus, gloves are fun and might even spark an interest in gardening if there isn't one already. The rubber gloves are made with natural latex foam rubber coating for high breathability and to keep hands cool and dry. A polyester seamless liner provides comfort and flexibility.
‌Size options:‌ Five sizes for ages 3-4, 5-6, 7-8, 9-10, 11-13
The Best Thermal Gardening Gloves
Whether your hands get cold easily in the fall or you do a lot of gardening in the winter months, these thermal work gloves will keep them warm. The insulated gloves have two layers of fabric—15-gauge nylon on the outside and soft fleece on the inside that keep hands safe in below freezing temperatures. The gloves are unisex and have a crinkle-grip palm coating that's specially formulated to stay flexible even when it's extremely cold outside. They're puncture- and abrasion-resistant, so they're ideal for gardening environments with thorns or sharp plants. They're also made to be quick-drying and lightweight for all day comfort.
‌Size options:‌ Small – XX-large
The Best Gardening Gloves for Small Hands
These gloves are one-size-fits-small-hands. Made of 100% soft jersey cotton with PVC dots on the palms for an anti-slip grip, the gloves are designed to fit women with petite hands. They're comfortable enough to work all day in the garden, and if they get too soiled or wet, you can swap them out for one of the other two pairs that comes in the pack. The gloves have a flower print with a knit wrist.
‌Size options:‌ Women's medium