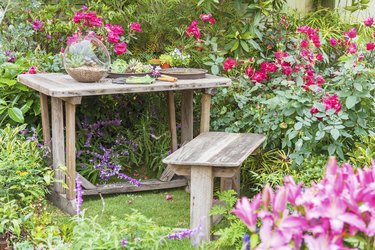 If you're passionate about gardening or potting plants (or both), you'd probably benefit from using a potting bench. A potting bench is an outdoor garden workbench designed to give you a designated, elevated space for all of your gardening and planting tasks—from watering to pruning to fertilizing to repotting. Most potting benches can also provide you with storage for your garden tools, potting soil, watering cans and other gardening supplies. A garden table can take the strain out of your back and knees since it allows you to stand up while working at a surface that's counter-height.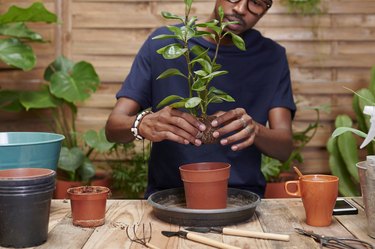 What to Consider When Purchasing a Potting Bench
‌Size:‌ Most potting benches are around 36 inches high, which is about the height of a standard kitchen counter. It should be tall enough so you don't have to bend over and short enough for you to comfortably reach the top. Your garden bench should also be large enough to hold whatever you need to store inside and on top with some extra room as you collect more supplies. You might want to take note of the weight limit to make sure it can withstand the weight of your pots, soil and materials.
‌Material:‌ Potting benches are most commonly made from wood, metal, recycled plastic or vinyl.
‌Wood Potting Benches:‌ Benches made of wood are sturdy and offer a flat work surface. You can find wood benches constructed of fir, acacia, spruce, eucalyptus, mahogany and more. If the wood comes unfinished, you can extend its life by adding a weather-resistant stain or finish as needed.
‌Metal Potting Benches:‌ Metal benches like iron or galvanized steel are sturdy, can be placed outdoors or indoors, and have an industrial aesthetic. They offer the longest lifespan and are weather-resistant.
‌Recycled Plastic and Vinyl Potting Benches:‌ These are generally maintenance-free and are durable enough to last long-term outdoors. They're the lightest potting bench option, which makes them portable to be moved around the yard for different projects.
‌Storage:‌ Storage space is crucial for keeping all of your supplies in one spot. In addition to the work surface, most potting benches come with at least one shelf. If that isn't enough space, you can find potting benches with lower shelves, upper shelves, and drawers to keep your most-used gardening supplies organized.
‌Features:‌ The more features your potting bench has, the more convenient it'll be. Wheels make a potting bench easily portable when you're doing tasks around the yard and hooks can be used to store your tools when they aren't in use. You can even purchase a garden table with a built-in or removable sink, which is ideal for holding extra soil while potting or for cleaning up. Many potting benches have a stylish enough design to pull double-duty as a sideboard when entertaining outdoors—you'll just need to clear off your gardening supplies and give it a good scrub, of course.
For the best potting benches on the market, read on below.
The Best Overall Potting Bench
Not only does this potting table offer a spacious zinc metal tabletop that can hold up to 220 pounds, but it also has plenty of built-in storage. There's a lower shelf and large cabinet that can store heavy items up to 176 pounds; a top shelf for small plants, small tools or seedlings; a drawer and three side hooks. Made of natural fir wood and galvanized metal, the bench is sturdy and durable for long-term use. The bench comes in three color options: light green, gray and natural wood.
‌Dimensions:‌ 44" x 18.50" x 49.50" (LxWxH)
The Best Budget Potting Bench
It's the least expensive option on our list, but this potting bench still gets the job done well. The bench features two open shelves to store all your gardening tools, extra soil and other equipment, as well as three hooks and a waterproof metal surface that's easy to clean. It can be used both indoors and outdoors and comes in two colors: natural wood and gray. Made of solid wood, the bench also features four plastic foot covers to prevent it from sliding or moving around.
‌Dimensions:‌ 30.31" x 14.57" x 35.43" (LxWxH)
The Best Low-Maintenance Potting Bench
There aren't any bells and whistles that come along with this potting bench, but that's what makes it so charming. Crafted from durable BPA- and phthalate-free vinyl, the bench is easy to maintain and has a long lifespan. It has a spacious work surface for all your potting, repotting, watering and feeding needs. The bottom shelf on this garden workstation has ample room for soil, a watering can, and even a basket to hold your important tools.
‌Dimensions:‌ 66.5'' x 41.25'' x 24'' (LxWxH)
The Best Potting Bench With Removable Sink
If you're in need of a potting bench with ample storage, this is the one to get. It features a drawer and plenty of lower shelving space, along with a top shelf and a workspace. It also has a removable dry sink that's made of plastic and can withstand wear and tear. The sink can be used to water plants and hold excess soil as you pot plants. The bench also has hooks for hanging tools or towels, as well as optional guard rails to keep the dirt from falling on the ground. Choose from gray or a natural wood color.
‌Dimensions:‌ 47.6'' x 45.2'' x 17.7'' (LxWxH)
The Best Potting Bench With Sliding Tabletop
An expandable sliding table extends your workspace, giving you more room to piece together plants. This wooden workstation slides open to reveal a food-grade dry sink that you can use for soil mixing, plant potting or storage. The potting bench has two upper shelves for small items and a lower storage shelf to hold larger items like soil and a watering can. It comes with a set of optional 360-degree rotating wheels that lock in place to make the bench portable as needed.
‌Dimensions:‌ 58" x 18" x 55.25" (LxWxH)
The Best Collapsible Potting Bench
This gorgeous outdoor garden potting bench will add rustic charm to any garden. Made of metal and painted black, this work table features a built-in bag with a cover to hold soil or water while you pot plants. A lower shelf provides storage space for large items, while five hooks on the back panel can be used to hang tools. The potting station is water-resistant and can stand up to outdoor elements for long-term use. When you're ready to put the bench away for the winter (or any time it isn't needed), simply raise the tabletop to fold for easy storage.
‌Dimensions:‌ 47.25" x 17" x 33.5" (LxWxH)
The Best All-Weather Potting Bench
If you're in need of an attractive, heavy-duty potting bench that will last forever (give or take) and does what it needs to do without all the extras, this is it. Made of galvanized steel, the bench offers a flat, easy-to-clean smooth surface for all your potting needs. An upper shelf provides a convenient spot to place your supplies.
‌Dimensions:‌ 44'' x 44'' x 24'' (LxWxH)