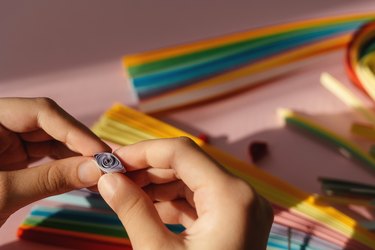 Paper quilling (which is also sometimes referred to as paper filigree) is an ancient craft that traces all the way back to the 15th century and has captivated crafters for centuries. The art of paper quilling involves twisting strips of paper into small coils and scrolls to create intricate designs that pop off the page in a three-dimensional manner. And, while it's most often used for DIY greeting cards and scrapbooking, the craft is actually super versatile and a skill that paper craft lovers will want to add to their arsenal.
If you want to learn how to quill paper, the best place to start is a DIY craft kit that includes all of the supplies necessary, including step-by-step instructions, tools and project ideas. And, fortunately, there is no shortage of paper quilling kits for beginners and experienced paper crafters alike. Up ahead, we share the best paper quilling kits that teach you how to coil and curl strips of paper to sculpt together a masterpiece.
What To Consider When Purchasing a Paper Quilling Kit
‌Paper Type:‌ When shopping for paper quilling kits, the most important thing to consider is, of course, the paper type. The best paper for quilling is text-weight paper, which is ideal for coiling into little strips and often what's included in a quilling kit. For the most part, the kits should also come with pre-cut strips of paper so you don't have to worry about cutting your own strips. Other types of paper sometimes used for quilling include cardstock (which is a lot harder to work with but possible to coil using a piercer tool), parchment paper and vellum. Some kits include a combination of text-weight paper and other types of quilling paper for more intricate designs, textures and details, while others include just text-weight paper, which is a great choice for beginner-friendly projects. For the most part, the quilling paper should not have any patterns or prints (solid is best for design) and come in a variety of colors that work well for the project.
‌Quilling Tools:‌ The best thing about paper quilling is that you don't need a lot of tools to get started, and can even use household items such as toothpicks to wrap paper strips and create quilled paper art masterpieces. However, some tools specifically designed for paper quilling can make the process a little bit easier—especially for beginners. When shopping for craft kits, first look to see what kinds of tools they come with. The most popular quilling tool is a slotted quilling tool which, as the name suggests, has a slotted center, giving you a better grip when twisting paper around the top. These types of quilling tools (sometimes called slotted tools) work great for most types of paper and are excellent to have on hand for quilling crafts. Similar to a toothpick (but a lot more durable), a piercer tool is also helpful to have on hand for thicker pieces of paper like cardstock. While it doesn't make or break a craft kit, having quilling tools on hand can make the entire process a lot easier and more efficient.
‌Craft Glue:‌ Whether you make greeting cards, artwork or paper flower bouquets, craft glue is a must-have for quilling projects. Most quilling craft kits should include some form of liquid craft glue. Although there are workarounds (like using a toothpick to apply the glue), it also helps if the craft glue has a pen-like applicator to make the application on teeny tiny pieces of paper much easier.
‌Additional Quilling Supplies:‌ Most quilling craft kits will include all of the necessary supplies to finish a project, though there are some additional options to consider. One additional quilling supply to add to your list is a quilling board or circle sizer. This craft supply resembles a drawing stencil with cut-out circles in different sizes and shapes and is used to help you create symmetrical spirals and coils for your project. For a DIY version with circles, you can reach for a circle stencil and draw circles on a piece of thick cardboard or cardstock, then use an X-Acto craft knife to cut the circles out.
Beyond quilling boards, it's also important to consider additional supplies included in a craft kit for a specific project. These supplies can vary depending on the project but, for the most part, cardstock and blank greeting cards are popular for DIY card-making kits. Some kits might also include display items like a see-through ornament or even a shadow box. Scissors are also a must (and not always included in the kits) to have on hand. It might also help to include some removable washi tape (or even some leftover easy-to-remove stickers) to keep your paper pieces in place while the glue dries.
‌Project Type:‌ It's always important to look at the types of projects available and which ones speak most to you. Paper quilling is very popular amongst those who love to scrapbook or make their own greeting cards, so there are plenty of craft kits designed with these types of projects in mind. However, you can also find DIY ornament craft kits with paper quilling techniques, as well as art prints, and even some paper flower bouquets.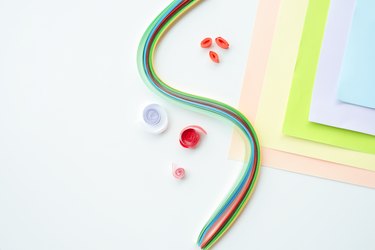 1. JUYA Paper Quilling Kit
Although this kit isn't project-based, it's a good starter kit and comes with everything needed (plus some extras) to get started on a variety of different paper quilling crafts for less than $20. The kit comes with necessities like strips of cardstock in different colors, tweezers, scissors and a glue applicator bottle (though you'll have to buy glue separately to fill it). In addition to these items, it comes with a quilling board and pins, an awl, tweezers, a curling coach a slotted quilling tool, and an embossing quilling tool. With this kit, you can create everything from homemade greeting cards to DIY quilling artwork and more.
2. Plant Paper Quilling Kit by Recollections
You don't need to spend a lot of money on quilling craft kits to try this paper craft medium out. Case in point: The Recollections Plant Paper Quilling Kit from Michaels is under $10 (and, right now, on sale for under $5) and comes with paper strips, a quilling needle, a display mat, and cardstock templates, plus instructions to complete the project. This beginner's quilling kit is a fun craft idea for someone who is quilling curious and wants to try their hand at twisting and coiling strips of paper to create their own quilled creation.
3. TillyViktor Flower Quilling Kit
Learning how to quill paper is excellent for those who love to make greeting cards, invitations, and other types of stationary because you can DIY your own appliqués. The TillyViktor Flower Quilling Kit comes with everything you need to learn how to create your own flower appliqués for birthday cards and wedding invitations alike. We love this kit because you can choose to purchase it with or without tools, so you don't have to buy duplicates if you already have some supplies on hand. If purchasing with tools, the kit comes with a slotted quilling tool, pointy tweezers, a quilling board and a glue pot, plus a wooden plaque, mini cards, envelopes, quilling strips in an assortment of rainbow colors, and a glue applicator brush.
4. UniQuilling Bird of Paradise
Paper quilling can transform an image into a stunning 3D work of art. If you want to create your own piece of wall art, consider this Birds of Paradise project from UniQuilling. The kit comes with a pattern board and paper strips, plus the option to add a toolset and extra paper strips for additional costs, making this an excellent choice for those who already have supplies and those who are new to the craft. In addition to the supplies, you can also purchase a framing option, making it easier to display the finished piece once completed.
5. Herpaperparadise Quilling Peacock Feather DIY Kit
If you love paper crafts and want to learn how to make more delicate-looking designs like feathers, the Herpaperparadise Quilling Peacock Feather DIY Kit is a must-try. This craft kit from Etsy comes with all of the supplies necessary to learn how to make a paper feather, including quilling strips, coil templates, a piece of paper for the background, a toothpick and a cotton swab. The kit also has easy-to-follow step-by-step instructions that walk you through the process.
6. WildcatAndGarden DIY Paper Quilling Daffodil
Flowers are some of the most fun designs to make with quilled paper—and we especially love the way they look pieced together in a paper bouquet. If you want to learn how to make your own spring arrangement from paper, the DIY Paper Quilling Daffodil kit from Etsy has you covered. This kit comes with everything needed to make a faux potted flower craft, including yellow, white, green and brown papers, as well as quilling tools such as a paper quilling ruler, paper quilling pen and tweezers. The kit also comes with glue, so you don't have to worry about supplying your own.
7. TheArtofQuilling Tutorial – Quilled Snowflake Inside Glass Ornament
Many paper quilling crafts involve stationary or wall art creations, however, you can do a lot more with this crafting technique, such as DIY ornaments. TheArtofQuilling Quilled Snowflake Inside Class Ornament Pattern is a fun project for the winter season and a more budget-friendly way to try the craft out, too. This downloadable template teaches you how to make a quilled paper snowflake which you can then place inside an upcycled clear glass ornament for a touch of festive fun.
8. Avenir My First Quilling Art Little Bugs Craft Set
Quilling crafts are fun for kids, too—plus, they can actually help build fine motor skills. For a kid-friendly paper quilling kit, consider the Avenir My First Quilling Art Little Bugs kit, which is designed for kids ages five and up and includes everything needed to make a variety of projects, including eight cards, a quilling tool, a size template and paper strips. The kit also includes wiggly eyes for added creativity and fun.