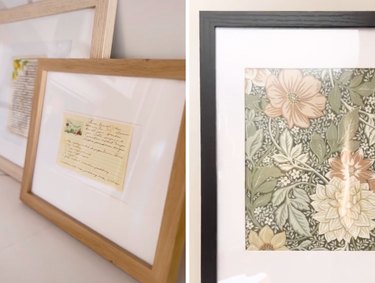 Decorating with framed photos is basically Interior Design 101. And sure, your family photos and travel photos do belong out where you can see them. But if the ‌only‌ things decorating your walls are framed pictures and art prints, it might be time to shake up your decor by using picture frames in new ways.
Read on for nine clever ways to use frames to create customized wall art, courtesy of some of social media's DIY geniuses. Bonus: If you already own frames you can repurpose, some of these works of art can be made for under $5—or even for free!
The biggest risk with hanging menus in your home is feeling extra hungry every time you glance at the wall! But if you create framed art using vintage French menus like TikToker @taylorstonee did, you might not even be able to read each delicious option. The delicate script on vintage menus makes them look like beautiful art pieces, so they're ideal for framing.
You can also take a more personal approach by framing menus from restaurants that have sentimental meaning for you, like the place where you and your partner had your first date. Another option? Pick your favorite takeout bag or gift bag, cut out the front of the bag and frame it, like we did with this Harry Potter-themed bag.
Framed wallpaper panels are a genius alternative to expensive prints. Use a piece of wallpaper left over from an old project (like TikToker @theblisshouseco) or snag wallpaper remnants from Etsy. Alternatively, round up a few wallpaper patterns you love and order samples. You can even try framing various patterns in the same color family to make a DIY wallpaper art gallery wall.
Creating huge, framed wall panels from wallpaper is also a great way to make over rooms when you're a renter who's not allowed to paint. Buy wide rolls of wallpaper and the biggest frames you can find; then, hang framed pieces close together to make a wall mural!
If romantic or bohemian decor appeals to you, create a gallery wall of framed flowers. You can certainly frame dried real flowers, but @madebymjay's TikTok might convince you to try framing silk flowers from the craft store or even the dollar store. Some cheap faux flowers can look deceptively real once they're pressed under glass.
Here's a cheap and resourceful way to make wall art, courtesy of @aroundthehouse_ _ on TikTok. She grabbed a throw pillow from a thrift store for $1, cut the fabric cover into two rough rectangles with ragged edges and mounted them against white matting to highlight distressed edges. For another approach, gather colorful fabric scraps or remnants and create framed art around them.
Have any old paper road maps gathering dust in your car trunk or junk drawer? You're probably never going to use them again unless the grid fails after a zombie apocalypse. So, it's probably safe to turn them into art! Framing a vintage road map, like TikToker @erinvfdesign did, can also make a thoughtful and sentimental gift for someone who grew up in the map's area.
The decorative tea towel market has really exploded in recent years. Boutiques and Etsy stores overflow with tea towels that are ‌almost‌ too cute to wipe your dirty hands on. If you want to keep your tea towels squeaky clean and preserved, take a cue from @grillodesigns and frame them! When you come across another must-have tea towel, swap out the framed towel and use your old "art" in the kitchen.
Need things to frame?
Maybe you don't have any sentimental stuff at home that you want to frame. No problem—Etsy's got you covered. Check out these shops for inspiration!
Framing cherished family recipes serves a few purposes. First and foremost, displaying allows recipes to be appreciated and admired for years to come. Secondly, you'll never forget how to make those beloved dishes—they'll be front and center. And finally, putting Grandma's handwritten recipes behind glass protects them from gathering new stains and wrinkles. Put small recipe cards inside picture frames and hang them on a wall or set framed recipes on a shelf like TikToker @diyplaybook.
If you've hung on to cards, letters, postcards or even Post-Its from loved ones, move them out of your drawers and up onto your walls. Frame individual pieces or copy what TikToker @taylor_annee did by making a collage from many notes layered together. It'll be a constant reminder of the important people in your life.
Framing jewelry is a brilliant way to create eye-catching, one-of-a-kind art. Check out the antique statement piece TikToker @darlenemarcel1 created for a bit of vintage inspo. If you have jewelry that used to belong to a loved one but isn't really your style, consider displaying it as framed art. For an easy approach, hang pieces directly on your wall, then add an empty picture frame to highlight them.
What are you waiting for? Start searching for those old notes, time-worn recipes and vintage jewelry. It's time to make some one-of-a-kind framed art!