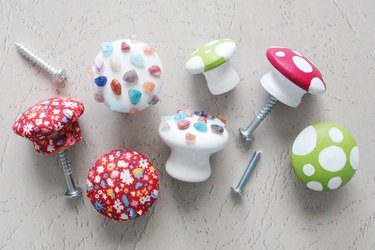 If you're feeling a bit uninspired by your decor or simply want to make over your space, new cabinet knobs can instantly refresh just about any room. Best of all, you don't need to spend a ton of money on fancy drawer pulls to embellish your favorite desk or make over your kitchen cabinets. We've come up with three easy DIY dresser knobs featuring colorful, kitschy and downright adorable designs: painted mushrooms, mini floral decoupage (featuring a Liberty print) and terrazzo-inspired embellishments.
Don't be afraid to get creative with the look and placement of these DIY drawer knobs. Sure, they're pretty on office desks and dresser drawers, but why stop there? Consider adding creative cabinet handles in unexpected spaces, like bathroom storage and living room side tables. You could even install a DIY drawer pull into the wall and use it to hold necklaces, keys or picture frames with hanging cords. No matter what you choose, you'll want to bookmark our DIY hardware tutorial before diving into your next home improvement endeavor. Let's get started!
Video: Cute & Kitschy Cabinet Knob Upgrades to Embellish Any Space
Idea 1: Painted Mushroom Cabinet Knobs
Things You'll Need
Acrylic paint in colors of your choice

White acrylic paint

Paintbrushes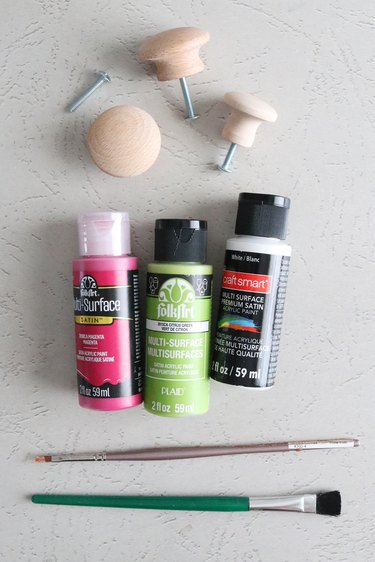 Tip
For painted cabinet drawer knobs, wooden hardware is the best material to use. Be sure to sand the knobs before painting.
How to make Painted Mushroom Cabinet Knobs: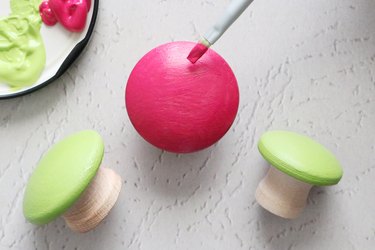 Paint the top of each drawer knob to create "mushroom caps." Let them dry completely and then apply another coat of paint if necessary.
Tip
You can also use spray paint. Just be sure to tape off the stems before applying.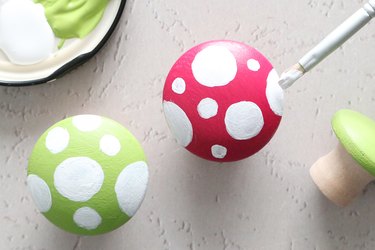 Once dry, paint white dots on the "caps." Paint the stems as well.
Tip
To make the mushrooms look more realistic, use a thin paintbrush to apply brown and tan details on the stems.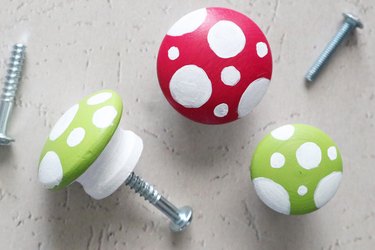 Your cottagecore-inspired furniture hardware is ready to use!
Idea 2: Mini Floral Decoupage Cabinet Knobs
Tip
Similarly to paint, decoupage will best adhere to wood knobs.
How to make Mini Floral Decoupage Cabinet Knobs:
Cut out a fabric circle slightly bigger than the diameter of each drawer knob.
In general, excess fabric should be enough to cover the underside of each knob as well as its base. To be safe, leave more fabric than you think you'll need. (You can always cut away fabric, but you can't add it back!)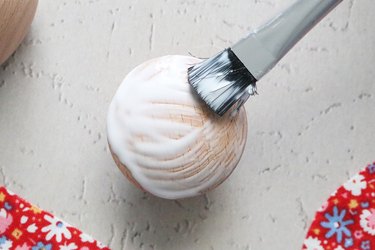 Coat the top of the knob with decoupage.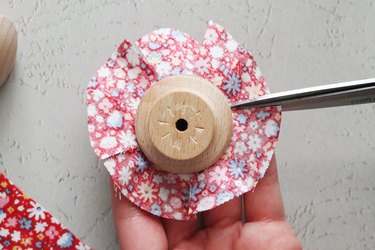 Place the top of the knob against the underside of the fabric. Next, snip the fabric at regular intervals, creating slits that run all the way to the edge of the knob.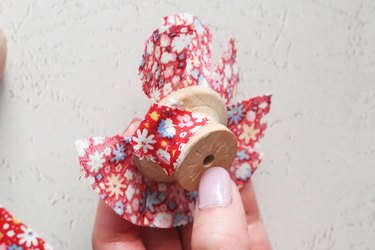 Working in sections, apply decoupage glue to the drawer knob and fold down the fabric flaps. Continue until the entire drawer pull is covered.
To finish your DIY project, cut away any excess fabric. So cute!
Idea 3: Terrazzo-Inspired Cabinet Knobs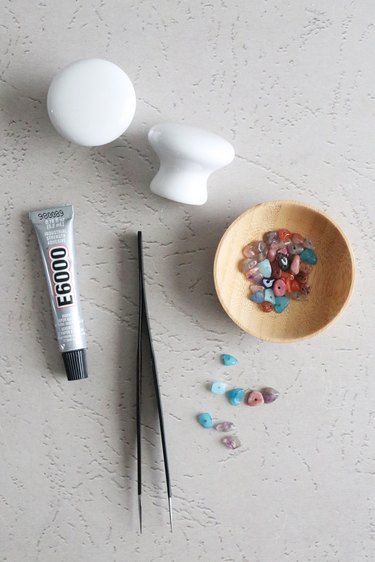 Tip
Another option is to spray paint cabinet knobs in the color of your choice.
How to make Terrazzo-Inspired Cabinet Knobs:
Apply a small amount of glue to the top of each drawer pull. A toothpick might come in handy for this step, as you only need a tiny dab.
Using tweezers, carefully place a stone chip bead on a dot of glue. Repeat until the knob is covered.
The result is a pretty, nature-inspired cabinet knob that looks like it came straight out of a fancy home decor store. Love it!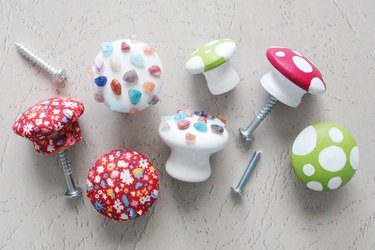 See you never, boring furniture! With these bright and beautiful DIY cabinet knob upgrades, your drawer pulls will be the center of attention in any room. It doesn't get much cuter!