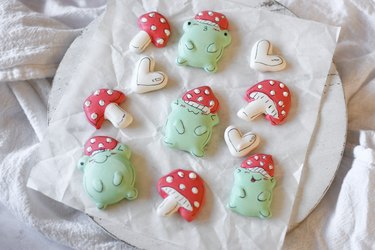 Growing up, I loved bakery-hopping to see which sweet treats were showcased in display windows. One particular pastry ‌always‌ caught my eye: meringue cookies. They came in different shapes and colors and were sometimes dipped in melted chocolate or even paired with fruit. Plus, they looked like pretty pastel clouds. How could I not be in awe?
I remember the very first time I tasted a meringue cookie (not to be confused with macarons, which bear some similarities to meringues). It was light pink and as big as my whole palm! I recall feeling surprised when I bit into the cookie. It was wonderfully crisp yet airy and had a bit of a chew but melted in my mouth at the same time. I was even more shocked to learn that these cookies were made with just a few basic ingredients: egg whites, powdered sugar, granulated sugar and any flavoring extract, like vanilla. All these elements come together to create a treat that can be enjoyed by many, including those with dairy-free or gluten-free diets.
Making meringue cookies might sound like a challenge, but the process is a blast. I'll walk you through making these marvelous confections with a meringue mushroom and frog design to amp up the charm. Once you have the basics down, you can get creative with future flavors and designs. A whole new world of baking bliss is at your fingertips, so let's dive right in!
Video: Whimsical Frog & Mushroom Meringues for a Delightful Bite
Quick Recipe Overview
‌YIELDS: ‌10-15 meringue cookies
‌PREP TIME: ‌1 hour
‌BAKING TIME: ‌1 hour
‌RESTING TIME: ‌1 hour
‌TOTAL TIME: ‌3 hours
Things You'll Need
Saucepan

Electric mixer or stand mixer fitted with whisk attachment

Heat-safe medium bowl or bowl of a stand mixer

Small bowl

3 pastry bags

Baking tray

Parchment paper

Toothpick or cookie scribe

1 large egg white

4 Tbsp. granulated sugar

1 Tbsp. powdered sugar

1/2 tsp. vanilla extract

Food coloring (red, green)

Edible markers (black, red)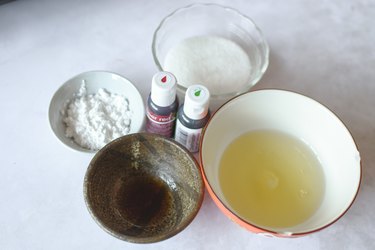 Measure all ingredients into separate bowls. Line a baking sheet with parchment paper.
2. Heat egg whites and granulated sugar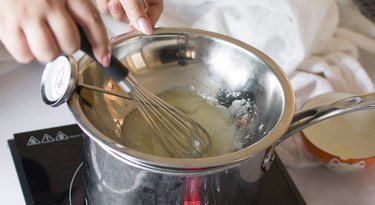 Place a heat-safe bowl over a saucepan of simmering water. Make sure the bottom of the bowl isn't touching water. Add egg whites and sugar, stirring continuously until the temperature reaches 110°F/43°C. Immediately remove from heat.
Whisk egg whites and sugar on medium speed to high speed. The mixture will first turn foamy and then become slightly thickened and white in color.
4. Add powdered sugar and vanilla extract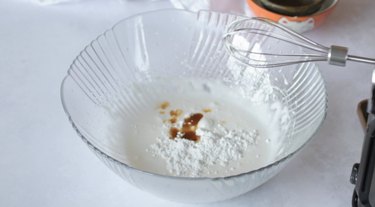 Mix in powdered sugar and vanilla until fully combined.
5. Whisk until medium stiff peaks appear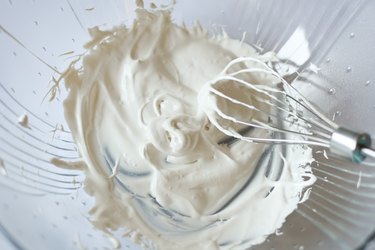 Continue whisking until medium stiff peaks appear, about 15 minutes. The mixture should be thick, glossy and hold shape when dropped into itself. Add about a tablespoon of meringue into a pastry bag. This will form the white portion of the mushroom design.
Split a bit more than half the batter into another bowl. Stir in green food coloring for frogs and then transfer to a pastry bag. Color the remaining meringue batter red for the mushroom caps and transfer to a pastry bag.
Tip
Use a bench scraper to push completed batter toward the end of the pastry bag.
Preheat the oven to 200°F/93°C. On a prepared baking sheet, use green batter to pipe circular frog bodies (approximately the size of a quarter). Then add eyes, feet and arms.
Use white batter to draw a thin line atop the frogs' heads, which will form the underside of mushrooms. Draw mushroom caps using red batter and then pipe white dots on top.
8. Pipe mushroom meringues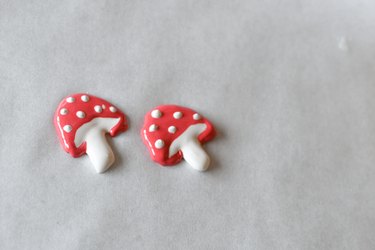 Use white batter to pipe the mushroom stems. Add mushroom caps with red batter and then pipe white dots. Bake the meringue cookies for one hour. Turn off the oven and let the meringues sit in the closed oven for 90 minutes.
Tip
This setting time lets meringues cool completely in the oven. If you were to immediately take them out, they might crack due to temperature difference with the air!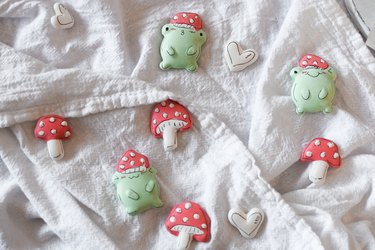 Use black edible marker to add any facial details or outlines, along with red for blush. Your delightful (and delicious) treats are complete! Store them in an airtight container at room temperature for up to two weeks.
There you have it: a meringue mushroom recipe complete with accompanying frogs for an adorable touch. Whether you're whipping up these treats for a birthday party, a Christmas gathering, a summertime soirée or "just because," they'll be the star of any dessert table.