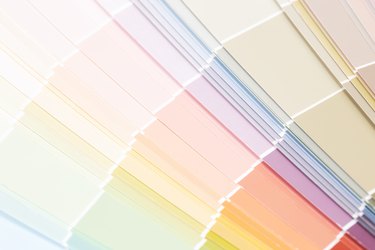 If you spend free time crafting, you know it's not ‌always‌ the cheapest hobby. Between art supplies, storage solutions and crafting courses, DIY life isn't without the occasional expense—but we're all about offering crafty solutions for every budget. That's why we've rounded up some of the most inventive and inspiring "freebie crafts" from social media makers. Think: crafts that call for complimentary samples from hardware stores, including paint chips, carpet squares and other free samples that won't cost a single dime.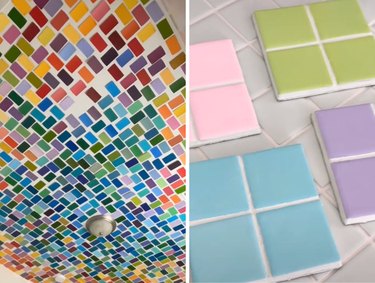 From coasters to adorable garlands, these freebie craft projects are pretty darn impressive. Budget-minded DIYers and creative brains alike will find loads of inspo within, so read on for all the fun (and free!) details.
TikTok crafter @jayjquick kicks things off with an amazing freebie project: a full-blown rug made with carpet samples from a home improvement store. The design here is pretty straightforward, combining two carpet sample colors on a rug pad in a checkerboard pattern. All you'll need to make your own is a rug pad, carpet tape and—of course—free carpet sample squares!
Tile samples are another free (or ‌very‌ close to free) product available at many hardware or home improvement stores. To give them a crafty twist, take a cue from TikToker @calistartist, who cuts larger tile sheets into squares and paints them with soft, pretty colors. She uses grout and sealant (Mod Podge would work here) to adhere squares on cork boards and voilà—DIY coasters!
Paint chips and samples make perfect canvases for artists who prefer pint-size creations. Just look at this example from @nickyyfig on TikTok, who creates a lovely piece of art based on the name of the paint sample card in question: honeycomb! The finished piece features beautiful bumblebees and a charming honeycomb design right on the free sample itself.
Ever wondered how to repurpose free wood samples from the hardware store? They might be too tiny to use in your own home decor scheme, but perhaps it's time to think smaller—‌dollhouse‌ small. That's right: TikToker @dabbledibs uses free plank flooring samples from the home improvement store to add lovely "hardwood flooring" to a dollhouse. Micro-design for the win!
Who says your pets can't benefit from a few freebie crafts too? Take a look at this creative piece from @sirridley on TikTok, who snags a pile of complimentary carpet samples and simply tapes them together to create a scratch-friendly cat mat. This particular project uses a muted, monotone scheme, but we can only imagine how cute it would be with a pop of color!
To tackle this DIY from @weatherprufepaints on TikTok, you'll need glue, scissors, a geometric pattern or stencil and sample cards featuring assorted paint colors. Simply cut cards into smaller paint chips and then use paint chips to fill out the geometric pattern. The result? A beautiful paint chip mosaic that doubles as gorgeous DIY wall art for your living room!
Don't forget about those textiles! TikToker @homeyhomies works with assorted sofa fabric samples and a sewing machine to create a totally one-of-a-kind top with patchwork vibes. There are so many variations to this sort of DIY project, and it doubles as a wonderful way to reduce waste while avoiding traditional fast-fashion shopping!
TikToker @squishiesophie offers a quick tutorial for creating a mini leather-bound book—and the leather in question is a free sample! Making a tiny book or journal requires plenty of patience (along with scissors, card stock or thinner paper and adhesive), but the results are completely adorable. This particular book was created with American Girl dolls in mind, but a similar process could be followed to craft a tiny journal or sketchbook.
9. Paint sample ceiling mural
We'll wrap things up with a totally epic piece of paint sample art. TikTok artist @sexytrashwife turns up the dial from traditional wall decor and opts for ceiling decor instead, using dozens and dozens of free paint samples from the home improvement store to give her home a colorful makeover. The entire ceiling transforms into an eye-catching display complete with a rainbow color palette that's impossible to ignore.
Now that you've checked out some of our favorite paint chip projects and other freebie crafts, dive into your own costless creations! Whether you're DIYing your next home decor project, looking for a sustainable way to use up that whole drawer of Pantone samples or even seeking crafty products to fill up your Etsy shop, we hope you're feeling as inspired as we are. The best things in life really ‌are‌ free!