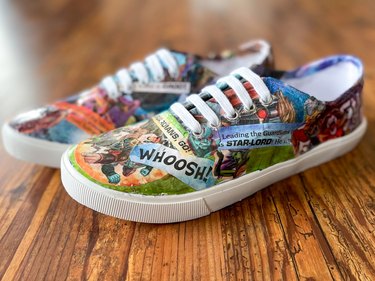 Ready to rock your footwear like a true superhero? Look no further than these DIY ‌Guardians of the Galaxy‌ sneakers, which will impress everyone at the movie theater (or the movie viewing party). We'll show you how to transform an ordinary pair of white sneakers into a colorful, eye-catching work of art that pays homage to Marvel's beloved cast of characters.
Whether you're running away from evil space monsters or just trying to impress your friends with a pair of out-of-this-world kicks, this DIY project will have you feeling like Star-Lord himself. So, grab your Walkman, cue up "Hooked on a Feeling" and let's get started!
Things You'll Need
Plain white canvas sneakers

Painter's tape

White glue (or Mod Podge)

Foam brush

‌Guardians of the Galaxy‌ book or napkins

Scissors

Utility knife

Lacquer
The endless possibilities of shoe decoupage
Looking for a way to transform plain sneakers or canvas shoes? You can use our shoe decoupage technique with just about any theme, from super heroes to florals. You're really only limited by what you can find to decoupage: old books, comics, tissue paper, wrapping paper, napkins, you name it!
1. Protect sole of canvas shoes
Stick painter's tape around the rubber soles of the shoes to protect them from adhesive and lacquer. When you get to the curved parts of each shoe, you might need to cut slits in the tape to help it lie flat.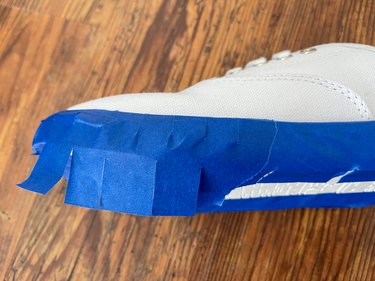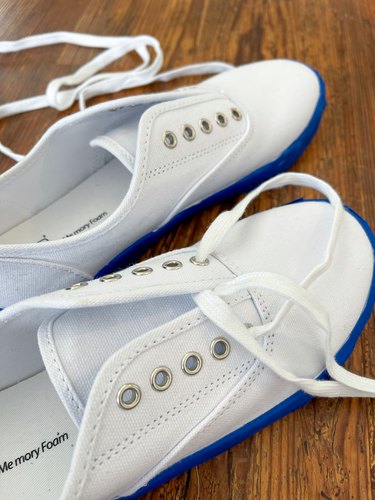 Carefully take the shoelaces out of the shoes and set them aside.
Personalize those laces!
We left our shoelaces plain, but you could create Groot shoelaces by adding tiny leaf cutouts to the laces or simply swapping the white shoelaces for neon green or brown ones.
You can use Mod Podge to attach ‌Guardians of the Galaxy‌ images to your sneakers. Pour a portion of Mod Podge in a bowl or dip a paintbrush directly into the container.
How to make your own Mod Podge
Mod Podge is the go-to sealant for most crafters, but if you don't have any on hand, no sweat! Simply make your own using white glue and water. Grab a small glass bowl, add half a cup of white glue, mix in a few tablespoons of water and mix until complete. Adding water makes glue a bit thinner, so it's easier to apply.
Grab a sharp utility knife and remove pages from your ‌Guardians of the Galaxy‌ book. Once you've done that, it's time to select images for your shoes and cut them out with scissors.
Tip
Don't have a book? Themed napkins, wrapping paper or tissue paper are fair game too! They work well because they're thin and pliable.
3. Place designs onto shoe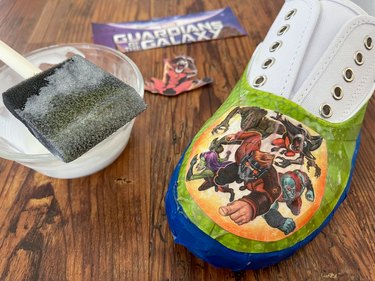 It's time to get artsy and bring your shoe decorating ideas to life! Arrange picture embellishments on each tennis shoe, grab your glue mixture and give the spot a good brush. Place the picture and paint another layer of glue over the top. Continue until you've covered the whole shoe.
Let the shoes dry for 24 hours before completing the next step.
Tip
You'll be overlapping images to create a cool collage, so save the best pics for last. Don't forget to include text from the book. Don't be afraid to paste images over the shoe eyelets (aka where the shoelaces go). You can remove the extra bits of paper from the eyelets once everything dries.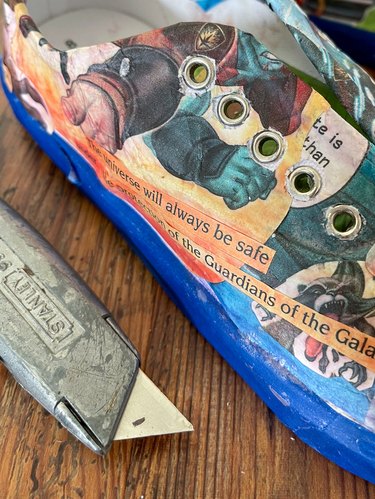 Grab your trusty utility knife and use caution as you slice around each eyelet to remove the paper.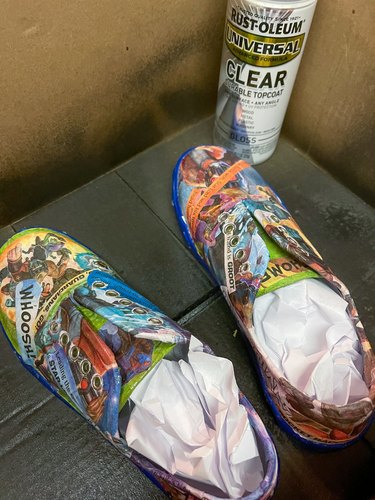 Before you spray lacquer to seal the decorated shoes, stuff paper inside the shoes so spray doesn't affect the shoes' interior. Grab a box, head to a well-ventilated spot and spray away! Leave the shoes alone for 24 hours to dry.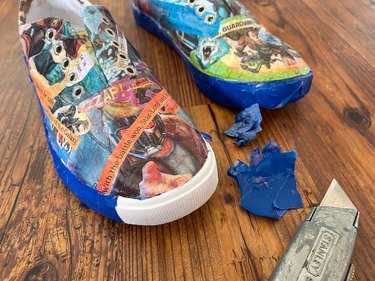 When the shoes are completely dry, delicately peel the tape from the soles. Cut the tape where the sole meets the canvas using a sharp utility knife to prevent the tape from pulling off the designs.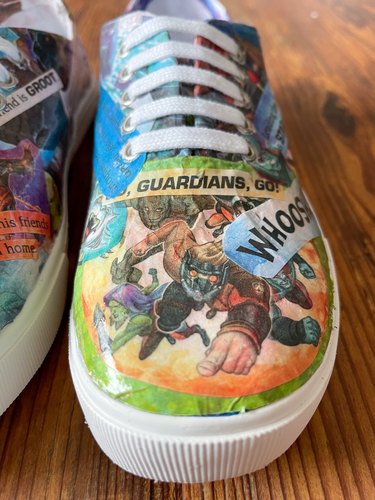 Tip
If a pair of flat sneakers doesn't give you superpowers, no worries! This same shoe makeover technique can be used on flip-flops, slip-ons, high-tops and even high heels. If you're a bona fide superhero fan, you could even decorate your wedding shoes!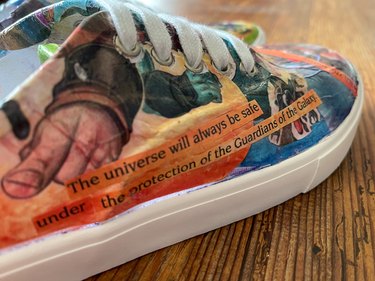 And that's all there is to it! Your hand-decorated sneakers are complete.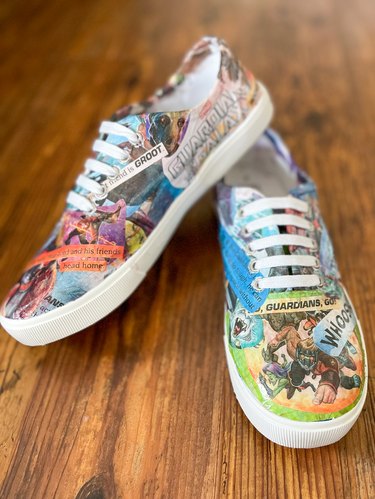 With a pair of ‌Guardians of the Galaxy‌ shoes on your feet, you'll be drawing compliments around every bend. These DIY sneakers are not only fun and comfy but they also provide a totally original way to show your love for the Marvel universe. So, put on your favorite mix tape, slip on your DIY shoes and get ready to save the galaxy in style.