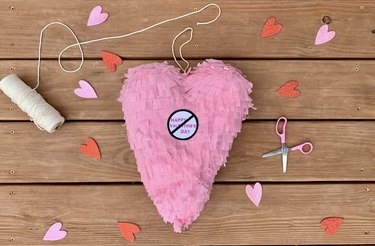 Remember that scene in ‌Valentine's Day‌ where Jennifer Garner lets her complicated feelings loose on an unsuspecting heart piñata? We've all been there, Jen—and some of us might even be feeling inclined to seek out a bit of Valentine's Day catharsis this year. Never fear: We've got just the thing.
With the film as inspiration, we created a heart-shaped piñata from recycled cereal boxes, newspaper, magazine pages and pink streamers. We skipped traditional balloons for this particular piñata, as recycled cardboard and magazines create a flatter, longer shape (and are more eco-friendly!). The result is a charming, fun, breakable craft that's perfect for your Galentine's Day party, not-so-romantic Valentine's Day gathering or even just a particularly energetic night at home. Our ‌Valentine's Day‌-inspired broken heart piñata is ‌almost‌ too cute to destroy—the key word being "almost." Get crafting...and then get bashing!
Things You'll Need
1-3 cereal boxes

Stapler

Tape

Scissors

Craft glue

3 Tbsp. flour

2-3 Tbsp. room-temperature water

1 cup water

4-8 pages of old magazines and newspaper

Ruler

String or yarn (about 25 in. long)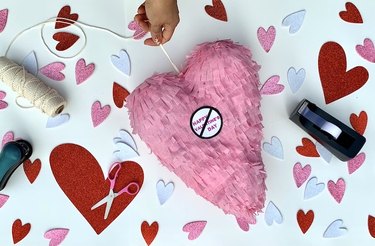 How to make a Heart Piñata:
1. Cut cardboard strips and create top of heart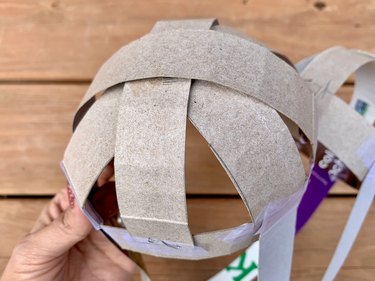 Start by cutting strips of cardboard—empty cereal boxes are a particularly great option for this project. Cardboard strips should measure 17 in. long x 1 in. wide. You'll need approximately six of these strips to create two bumps and curves at the top of the heart.
To make the first bump, gently bend one 17 x 1 in.-long strip and create a circle. Use tape or a staple to close. Next, cut two strips in half. You should be left with four strips measuring 8.5 x 1 in. Place these half pieces atop the circle to create a dome and then affix with tape or stapler.
Tip
For this project, we used about two regular-size Kashi cereal boxes. But it's a good idea to keep three empty cereal boxes on hand just in case you need extra strips or make a mistake.
2. Create bottom of heart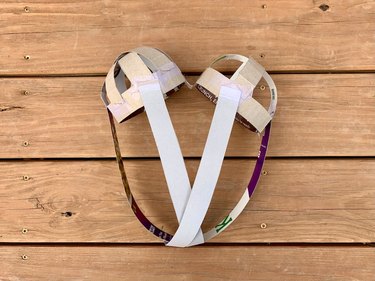 Next, cut 16 strips of cardboard measuring 12 x 1 in. each. These strips will create the body of the heart piñata. We taped strips to the two domes and then connected them at the bottom using a stapler and tape.
3. Cover entire structure with cardboard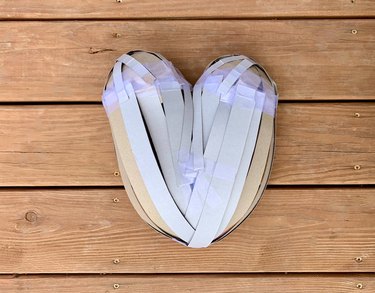 Add more cardboard using additional strips, also measuring 12 x 1 in., to ensure the heart shape appears symmetrical. We added a few extra thin strips to the dome and in the middle of the heart to fill in gaps. Most of these extra strips measured 1/2 in. wide and had varying lengths depending on the space we needed to cover. The key is to fill most of the holes and create a solid structure—you'll need a sturdy base for gluing magazine and newspaper pieces later.
Follow the same steps to complete the back of the heart.
4. Create paste for gluing magazines and newspaper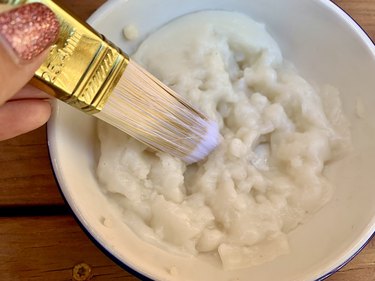 To glue magazine and newspaper pieces to the heart base, you'll need to create your own glue paste. Mix 3 Tbsp. of flour with room temperature water until you have a uniform paste. On the stove top at a medium temperature, heat 1 cup of water at a medium temperature and add the paste, stirring occasionally until a gluelike consistency is achieved. Turn off the stove and let the mixture cool for an hour.
5. Cover piñata with magazine clippings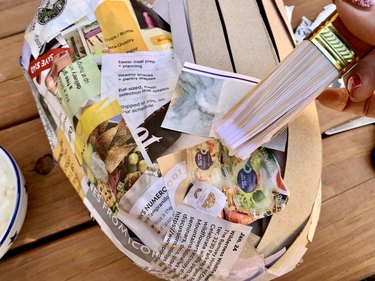 We used magazine clippings first to cover the entire heart and add sturdiness. Cut magazine pieces of approximately 1.5 x 1.5 in. to cover curves or other small details and affix with glue paste. Let the layer dry for one to two hours and then repeat the process two more times until you have three layers of magazine clippings. Be sure to allow for drying time between layers.
Tip
For drying your piñata between layers, outdoors is the best place to be since fresh air will help speed up the process. If it's raining or you don't have a safe place for your piñata outside, use a fan indoors to move the drying process along.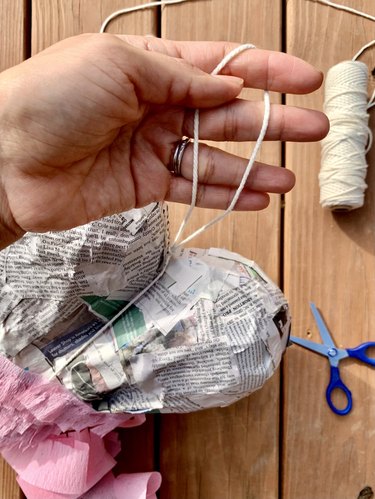 When the piñata is dry, add a 25 in. piece of string or yarn to make it holdable and hangable. Wrap a string along the middle of the piñata from the bottom to the top and secure it at the top. Leave a loop at the end that is about 5 in. long.
7. Decorate piñata with streamers
Use crepe paper or streamers (we went with light pink) to decorate the piñata. Cut straight lines along the sides of streamers to create fringe. This will add texture and a sense of movement to your completed piece.
Use regular craft glue to attach streamers. Start at the bottom of the heart, working upward in a spiral motion. When you reach the top, work on each bump separately until both sides are completely covered.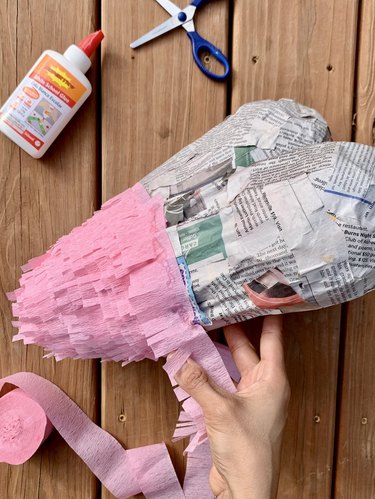 8. Add Valentine's Day sign
Glue a "Happy Valentine's Day" sign to the piñata with a circle and a slash to recreate the one from the movie! Or, if you'd like to branch out, opt for an original design. You can either draw your sign by hand on paper or print one from your computer. Affix it with standard glue.
We hope your Valentine's Day is void of drama this year—but if you're feeling big feelings (or just want to enjoy some laughs with your Galentines!), whip up this heart piñata and start swinging.